Zakaj je pomembno, da so cene stabilne?
8. maj 2017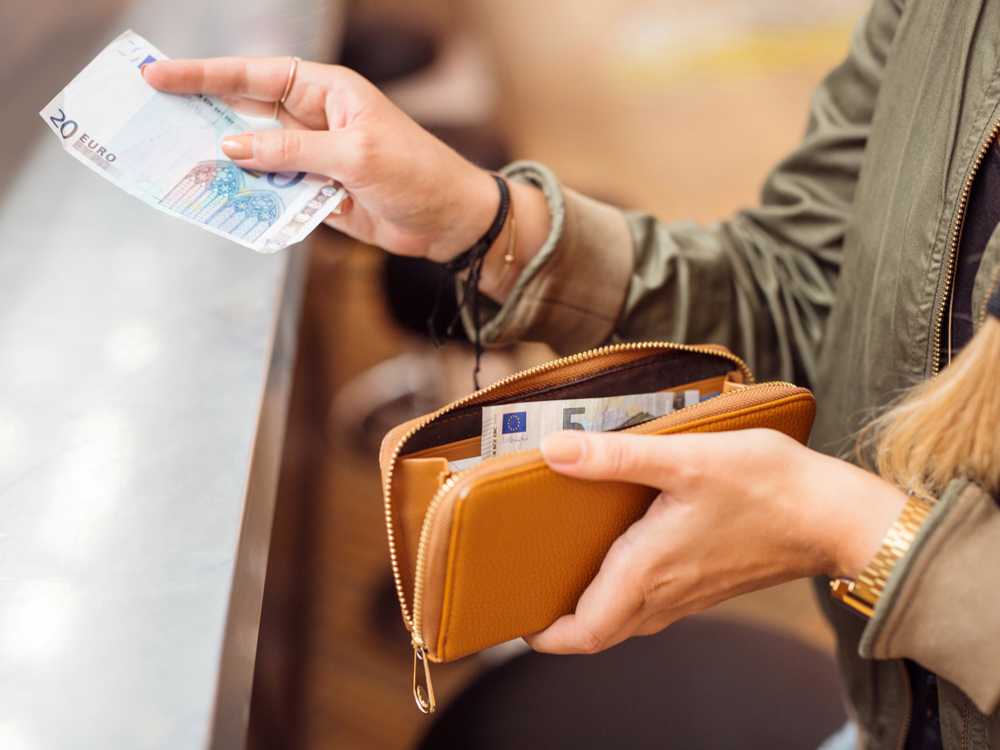 Glavni cilj ECB je ohranjanje cenovne stabilnosti. To pomeni, da se cene ne bi smele bistveno zviševati (inflacija), prav tako pa bi se bilo treba izogniti daljšemu obdobju padanja cen (deflacija). Razlog za to je v tem, da imajo dolga obdobja previsoke ali prenizke inflacije negativne posledice za gospodarstvo.
Kaj je narobe z visoko inflacijo?
Če cena mnogih izdelkov, ki jih kupujete, narašča, se vaša kupna moč zmanjšuje. To pomeni, da z denarjem, ki ga imate – vaši dohodki in prihranki – ne morete več kupiti toliko, kot ste včasih, kar lahko ustvari spiralo naraščajočih cen. Če se namreč vse draži, lahko od delodajalca zahtevate višjo plačo. Da bi ta lahko financiral višje plače zaposlenih, lahko zviša cene podjetja. Če se to zgodi v številnih podjetjih, se bodo mnogi izdelki še bolj podražili in spirala se bo nadaljevala. Zato potrošniki in podjetja težje načrtujejo varčevanje in naložbe. Ljudje lahko izgubijo zaupanje v valuto, ker ta tako hitro izgublja vrednost. In to je le nekaj primerov negativnih stranskih učinkov visoke inflacije.
Kaj pa je narobe z daljšimi obdobji deflacije?
Padanje cen se vam kot potrošniku morda zdi dobra novica. In dejansko je lahko ugodno, če se cena znižuje le nekaterim dobrinam. Tako so se denimo v zadnjih desetletjih precej pocenile številne elektronske naprave, kot so prenosni računalniki in telefoni, saj so se predvsem zaradi inovacij znižali proizvodni stroški.
Vendar pa dolgotrajno zniževanje cen mnogih izdelkov in storitev, ki ni posledica izboljšav v proizvodnih procesih, ni tako ugodno, saj lahko vodi v spiralo padajočih cen. Če denimo nameravate kupiti nov kavč, hkrati pa veste, da ga boste dobili ceneje, če z nakupom še malo počakate, boste verjetno storili natanko to. Če tako ravnajo vsi, se proizvajalci lahko hitro znajdejo v težavah, saj se njihovi izdelki ne prodajajo več. S padcem povpraševanja so primorani znižati ali zamrzniti plače ali pa celo odpuščati, zaradi česar se poveča brezposelnost. Gospodarska aktivnost se začne upočasnjevati, saj potrošniki in podjetja zmanjšujejo obseg potrošnje in naložb. Težje lahko postane tudi odplačevanje različnih dolgov, kot so hipoteke, saj se ti ne bodo zmanjšali, četudi se vaš dohodek morda bo.
Enako velja za javne finance. Ko se prihodki in potrošnja zmanjšata, upadejo tudi davčni prihodki, vlada pa mora vseeno odplačevati javni dolg. Zaradi tega lahko denimo zmanjša javne izdatke za infrastrukturo in zdravstvo. Negativne posledice deflacije tako čutimo prav vsi.
Kako cenovno stabilnost izraziti v številkah
Centralne banke lahko k večji blaginji vsakega posameznika največ prispevajo s tem, da vzdržujejo cenovno stabilnost. Zato jo Pogodba o delovanju Evropske unije določa za glavni cilj ECB. Za doseganje tega cilja je ECB sprejela številčno opredelitev cenovne stabilnosti. Njen cilj je tako letna stopnja inflacije »pod 2%, a blizu te meje, v srednjeročnem obdobju«, merjeno s harmoniziranim indeksom cen življenjskih potrebščin (HICP).
S tem merilom se lahko meri uspešnost ECB, saj njeni ukrepi z njim postanejo transparentni. Hkrati to pomeni, da lahko bolje načrtujemo prihodnost, saj vemo, kakšne spremembe cen lahko s časom v povprečju pričakujemo v euroobmočju.
Cilj ECB glede cenovne stabilnosti velja za inflacijo v euroobmočju kot celoti. Usmerjen je na srednjeročno obdobje, kar pomeni, da obravnava inflacijo v daljšem obdobju in se ne odziva na kratkoročne vzpone in padce inflacije, ki se sčasoma izravnajo in jih ni mogoče obvladovati z denarno politiko.
Zakaj pod 2%, a blizu te meje?
Če ECB želi, da cene ostajajo stabilne, zakaj je njen srednjeročni cilj inflacija tik pod 2% in ne morda 0% ali 1%? Za to obstaja več razlogov.
Rezerva pri meritvah
Treba je upoštevati možnost, da podatki kažejo nekoliko višjo inflacijo, kot je v resnici.
Varnostna rezerva
Dobro je imeti nekaj varnostne rezerve proti nevarnosti deflacije.
Razlike med državami
Upoštevati je treba tudi razlike v inflaciji med državami euroobmočja.
Rezerva pri meritvah

ECB dopušča možnost, da so zaradi načina merjenja podatki o inflaciji (izraženi z indeksom HICP) lahko nekoliko višji od dejanske inflacije. Do tega lahko pride, če se denimo cena nekega izdelka, vključenega v košarico dobrin, ki se uporablja za izračunavanje indeksa, zviša zaradi boljše kakovosti izdelka, npr. avtomobil z boljšo varnostno tehnologijo v primerjavi s starejšim avtomobilom. Če v izračunu inflacije ni v celoti upoštevano, da se je cena spremenila zaradi izboljšave izdelka, bo indeks kazal, da je inflacija višja, kot je v resnici.

Varnostna rezerva

Inflacija pod 2%, a blizu te meje zagotavlja varnostno rezervo ob morebitni deflaciji. Če pride do deflacije, običajni instrumenti denarne politike (tj. spremembe ključnih obrestnih mer) ne delujejo več tako učinkovito. Na določeni točki za centralne banke ni več smiselno, da še naprej znižujejo obrestne mere. Poleg tega tudi kontrolirana inflacija vedno nekoliko niha okrog povprečne vrednosti. Z vključitvijo te rezerve v ciljno inflacijo, ki mora biti zato višja od nič, centralni banki ni treba tako pogosto uporabljati nekonvencionalnih ukrepov, kot so kvantitativno rahljanje ali operacije dolgoročnejšega refinanciranja.

Razlike med državami euroobmočja

ECB ohranja cenovno stabilnost v euroobmočju kot celoti. Ciljanje na inflacijo pod 2%, a blizu te vrednosti, dopušča razlike v stopnjah inflacije med državami euroobmočja, ki bi se v idealnem primeru sčasoma morale v povprečju izravnati. Cilj vzdrževanja inflacije nad ničlo hkrati omogoča, da nekaterim državam ali regijam ni treba živeti s pretirano nizko ali celo negativno inflacijo samo zato, da bi izravnale višjo inflacijo v drugih državah.