Zašto je statistika važna?
19. listopada 2016.(posuvremenjeno 9. siječnja 2018.)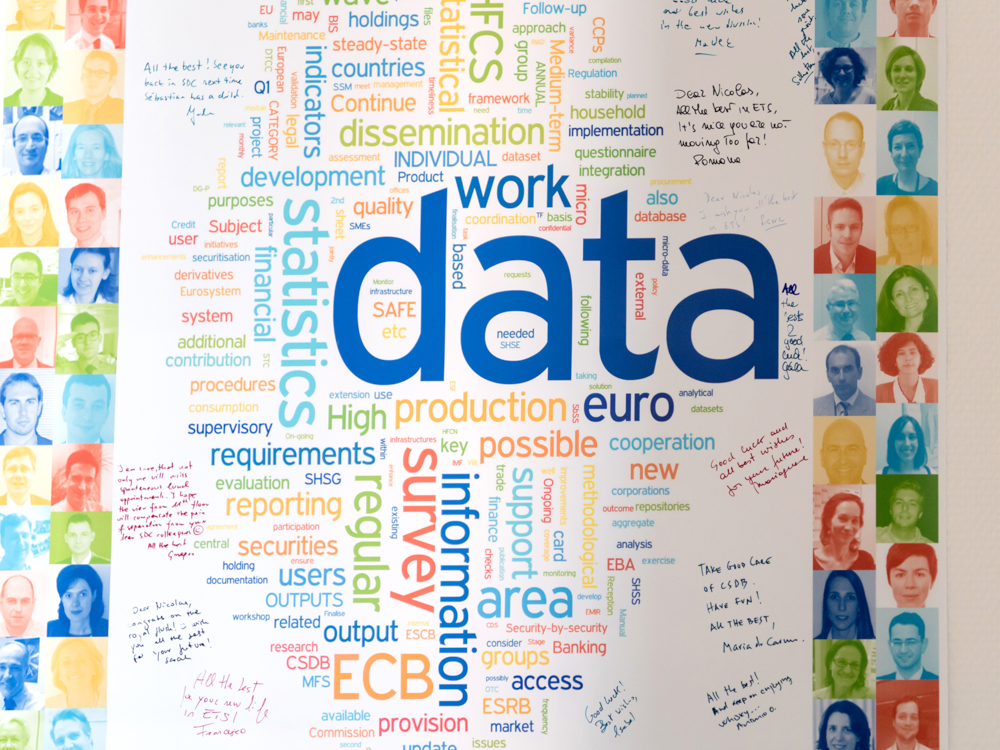 Statistika – činjenice ili podatci koji proizlaze iz skupa numeričkih podataka – vrlo je važna za ESB i središnje banke općenito. Velik dio aktivnosti ESB‑a, bez obzira na to je li riječ o našoj ključnoj funkciji monetarne politike ili o funkcijama financijske stabilnosti ili nadzora banaka, ovisi o kvalitetnim statističkim podatcima, koji su nužni za donošenje utemeljenih odluka.
Analize gospodarskih, monetarnih i financijskih kretanja koje se pripremaju za svaki sastanak povezan s monetarnom politikom jasno pokazuju zašto su statistički podatci važni za ESB i za stanovnike europodručja. Ti su podatci glavni temelj na kojem Upravno vijeće zasniva svoje odluke o monetarnoj politici, a one utječu na kamatne stope koje osobe i poduzeća plaćaju. Tako statistika može neizravno utjecati na živote mnogih.
Važnost visokokvalitetnih statističkih podataka
Za razborite odluke nužni su visokokvalitetni statistički podatci. Stoga se pridržavamo strogih normi kako bismo osigurali da su statistički podatci ESB-a točni, dosljedni i aktualni te da su dobiveni u skladu s međunarodnim normama, bez ikakvih vanjskih utjecaja. Zahvaljujući neovisnosti naši su podatci vjerodostojni, čime se podupire kredibilitet naših odluka o monetarnoj politici i povjerenje u ESB.
Važnost relevantnih podataka
Uslijed nedavne financijske krize postala je očita potreba za prikupljanjem relevantnih, granularnijih podataka. Zbog toga se statistika središnjih banaka ne bavi samo agregiranim podatcima, koji uvijek uključuju prosječne vrijednosti, nego obuhvaća i mikropodatke (detaljniji podatci), na primjer na razini pojedinačnih kredita, transakcija i banaka.
Zahvaljujući granularnim podatcima može se bolje razumjeti kako se monetarna politika odražava u različitim aspektima gospodarstva, može se unaprijediti oblikovanje budućih mjera politike, a u slučaju nastanka netipičnih vrijednosti (anomalije u podatcima) ili »repnih rizika« (događaji ili ishodi koji su malo vjerojatni, no ostavljaju velike posljedice), moguće su pravodobnije reakcije monetarne politike. Kao istaknut primjer granularnih podataka može se izdvojiti projekt ESB‑a AnaCredit, koji obuhvaća nov skup podataka s detaljnim informacijama o pojedinačnim bankovnim kreditima u europodručju.
Izazovi pri prikupljanju detaljnih podataka
Prikupljanje detaljnih statističkih podataka može biti vrlo zahtjevno, osobito kada je riječ o odabiru metodologija i metoda izračuna kojima se osigurava usporedivost u različitim državama. Jedan od izazova je i dobivanje informacija od subjekata koji djeluju izvan bankovnog sustava, a koji mogu utjecati na financijski sustav te time i na monetarnu politiku. Dva primjera za to su tzv. hedge fondovi – ulagačka partnerstva u kojima ograničen broj pojedinačnih ili institucijskih ulagača udružuje novac – i banke u sjeni – subjekti koji pružaju usluge slične bankovnim uslugama, ali nemaju izravan pristup likvidnosti središnje banke. Također se nastoji ne preopteretiti banke, s obzirom na to da prikupljanje podataka i izvještavanje o njima zahtijeva odgovarajuće vrijeme, novac i druge resurse. Osim toga, uvijek se mora osigurati povjerljivost pojedinačnih podataka, osobito kada se nadzorni podatci upotrebljavaju u aktivnostima koje se provode u suradnji s vanjskim osobama.
Usklađivanje podataka je ključno
Usklađivanje podataka iznimno je važno jer omogućava smislene rezultate i pouzdane usporedbe. Na primjer, možemo biti sigurni da su upotrijebljeni podatci o inflaciji točni jer su preuzeti iz nacionalnih podataka koji se temelje na zajedničkom skupu definicija i klasifikacija, tj. jednakoj potrošačkoj košarici robe i usluga.
Gdje pronaći statističke podatke ESB‑a
Težište statističkih podataka koje ESB prikuplja, razvija i priprema je, naravno, na europodručju. Ključne podatke objavljujemo. Širok spektar statističkih podataka možete pronaći na stranici Statistika europodručja, na kojoj se nalaze vizualni prikazi statističkih podataka, u formatima koje je lako postaviti na digitalne medije, i na sveobuhvatnoj stranici Spremišta statističkih podataka (Statistical Data Warehouse).
Na stranici Spremišta statističkih podataka prikazano je sljedeće:
politika i tečajevi ESB-a/Eurosustava
statistika novca, kredita, bankarstva i financijskih tržišta
statistika platne bilance i druga vanjska statistika
makroekonomska i sektorska statistika
statistika platnog prometa
nadzorna i bonitetna statistika
podatci povezani s inflacijom, drugim cijenama, troškovima, proizvodnjom i tržištima rada.
S ponosom ističemo da su statistički podatci Europskog sustava središnjih banaka jedan od dvaju europskih izvora visokokvalitetne europske statistike. To možemo zahvaliti bliskoj suradnji ESB-a i nacionalnih središnjih banaka te njihovoj bliskoj suradnji s drugim nacionalnim i međunarodnim statističkim tijelima te institucijama EU-a, na primjer s Eurostatom.
Ovaj članak ažuriran je 9. siječnja 2018. u svrhu pružanja dodatnih podataka o ovoj temi.