Hvorfor er statistik vigtig?
19. oktober 2016(opdateret 9. januar 2018)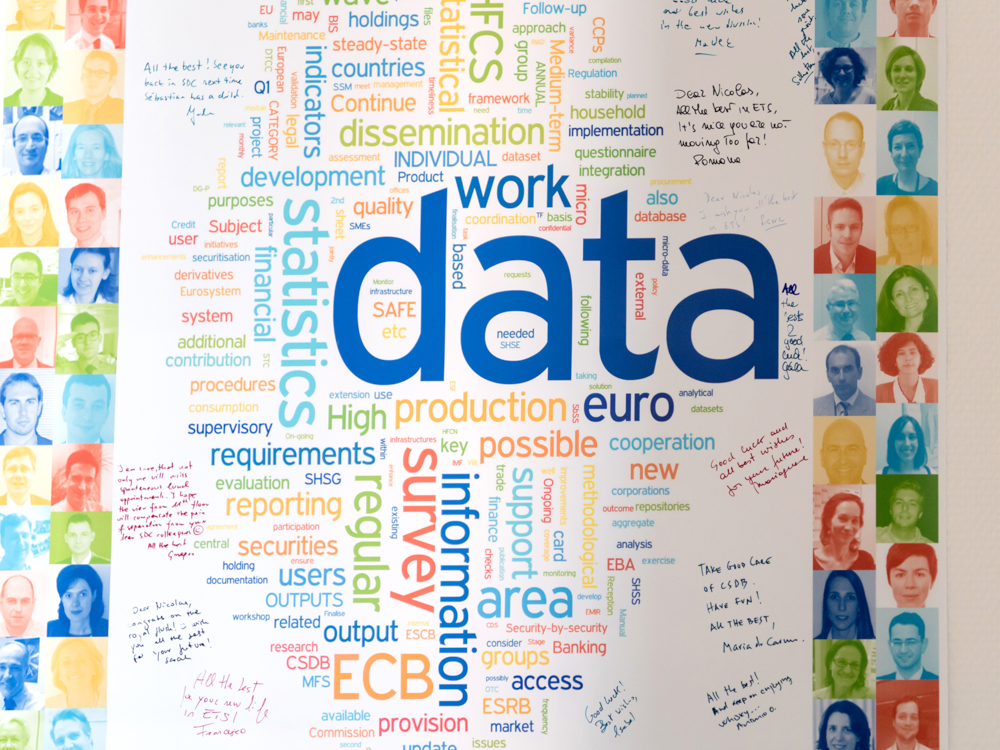 Statistik – faktiske forhold eller enkeltdata produceret ud fra datasæt, som bygger på taloplysninger – er meget vigtig for både ECB og andre centralbanker. Vi er i meget af vores arbejde, uanset om det er relateret til den rent pengepolitiske virksomhed, finansiel stabilitet eller banktilsyn, afhængig af statistik af god kvalitet, der er en nødvendig forudsætning for at træffe velbegrundede beslutninger.
Analysen af den økonomiske, pengepolitiske og finansielle udvikling, som foretages før hvert pengepolitisk møde, er et tydeligt eksempel på, hvorfor statistik er vigtig for både ECB og borgerne i eurolandene. Statistikken udgør et af de vigtigste input for Styrelsesrådet, når det træffer pengepolitiske beslutninger, og den påvirker igen de renter, som folk og virksomheder betaler. Statistik kan altså udøve en indirekte påvirkning på mange menneskers liv.
Statistik af høj kvalitet er vigtig
Velbegrundede beslutninger kræver statistik af høj kvalitet. Derfor overholder vi strenge standarder, for at sikre at ECB's statistikker er nøjagtige, konsekvente, rettidige og udarbejdet i overensstemmelse med internationale standarder uden indblanding udefra. Uafhængighed sikrer pålidelig statistik, som understøtter troværdigheden af vores pengepolitiske beslutninger og tilliden til ECB.
Dataene skal også være relevante
Den seneste finansielle krise har understreget nødvendigheden af at indsamle relevante og mere granulære data. Derfor er det område, som dækkes af centralbankernes statistik, ved at blive udvidet til ikke kun at omfatte aggregater ‑ som altid omfatter gennemsnit ‑ til også at dække (mere detaljerede) mikrodata, fx om de enkelte lån, transaktioner og banker.
Granulære data kan føre til en bedre forståelse af, hvordan pengepolitikken slår igennem i forskellige dele af økonomien. De kan forbedre udformningen af fremtidige pengepolitiske foranstaltninger og – i tilfælde af outliers (anomalier i dataene) eller halerisici (lidet sandsynlige begivenheder eller resultater, som har stor effekt) – gøre det muligt for pengepolitikken at reagere hurtigere. ECB's AnaCredit-projekt, der omfatter et nyt datasæt med detaljerede oplysninger om de enkelte banklån i euroområdet, er et godt eksempel på granulære data.
Udfordringerne ved at indsamle detaljerede data
Indsamlingen af detaljeret statistisk information kan være ret udfordrende, især med hensyn til valget af metodik og beregningsmetoder, som sikrer, at de forskellige landes statistik kan sammenlignes.
En yderligere udfordring er at opnå data fra enheder, der driver virksomhed uden for banksektoren, og som kan have en indvirkning på det finansielle system og derfor også på pengepolitikken. To eksempler herpå er hedgefonde – investeringspartnerskaber, som samler penge fra et begrænset antal enkeltinvestorers/institutionelle investorer i en pulje – og skyggebanker – enheder, der udbyder banklignende tjenester, men som ikke eksplicit har adgang til centralbanklikviditet.
Hertil kommer hensynet til, at bankerne ikke må overbebyrdes, for opgaven med at indsamle og indberette data kræver tid, penge og ressourcer.
Endvidere skal det til enhver tid sikres, at de enkelte data forbliver fortrolige. Dette gælder især tilsynsdata, der anvendes til aktiviteter, som gennemføres i samarbejde med eksterne parter.
Dataharmonisering er et vigtigt aspekt
Dataharmonisering er også af central betydning for at opnå anvendelige resultater og pålidelige sammenligninger. Vi kan fx være sikre på, at de anvendte inflationsdata er korrekte, fordi de er udledt af nationale data, som er baseret på fælles definitioner og klassifikationer, med andre ord en indkøbskurv med de samme varer og tjenester.
Hvor findes ECB's statistikker?
Euroområdet er naturligvis det primære fokus for de statistikker, som ECB indsamler og udarbejder. Vi deler dog også centrale data.
Det er muligt at få adgang til mange forskellige statistikker via enten webstedet Statistik for euroområdet eller i vores omfattende Statistical Data Warehouse. I Statistical Data Warehouse findes:
ECB's/Eurosystemets pengepolitiske renter og valutakurser
penge-, udlåns-, bank- og finansmarkedsstatistikker
betalingsbalancestatistik og anden relateret udlandsstatistik
makroøkonomisk statistik og sektorstatistik
betalingsstatistik
tilsynsmæssig og prudentiel statistik
data i relation til inflation, andre priser, omkostninger, produktion og arbejdsmarkeder.
Det Europæiske System af Centralbanker er stolt af at være én af to europæiske kilder til statistik af høj kvalitet. Dette er muligt takket være et tæt samarbejde mellem ECB og de nationale centralbanker og med EU-institutioner og nationale og internationale statistiske kontorer, herunder Den Europæiske Unions Statistiske Kontor, Eurostat.
Opdatering: Denne side blev opdateret 9. januar 2018 med henblik på at give flere detaljerede oplysninger om emnet.