Kodėl statistika yra svarbi?
2016 10 19 (atnaujinta 2018 m. sausio 9 d. )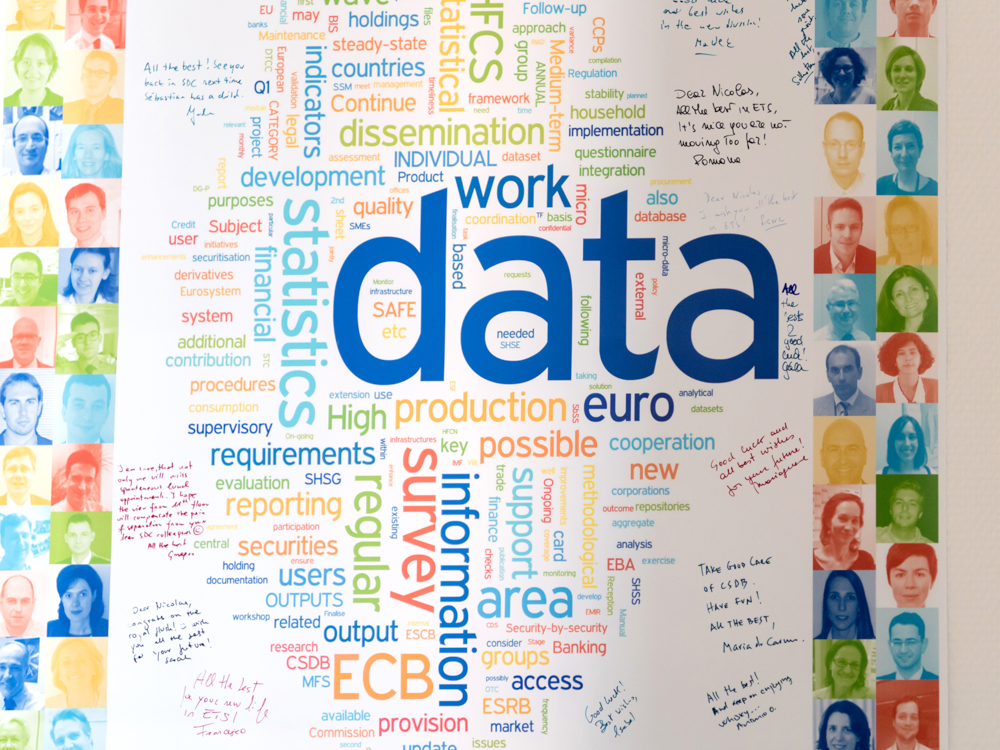 Statistika, t. y. iš skaitinių duomenų rinkinio gauti faktai arba informacija, yra labai svarbi ECB ir centriniams bankams apskritai. Nemaža ECB darbo dalis, ar tai būtų susiję su mūsų pagrindine – pinigų politikos – funkcija, finansiniu stabilumu ar bankų priežiūra, priklauso nuo kokybiškos statistikos, nes ji yra būtina priimant pagrįstus sprendimus.
Prieš kiekvieną posėdį pinigų politikos klausimais atliekama ekonominės, pinigų ir finansinės raidos analizė yra puikus pavyzdys, kodėl ECB ir euro zonos šalių gyventojams statistika yra svarbi. Valdančiajai tarybai priimant sprendimus dėl pinigų politikos, vėliau turinčius įtakos palūkanų normoms, kurias moka žmonės ir verslo įmonės, statistika atlieka labai svarbų vaidmenį. Taigi, netiesiogiai statistika gali turėti įtakos daugelio gyvenimui.
Kokybiškos statistikos svarba
Tinkamiems sprendimams priimti reikia kokybiškos statistikos. Todėl norėdami užtikrinti, kad ECB statistika būtų tiksli, nuosekli, teikiama laiku, rengiama laikantis tarptautinių standartų ir be išorinio įsikišimo, laikomės griežtų standartų. Iš tiesų, nepriklausomumas padeda užtikrinti statistikos patikimumą, tad ir pasitikėjimą mūsų politikos sprendimais ir pačiu ECB.
Atitinkami duomenys taip pat reikalingi
Per pastarąją finansų krizę paaiškėjo, kaip svarbu rinkti atitinkamus detalesnius duomenis. Todėl centrinių bankų statistikos ribos plečiasi ir ji apima ne tik apibendrintus duomenis, visada pateikiamus kaip vidurkiai, bet ir mikro (detalesnius) duomenis, pavyzdžiui, apie pavienes paskolas, sandorius ir bankus.
Analizuojant neapibendrintus duomenis galima geriau suprasti, kaip pinigų politikos poveikis perduodamas įvairioms ekonomikos sritims. Be to, šių duomenų analizė gali padėti pagerinti būsimas politikos priemones, o neįprastų duomenų arba mažos tikimybės, bet didelio poveikio rizikos atveju – pagreitinti politikos atsaką. ECB projektas "AnaCredit" – naujas duomenų rinkinys, kuriame kaupiama išsami informacija apie bankų paskolas euro zonoje, – yra paminėtinas neapibendrintų duomenų pavyzdys.
Detalių duomenų surinkimo sunkumai
Surinkti detalią statistinę informaciją gali būti gana sudėtinga, ypač kai reikia pasirinkti tokias metodikas ir apskaičiavimo metodus, kad būtų galima palyginti skirtingų šalių duomenis.
Dar vienas sunkumas – gauti informaciją iš subjektų, veikiančių už bankų sistemos ribų, bet galinčių turėti poveikio finansų sistemai, tad ir pinigų politikai, pavyzdžiui, iš rizikos draudimo fondų (investicijų partnerysčių, kuriose sutelkti riboto skaičiaus asmenų ir (arba) institucinių investuotojų pinigai) ir šešėlinių bankų (subjektų, teikiančių panašias paslaugas kaip ir bankai, tačiau neturinčių galimybės naudotis centrinio banko likvidumu).
Be to, vengiama per daug apkrauti bankus, nes duomenų surinkimui ir pateikimui reikia skirti pakankamai laiko, pinigų ir kitų išteklių.
Taip pat visada reikia užtikrinti atskirų duomenų konfidencialumą, ypač tais atvejais, kai priežiūrai reikalingi duomenys naudojami tam tikruose procesuose, vykdomuose kartu su išorės šalimis.
Duomenų suderinimas – vienas svarbiausių aspektų
Labai svarbu, kad duomenys būtų suderinti, nes tik turint tokius duomenis gaunami prasmingi rezultatai ir galimi patikimi palyginimai. Pavyzdžiui, esame tikri dėl naudojamų infliacijos duomenų tikslumo, nes jie gauti iš nacionalinių duomenų, parengtų laikantis vienodų apibrėžčių ir klasifikavimo, arba, kitaip tariant, naudojant tokį patį prekių ir paslaugų krepšelį.
Kur rasti ECB statistiką?
Savaime suprantama, kad rinkdamas ir rengdamas statistiką ECB daugiausia dėmesio skiria euro zonai. Be to, mes dalijamės pagrindiniais duomenimis.
Daug įvairios statistikos galima rasti interneto svetainėje Euro zonos statistika, kur statistika pateikiama grafiškai ir tokiu formatu, kad ją nesunku panaudoti skaitmeninėse priemonėse, arba mūsų didelėje  statistinių duomenų saugykloje.
Statistinių duomenų saugykloje rasite:
duomenų apie ECB / Eurosistemos politiką ir valiutų kursus;
pinigų, kreditų, bankų ir finansų rinkų statistiką;
mokėjimų balansą ir kitą išorės sektoriaus statistiką;
makroekonominę ir sektorių statistiką;
mokėjimų statistiką;
priežiūrinę ir prudencinę statistiką;
su infliacija, kainomis, sąnaudomis, gamyba ir darbo rinkomis susijusius duomenis.
Europos centrinių bankų sistema didžiuojasi būdama viena iš dviejų Europos organizacijų, teikiančių kokybišką Europos statistiką. Tai įmanoma ECB glaudžiai bendradarbiaujant su nacionaliniais centriniais bankais, taip pat su ES institucijomis, nacionalinėmis ir tarptautinėmis statistikos tarnybomis, tarp jų ir ES statistikos tarnyba Eurostatu.
Ši informacija atnaujinta 2018 m. sausio 9 ​d.