Grčka
Motive za grčke eurokovanice među brojnim prijedlozima koje je predstavio nacionalni tehnički i umjetnički odbor odabrali su ministar nacionalnog gospodarstva i guverner središnje banke Bank of Greece. Izabrane motive oblikovao je kipar Georges Stamatopoulos pod pokroviteljstvom središnje banke Bank of Greece. Postoje pojedinačni motivi za svaki apoen.
2 €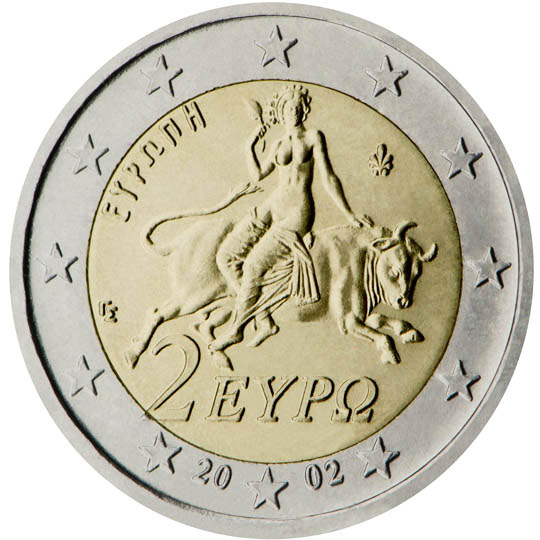 Na kovanici je scena s mozaika u Sparti (3. stoljeće naše ere) u kojoj je prikazana Europa koju otima Zeus u obliku bika. Europa je lik iz grčke mitologije po kojoj je Europa dobila ime. Na obodu kovanice od 2 €: EΛΛHNIKH ΔHMOKPATIA * (Helenska Republika).
---
1 €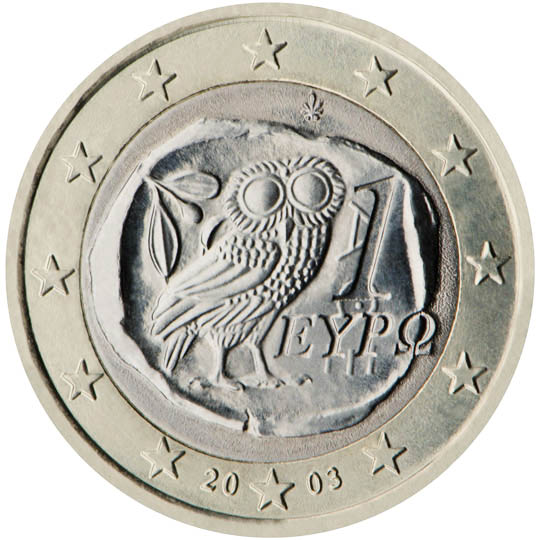 Sova na ovoj kovanici napravljena je po uzoru na staru atensku kovanicu od 4 drahme (5. st. pr. n. e.).
---
50 centi
Na ovoj je kovanici prikazan Eleftherios Venizelos (1864. – 1936.), jedan od najistaknutijih grčkih političara. Bio je predvodnik socijalne reforme, ugledan diplomat koji je imao ključnu ulogu u modernizaciji grčke države te oslobođenju sjeverne Grčke i egejskih otoka.
---
20 centi
Kovanica je posvećena Joanisu Kapodistriasu (1776. – 1831.), vodećem nacionalnom i europskom političaru i diplomatu koji je postao prvi guverner Grčke (1830. – 1831.) nakon grčkog rata za neovisnost (1821. – 1827.).
---
10 centi
Na kovanici je prikazan Rigas Fereos (Velestinlis) (1757. – 1798.), predvodnik i vodeća ličnost grčkog prosvjetiteljstva, vizionar te glasnik balkanskog oslobođenja od osmanske vlasti.
---
5 centi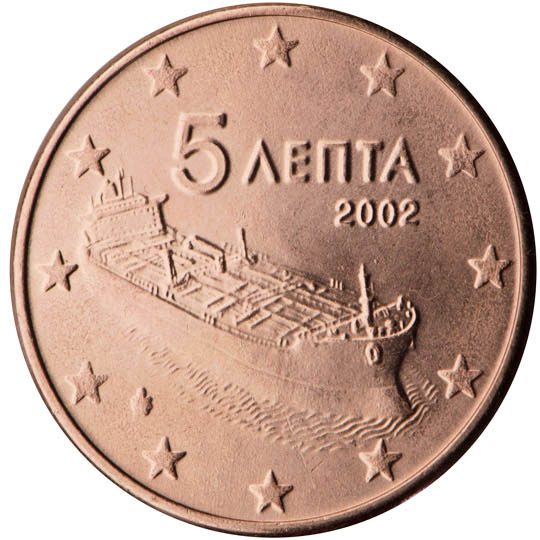 Na kovanici je prikazan moderan pomorski tanker koji odražava inovativni duh grčkog brodarstva.
---
2 centa
Na kovanici je prikazana korveta koja se upotrebljavala tijekom grčkog rata za neovisnost (1821. – 1827.).
---
1 cent
Motiv prikazuje napredni model atenske trijere iz doba atenske demokracije (5. st. pr. n. e.) koja je više od 200 godina bila najveći bojni brod.
---