Grecia
Ministrul economiei naționale și guvernatorul Bank of Greece au ales elementele grafice pentru monedele euro grecești dintr-un set de propuneri prezentate de un comitet tehnic și artistic național. Autorul motivelor declarate câștigătoare a fost sculptorul Georges Stamatopoulos, sponsorizat de Bank of Greece. Există o concepție grafică diferită pentru fiecare valoare nominală.
2 EUR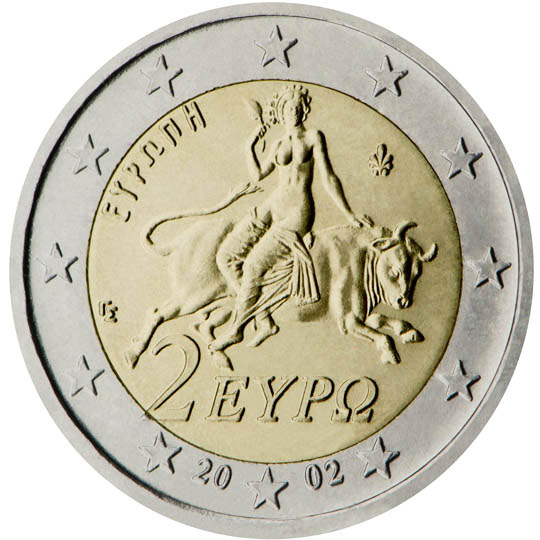 Moneda prezintă o scenă dintr-un mozaic din Sparta (secolul al III-lea d.Hr.), înfățișând răpirea Europei de către Zeus, metamorfozat în taur. Europa este un personaj din mitologia greacă, care a dat numele continentului nostru. Pe muchia monedei de 2 EUR apare inscripția EΛΛHNIKH ΔHMOKPATIA * (Republica Elenă).
---
1 EUR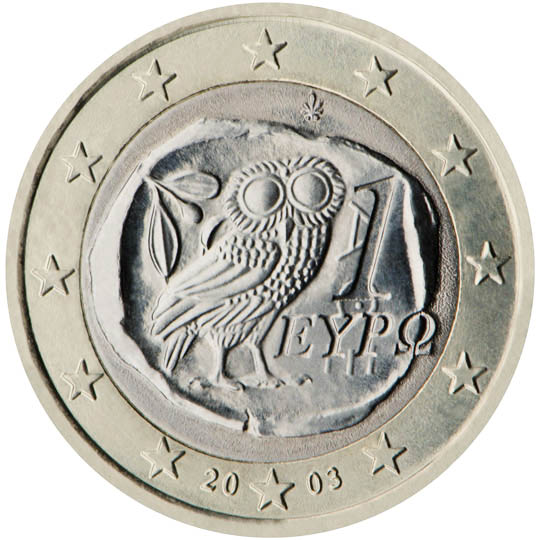 Imaginea bufniței a fost copiată de pe o veche monedă ateniană de 4 drahme (secolul al V-lea î. Hr.).
---
50 de cenți
Moneda îl înfățișează pe Eleftherios Venizelos (1864-1936), una dintre cele mai proeminente figuri politice ale Greciei. Acesta a fost inițiatorul reformelor sociale, un diplomat renumit și a avut o contribuție esențială la modernizarea statului grec, precum și la eliberarea părții de nord a Greciei și a insulelor din Marea Egee.
---
20 de cenți
Moneda îl comemorează pe Ioannis Capodistrias (1776-1831), renumit diplomat și politician grec și european, care a devenit primul guvernator al Greciei (1830-1831) după războiul de independență al acesteia (1821-1827).
---
10 cenți
Pe această monedă apare Rigas Fereos (Velestinlis) (1757-1798). Acesta a fost precursorul și figura principală a iluminismului grec, precum și un profet al eliberării zonei balcanice de sub jugul otoman.
---
5 cenți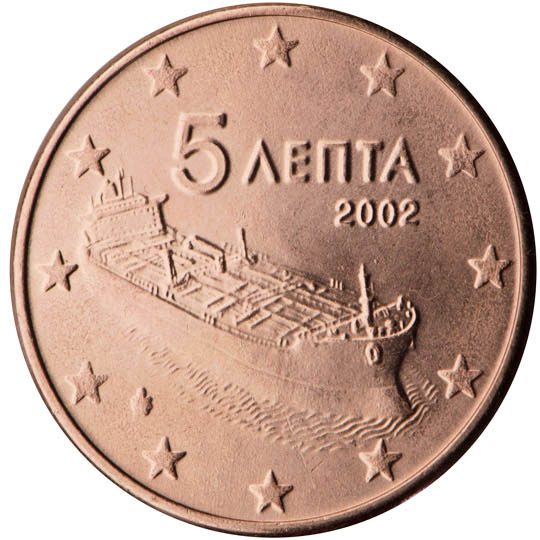 Această monedă prezintă o navă-cisternă, simbol al spiritului inovator al marinei grecești.
---
2 cenți
Motivul redă o corvetă, un tip de vas maritim folosit în timpul războiului de independență din Grecia (1821-1827).
---
1 cent
Motivul redă un model avansat de triremă ateniană, cea mai mare navă de război timp de peste 200 de ani, datând din perioada democrației ateniene (secolul al V-lea î. Hr.).
---