Grækenland
Økonomi- og finansministeren og direktøren for Bank of Greece valgte i fællesskab landets euromøntdesign ud fra en række forslag fra et nationalt teknisk og kunstnerisk udvalg. Manden bag vindermotiverne var skulptør Georges Stamatopoulos, der blev sponsoreret af Bank of Greece. Hver mønt har sit eget design.
2 €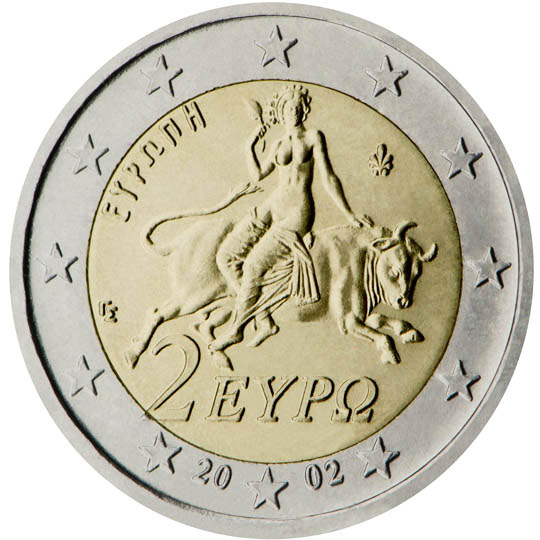 Denne mønt afbilder en scene fra en mosaik i Sparta (tredje århundrede e.Kr.), der viser Europa blive bortført af Zeus, som har antaget en tyrs skikkelse. Europa er en sagnfigur fra den græske mytologi, som verdensdelen Europa er opkaldt efter. Randskrift på 2-euromønten: EΛΛHNIKH ΔHMOKPATIA * (Den Hellenske Republik).
---
1 €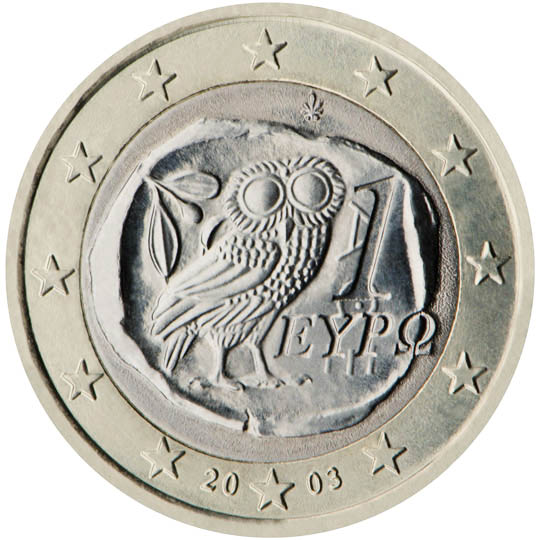 På 1-euromønten ses en ugle kopieret efter en 4-drakmemønt fra oldtidens Athen (femte århundrede f.Kr.).
---
50 cent
En af Grækenlands mest fremtrædende politiske skikkelser, Eleftherios Venizelos (1864-1936), er afbildet på 50-centmønten. Han var foregangsmand inden for sociale reformer og en navnkundig diplomat, som spillede en afgørende rolle i moderniseringen af den græske stat og befrielsen af det nordlige Grækenland og De Ægæiske Øer.
---
20 cent
På 20-centmønten fejres mindet om Ioannis Kapodistrias (1776-1831), en førende national og europæisk politiker og diplomat, som blev Grækenlands første præsident (1830-1831) efter den græske uafhængighedskrig (1821-1827).
---
10 cent
På 10-centmønten er Rigas Fereos (Velestinlis) (1757-1798) afbildet. Han var foregangsmand for og en ledende skikkelse under den græske oplysning. Han var også visionær og en fortaler for Balkans befrielse fra det osmanniske styre.
---
5 cent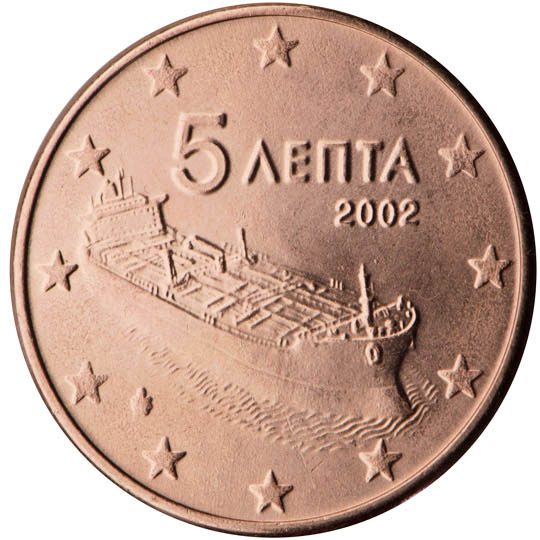 På 5-centmønten ses et moderne oceangående tankskib, som afspejler den innovative ånd i græsk søfart.
---
2 cent
På 2-centmønten ses en korvet, en skibstype, som blev brugt i den græske uafhængighedskrig (1821-1827).
---
1 cent
Motivet på 1-centmønten er en avanceret model af en athensk triere, der i over 200 år var det største søgående krigsskib. Trieren stammer fra det athenske demokratis epoke (femte århundrede f.Kr.).
---