Görögország
A gazdasági miniszter és a Bank of Greece elnöke egy nemzeti technikai és művészeti bizottság javaslatai közül választotta ki a görög euroérméket díszítő motívumokat. A nyertes pályázat alkotóját, Georges Sztamatopulosz szobrászművészt a Bank of Greece szponzorálta. Minden címleten más-más motívum látható.
2 eurós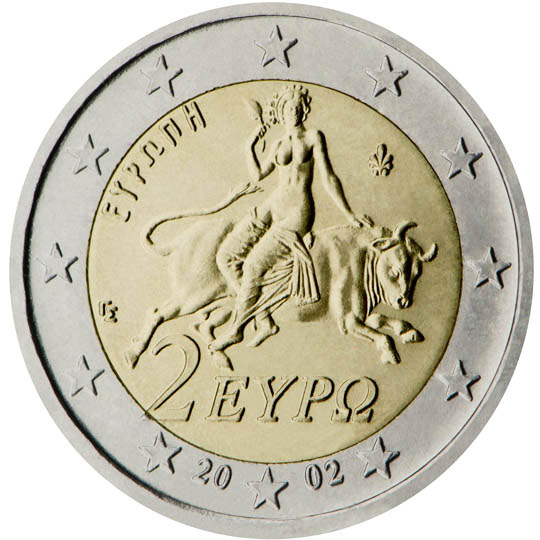 Ez az érme egy spártai (Kr. u. III. századi) mozaikjelenetet ábrázol, amelyen a bikaalakot öltött Zeusz éppen elrabolja Európét, az európai kontinens névadóját. Peremfelirat: "ΕΛΛΗΝΙΚΗ ΔΗΜΟΚΡΑΤΙΑ *" (Görög Köztársaság).
---
1 eurós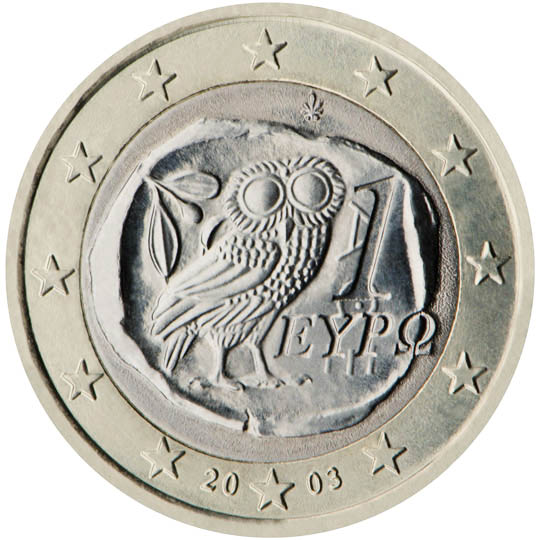 Az érme egy ókori (Kr. e. V. századi) athéni 4 drachmás érméről vett baglyot ábrázol.
---
50 centes
Az érmén Elefteriosz Venizelosz (1864–1936), Görögország egyik kiemelkedő politikusa látható. Venizelosz a társadalmi reformok egyik úttörője volt, ismert diplomata, aki kulcsszerepet játszott a görög állam modernizálásában, valamint Észak-Görögország és az égei-tengeri szigetek felszabadításában.
---
20 centes
Az érme Joannisz Kapodisztriasznak (1776–1831), a kimagasló görög és európai politikusnak és diplomatának állít emléket, aki a görög függetlenségi háború (1821–27) után az ország első kormányzója lett (1830–31).
---
10 centes
Az érmén Rigasz Velesztinlisz-Fereosznak (1757–98), a görög felvilágosodás előfutárának és vezető alakjának képe látható, aki egyszersmind a Balkán török uralom alóli felszabadításának megálmodója volt.
---
5 centes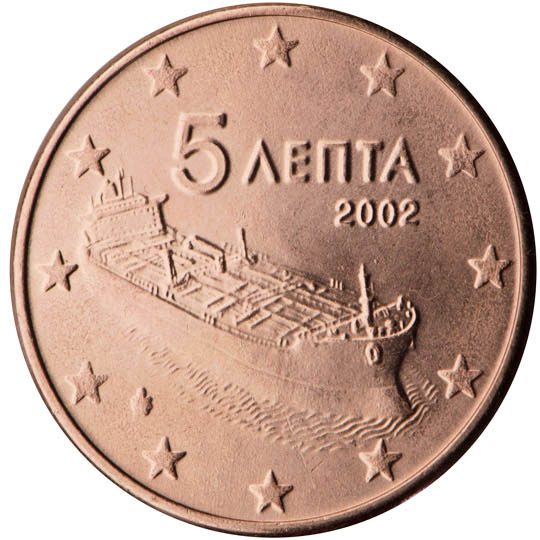 Az érme egy modern tengerjáró tankhajót ábrázol, ami a görög hajózás újító szellemét tükrözi.
---
2 centes
Az érme a görög függetlenségi háborúban (1821–27) használt egyik hajótípust, a korvettet ábrázolja.
---
1 centes
Az érme rajzolata az athéni háromsorevezős gálya egyik fejlett változatát ábrázolja, az athéni demokrácia (Kr. e. V. század) korából; több mint kétszáz éven át ez volt a létező legnagyobb hadihajó.
---