Grécko
Motívy národných strán vybral minister hospodárstva spolu s guvernérom gréckej národnej banky (Bank of Greece) spomedzi návrhov národného technického a umeleckého výboru. Autorom návrhu víťazných motívov je sochár Georges Stamatopoulos, ktorého sponzorovala Bank of Greece. Každá minca znázorňuje iný motív.
2 €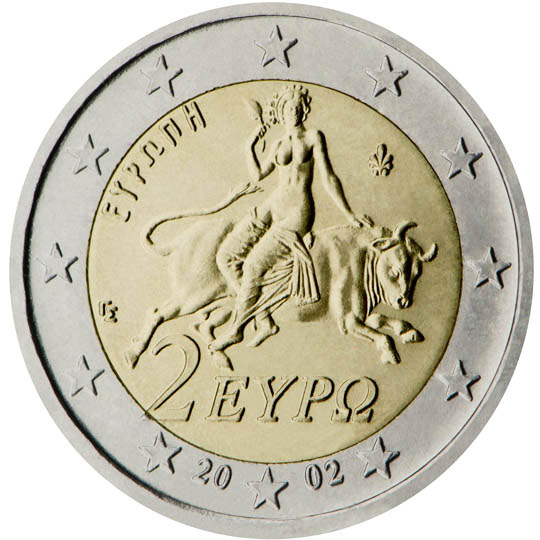 Táto minca predstavuje scénu z mozaiky v Sparte (z 3. stor. n. l.), na ktorej Európu – postavu z gréckej mytológie, po ktorej je pomenovaný náš kontinent – unáša Zeus prevtelený do býka. Nápis na hrane mince 2 €: ΕΛΛΗΝΙΚΗ ΔΗΜΟΚΡΑΤΙΑ * (Helénska republika).
---
1 €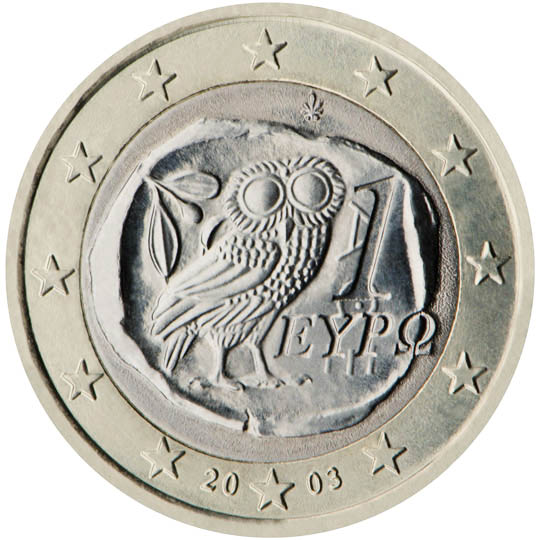 Sova zobrazená na tejto minci je prevzatá zo starovekej aténskej tetradrachmy (z 5. stor. pred n. l.).
---
50 centov
Portrét na tejto minci patrí Eleftheriosovi Venizelosovi (1864 – 1936), jednej z najznámejších postáv gréckej politickej scény. Bol priekopníkom sociálnych reforiem, uznávaným diplomatom a kľúčovou postavou v modernizácii gréckeho štátu a oslobodení severného Grécka a Egejských ostrovov.
---
20 centov
Táto minca je venovaná Ioannisovi Capodistriasovi (1776 – 1831), poprednému národnému a európskemu politikovi a diplomatovi, ktorý sa stal prvým guvernérom Grécka (1830 – 1831) po skončení gréckeho boja za nezávislosť (1821 – 1827).
---
10 centov
Rigas Fereos (Velestinlis) (1757 – 1798), zobrazený na tejto minci, bol popredným predstaviteľom hnutia gréckeho osvieteneckého hnutia. Presadzoval myšlienku oslobodenia Balkánu spod nadvlády Osmanskej ríše.
---
5 centov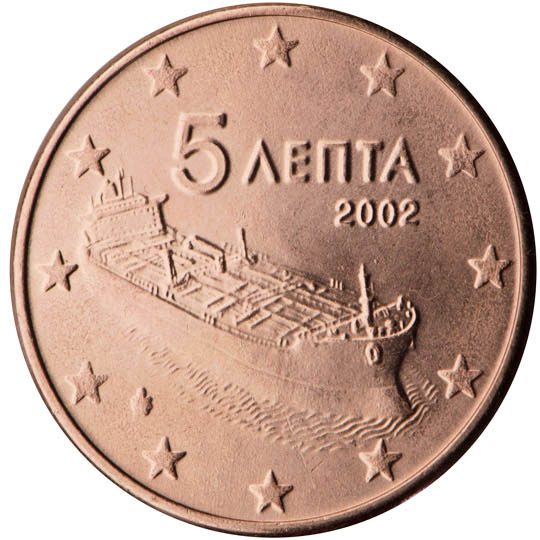 Na tejto minci je zobrazený moderný tanker ako symbol novátorského ducha gréckeho lodiarstva.
---
2 centy
Korveta znázornená na tejto minci bola používaná počas gréckej vojny za nezávislosť (1821 – 1827).
---
1 cent
Tento motív zobrazuje model aténskej triéry z obdobia aténskej demokracie (z 5. stor. pred n. l.), ktorá bola po viac ako 200 rokov najväčšou vojnovou loďou.
---