Euro naudojimas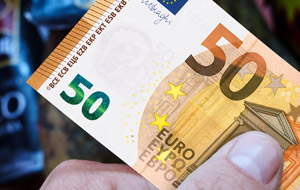 1999 m. sausio 1 d. įvesta euro valiuta tapo daugiau kaip 300 milijonų europiečių bendra valiuta. Pirmuosius trejus metus eurai buvo nematoma valiuta, naudojama tik apskaitai, pavyzdžiui, elektroniniams mokėjimams. Grynieji eurai buvo pradėti naudoti tik 2002 m. sausio 1 d. – tada nustatytu kursu jie pakeitė nacionalinių valiutų, pvz., Belgijos franko ar Vokietijos markės, banknotus ir monetas.
Šiandien eurų banknotai ir monetos yra teisėta mokėjimo priemonė 19 iš 28 Europos Sąjungos (ES) valstybių narių, įskaitant su jomis asocijuotus arba į jų sudėtį įeinančius užjūrio departamentus, teritorijas ir salas. Šios valstybės sudaro euro zoną. Mažosios valstybės Andora, Monakas, San Marinas ir Vatikanas naudoja euro valiutą pagal oficialų susitarimą su Europos Bendrija. Juodkalnija ir Kosovas taip pat naudoja euro valiutą, tačiau be oficialaus susitarimo. 340 milijonų žmonių atsiskaito grynaisiais pinigais ta pačia valiuta – eurų banknotai ir monetos tapo apčiuopiamu Europos integracijos simboliu.
Tikimasi, kad visos ES šalys, išskyrus Daniją ir Jungtinę Karalystę, kurios yra susitarusios dėl išimties, prisijungs prie pinigų sąjungos ir įsives eurą, kai tik įvykdys konvergencijos kriterijus.
Sąveikusis euro zonos žemėlapis
Fiksuotieji keitimo į eurus kursai
| (eurais) | Valiuta |
| --- | --- |
| 1 | 40,3399 BEF (Belgijos franko) |
| 1 | 1,95583 DEM (Vokietijos markės) |
| 1 | 15,6466 EEK (Estijos kronos) |
| 1 | 0,787564 IEP (Airijos svaro) |
| 1 | 340,750 GRD (Graikijos drachmos) |
| 1 | 166,386 ESP (Ispanijos pesetos) |
| 1 | 0,585274 CYP (Kipro svaro) |
| 1 | 6,55957 FRF (Prancūzijos franko) |
| 1 | 1936,27 ITL (Italijos liros) |
| 1 | 0,702804 LVL (Latvijos lato) |
| 1 | 3,45280 LTL (Lietuvos lito) |
| 1 | 40,3399 LUF (Liuksemburgo franko) |
| 1 | 0,429300 MTL (Maltos liros) |
| 1 | 2,20371 NLG (Nyderlandų guldeno) |
| 1 | 13,7603 ATS (Austrijos šilingo) |
| 1 | 200,482 PTE (Portugalijos eskudo) |
| 1 | 239,640 SIT (Slovėnijos tolaro) |
| 1 | 30,1260 SKK (Slovakijos kronos) |
| 1 | 5,94573 FIM (Suomijos markės) |
Grynųjų pinigų srautai euro zonoje
Eurų banknotai (ir monetos) cirkuliuoja visoje euro zonoje daugiausia dėl turizmo, verslo kelionių ir tarptautinių pirkimų. Prieš euro įvedimą panašiai, tik daug mažesniu mastu, per sienas judėjo ir nacionalinių valiutų banknotai, kurie turėdavo būti grąžinti į juos išleidusį centrinį banką, dažniausiai per komercinių bankų sistemą. Eurų grąžinti nereikia. Vis dėlto daugybė eurų banknotų nepasilieka juos išleidusioje šalyje, o patenka į kitas euro zonos šalis ir ten yra išleidžiami, todėl centriniams bankams tenka juos perskirstyti, kad vienose šalyse nesusidarytų banknotų stygius, o kitose – perteklius. Tokius didelio masto pervedimus centralizuotai koordinuoja ir finansuoja ECB.
Grynųjų pinigų ir jų unikalių ypatybių svarba
Nuo 2002 m., kai buvo įvesti grynieji eurai, apyvartoje esančių eurų banknotų vertė ir skaičius tolygiai didėja. Pagal atliktų sandorių skaičių grynieji pinigai yra plačiausiai naudojama mažmeninių sandorių mokėjimo priemonė euro zonoje, tačiau vertės atžvilgiu jų dalis yra daug mažesnė. Nepaisant to, pastaraisiais dešimtmečiais grynųjų pinigų svarba abiem atžvilgiais palaipsniui mažėja, o debeto ir kredito kortelių naudojimas auga. Tikėtina, kad ši tendencija tęsis.
Kaip mokėjimo priemonė, grynieji pinigai turi unikalių ypatybių. Jie yra:
plačiausiai naudojama ir greičiausia mažmeninių sandorių mokėjimo priemonė. Be to, jie – pagrindinė mokėjimo priemonė, naudojama nenumatytoms išlaidoms;
laikomi pigiausia mokėjimo priemone smulkiems mažmeniniams sandoriams vykdyti, t. y. atliekant nedidelės vertės mokėjimus, vieno sandorio vidutinės bendrosios sąnaudos yra mažesnės atsiskaitant grynaisiais pinigais nei naudojant palyginamas elektronines mokėjimo priemones;
užtikrina, kad žmonės, kurie neturi banko sąskaitų, turi ribotą prieigą prie jų arba negali naudotis elektroninėmis mokėjimo formomis, vis tiek galėtų atlikti mokėjimus;
suteikia žmonėms galimybę geriau kontroliuoti savo išlaidas;
yra ne tik mokėjimo, bet ir kaupimo priemonė;
yra saugi mokėjimo priemonė, kurią sunku padirbti ar suklastoti.
Atsižvelgiant į šias ypatybes, visuomenė dar negalėtų apsieiti be grynųjų pinigų. Jie dar ilgai bus nepakeičiama mokėjimo priemonė.
Eurosistemos pozicija dėl grynųjų pinigų kaip mokėjimo priemonės
Vienas iš pagrindinių Eurosistemos uždavinių, nurodytų Sutartyje dėl ES veikimo, – užtikrinti, kad mokėjimo sistema veiktų sklandžiai. Eurosistemos pozicija kitų mokėjimo priemonių atžvilgiu yra neutrali. Ji neišskiria jokios vienos mokėjimo priemonės. Vis dėlto Eurosistemos centriniai bankai turi specialų įsipareigojimą, susijusį su grynaisiais pinigais – jie oficialiai leidžia eurų banknotus. Be to, daugelis iš jų į apyvartą leidžia eurų monetas, kaldinamas valstybių narių kalyklose. Taigi Eurosistema yra įsipareigojusi stiprinti grynuosius pinigus kaip visiems prieinamą, lengvai naudojamą, patikimą ir efektyvią mažmeninių sandorių mokėjimo priemonę. Neperžengdama savo kompetencijos ribų, Eurosistema stebi euro zonos grynųjų pinigų ciklus ir nuolat stengiasi didinti jų saugumą, atsparumą ir efektyvumą.