Stosowanie euro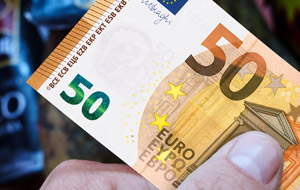 1 stycznia 1999 narodziło się euro – wspólna waluta ponad 300 milionów mieszkańców Europy. Przez pierwsze trzy lata była to waluta niematerialna, stosowana jedynie do celów księgowych, np. w płatnościach elektronicznych. Gotówka euro pojawiła się dopiero 1 stycznia 2002, gdy zastąpiła (po ustalonym z góry kursie) banknoty i monety dotychczasowych walut krajowych, np. franka belgijskiego czy marki niemieckiej.
Obecnie banknoty i monety euro są prawnym środkiem płatniczym w 19 z 28 państw członkowskich Unii Europejskiej, w tym w departamentach i terytoriach zamorskich oraz na wyspach należących do krajów strefy euro lub z nimi stowarzyszonych. Tych 19 państw tworzy strefę euro. Na podstawie oficjalnej umowy ze Wspólnotą Europejską euro jest też walutą Andory, Monako, San Marino i Watykanu, a bez umowy – Czarnogóry i Kosowa. Obecnie waluty tej używa do płatności gotówkowych 340 milionów ludzi, co czyni ją namacalnym symbolem integracji europejskiej.
Docelowo wszystkie kraje unijne mają przystąpić do unii walutowej i wprowadzić euro, gdy tylko spełnią tzw. kryteria konwergencji (z obowiązku tego są zwolnione jedynie Dania i Wielka Brytania).
Interaktywna mapka strefy euro
Stałe kursy wymiany euro
| EUR | Waluta |
| --- | --- |
| 1 | 40,3399 BEF (frank belgijski) |
| 1 | 1,95583 DEM (marka niemiecka) |
| 1 | 15,6466 EEK (korona estońska) |
| 1 | 0,787564 IEP (funt irlandzki) |
| 1 | 340,750 GRD (drachma grecka) |
| 1 | 166,386 ESP (peseta hiszpańska) |
| 1 | 0,585274 CYP (funt cypryjski) |
| 1 | 6,55957 FRF (frank francuski) |
| 1 | 1936,27 ITL (lir włoski) |
| 1 | 0,702804 LVL (łat łotewski) |
| 1 | 3,45280 LTL (lit litewski) |
| 1 | 40,3399 LUF (frank luksemburski) |
| 1 | 0,429300 MTL (lira maltańska) |
| 1 | 2,20371 NLG (gulden holenderski) |
| 1 | 13,7603 ATS (szyling austriacki) |
| 1 | 200,482 PTE (eskudo portugalskie) |
| 1 | 239,640 SIT (tolar słoweński) |
| 1 | 30,1260 SKK (korona słowacka) |
| 1 | 5,94573 FIM (marka fińska) |
Przepływ gotówki w strefie euro
Do dynamicznego przepływu banknotów i monet między krajami strefy euro przyczyniają się głównie: wymiana turystyczna, podróże służbowe i zakupy za granicą. Przed wprowadzeniem euro skala międzynarodowego obiegu walut krajowych w Europie była znacznie mniejsza, a banknoty trzeba było sprowadzać z powrotem do krajowych banków centralnych, które je wyemitowały; ruch ten odbywał się głównie za pośrednictwem banków komercyjnych. Euro nie wymaga takich operacji. Ponieważ jednak duża część banknotów euro nie pozostaje w kraju, który je wyemitował, ale przepływa do innych państw strefy euro i tam jest wydawana, banki centralne muszą prowadzić redystrybucję banknotów, by uniknąć wystąpienia ich niedoboru w niektórych krajach, a nadwyżki w innych. Odbywa się to w formie hurtowych transferów, koordynowanych i finansowanych centralnie przez EBC.
Znaczenie i specyfika pieniądza gotówkowego
Odkąd w 2002 roku euro weszło do obiegu gotówkowego, wartość i liczba banknotów euro w obiegu stale się zwiększa. Pod względem liczby transakcji gotówka jest w strefie euro zdecydowanie najbardziej rozpowszechnionym środkiem płatniczym w obrocie detalicznym, natomiast pod względem wartości transakcji jej udział jest znacznie mniejszy. Od kilkudziesięciu lat znaczenie gotówki w obu tych ujęciach stopniowo maleje, wraz ze wzrostem popularności kart płatniczych i kredytowych. Przewiduje się, że ten trend utrzyma się także w przyszłości.
Specyfika gotówki jako instrumentu płatniczego:
jest ona najbardziej rozpowszechnionym i najszybszym instrumentem płatniczym w transakcjach detalicznych, a także najważniejszym awaryjnym środkiem płatności
uchodzi za najtańszą metodę regulowania drobnych płatności detalicznych – średni całkowity koszt transakcji gotówkowej jest niższy niż koszt transakcji dokonanej przy użyciu elektronicznego instrumentu płatniczego
mogą z niej korzystać wszyscy – również osoby, które nie posiadają rachunku bankowego, mają do niego ograniczony dostęp lub nie mogą dokonywać płatności w formie elektronicznej
ułatwia kontrolowanie wydatków
jest zarówno instrumentem płatniczym, jak i tzw. środkiem przechowywania wartości
sprawdza się jako bezpieczny środek płatniczy pod względem podatności na oszustwa i fałszerstwa.
Z tych względów społeczeństwo nie jest gotowe przejść wyłącznie na obrót bezgotówkowy. Jeszcze przez wiele lat banknoty i monety pozostaną niezastąpionym środkiem płatniczym.
Stanowisko Eurosystemu wobec gotówki jako środka płatniczego
Zgodnie z Traktatem o funkcjonowaniu Unii Europejskiej jednym z podstawowych zadań Eurosystemu jest wspieranie sprawnego funkcjonowania systemu płatniczego. Stanowisko Eurosystemu wobec różnych instrumentów płatniczych jest neutralne – żaden nie jest preferowany. Jednak banki centralne z Eurosystemu jako oficjalni emitenci banknotów euro ponoszą szczególną odpowiedzialność za pieniądz gotówkowy. Większość z nich odpowiada ponadto za wprowadzanie do obiegu monet euro, których emitentami są państwa członkowskie. Z tego względu Eurosystem jest zobowiązany wspierać pieniądz gotówkowy jako powszechnie dostępny, łatwy w użyciu, wiarygodny i efektywny środek płatniczy do transakcji detalicznych. W ramach swoich kompetencji Eurosystem monitoruje i stara się wciąż poprawiać bezpieczeństwo, odporność i sprawność obiegu gotówki w strefie euro.