Dizájnelemek
Építészeti képek
Az Európé-sorozat grafikai megoldásai az első sorozat "korszakok és stílusok" témakörén alapulnak. Az új bankjegyek azonban új külsőt kaptak, és több továbbfejlesztett, új biztonsági elem hozzáadásával módosultak, ami megkönnyíti a két sorozat bankjegyeinek megkülönböztetését.
A dizájn megújítására szóló megbízást Reinhold Gerstetter, független berlini bankjegytervező nyerte el.
Mindkét eurobankjegy-sorozat előoldalán ablakok és kapuk láthatók, amelyek az európai nyitottság és együttműködés szellemét jelképezik. A hátoldalon látható hidak az európai népek egymás közötti, illetve Európának a világ többi részével folytatott kommunikációját fejezik ki.
Az Európé-sorozat bankjegyei – az első sorozathoz hasonlóan – különböző európai történelmi korszakok építészeti stílusát ábrázolják, de a rajtuk látható műemlékek és hidak a valóságban nem léteznek. Az ábrázolt építészeti stílusok a következők:
5 €: klasszikus
10 €: román
20 €: gótikus
50 €: reneszánsz
100 €: barokk, rokokó
200 €: XIX. századi építészet, a vas és üveg korszaka
Európa térképe
Mindkét sorozat bankjegyeinek hátoldalán megtalálható Európa földrajzi képe. Az Európé-sorozaton Európa Máltával és Ciprussal kiegészített térképe látható. A bankjegy alsó széle fölött, kis keretekben láthatók a Kanári-szigetek és néhány olyan francia tengerentúli terület, ahol szintén euróval fizetnek. A nagyon kicsi szigetek nincsenek feltüntetve, mert nagy volumenű ofszetnyomtatással nem lehet őket pontosan megjeleníteni.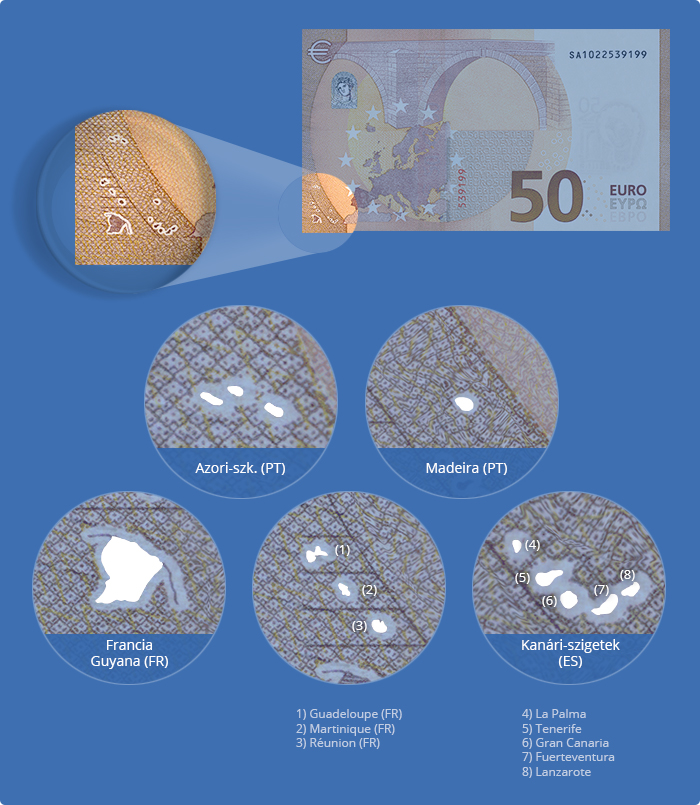 Színek
Minden címletnek megvan a maga jellegzetes színe. Az Európé-sorozat bankjegyeinek színei ugyanazok, mint az első sorozatéi, tehát az 5 eurós szürke, a 10 eurós vörös, a 20 eurós kék, az 50 eurós narancssárga, a 100 eurós zöld, a 200 eurós pedig sárgásbarna.
További grafikai elemek:
a pénznem neve – euro – az első sorozaton a latin és a görög ábécé szerint (EURO, ill. EYPΩ); az Európé-sorozaton pedig, Bulgária EU-csatlakozásával, cirill betűvel is (EBPO);
az Európai Központi Bank kezdőbetűi kilenc nyelvi változatban az 5, 10 és 20 eurós bankjegyeken, Horvátország 2013. évi EU-csatlakozásával pedig tíz változatban az új 50, 100 és 200 euróson. A rövidítések megadásának sorrendje az országokra és a hivatalos nyelvekre vonatkozó uniós protokollt követi;

BCE (francia, olasz, portugál, román, spanyol)
ECB (angol, cseh, dán, holland, lett, litván, svéd, szlovák, szlovén)
ЕЦБ (bolgár)
EZB (német)
EKP (észt, finn)
EKT (görög)
ESB (horvát)
EKB (magyar)
BĊE (máltai)
EBC (lengyel)

a © szimbólum a szerzői jogvédelem jelzésére;
az EU zászlaja.
Az első sorozathoz hasonlóan az Európé-sorozat tervezése során is konzultáltunk látássérült emberekkel, és ennek eredményeként a végső dizájntervek különleges elemeket is tartalmaznak.
Aláírások
A bankjegyeken az Európai Központi Bank első (Willem F. Duisenberg), második (Jean-Claude Trichet), harmadik (Mario Draghi) vagy negyedik elnökének (Christine Lagarde) aláírása szerepel. Az említett bankjegyek egyaránt érvényesek.

Willem F. Duisenberg

Jean-Claude Trichet

Mario Draghi
Christine Lagarde
Az Európé-sorozat bankjegyein látható sorozatszámok
Ezen a sorozaton két sorozatszám látható a hátoldalon: egy fekete színű vízszintes és egy elütő színű függőleges szám.
A vízszintes számot két betű és tíz számjegy alkotja. Az első betű a pénzjegynyomdát jelöli (lásd alább a felsorolást), a másodiknak nincs külön jelentése: egyszerűen több számvariációt tesz lehetővé.
Pénzjegynyomdák és betűjeleik
| | |
| --- | --- |
| Nationale Bank van België/Banque Nationale de Belgique | Z |
| Bank of Greece | Y |
| Giesecke & Devrient GmbH (München) | X |
| Giesecke & Devrient GmbH (Lipcse) | W |
| IMBISA | V |
| Banque de France | U |
| Central Bank of Ireland | T |
| Banca d'Italia | S |
| Bundesdruckerei GmbH | R |
| Joh. Enschede Security Printing BV | P |
| Oesterreichische Banknoten und Sicherheitsdruck GmbH | N |
| Valora | M |
| Nincs hozzárendelve | L |
| Nincs hozzárendelve | K |
| De La Rue Currency (Gateshead) | J |
| De La Rue Currency (Loughton) | H |
| Nincs hozzárendelve | G |
| Oberthur Fiduciaire AD (Szófia) | F |
| Oberthur Fiduciaire SAS (Chantepie) | E |
| Polska Wytwórnia Papierów Wartościowych | D |
| Nincs hozzárendelve | C |
| Nincs hozzárendelve | B |
| Nincs hozzárendelve | A |
Az első bankjegysorozaton látható országkódok
A nyomdát megbízó központi bankot (de nem szükségképpen a nyomtatás országát) a sorozatszám elé helyezett betűvel vagy országkóddal jelöljük a következőképpen:
Ezt a bankjegyet, amelyen az "S" betű látható, a Banca d'Italia megbízásából készítették. Alább felsoroljuk az országkódokat.
Országkód
¹A Banque centrale du Luxembourg által kibocsátott, forgalmon kívüli bankjegyeken azon országok központi bankjainak a kódja található, ahol Luxemburg részére előállítják a bankjegyeket.
Belgium
Z
Németország
X
Észtország
D
Írország
T
Görögország
Y
Spanyolország
V
Franciaország
U
Olaszország
S
Ciprus
G
Lettország
C
Litvánia
B
Luxemburg
¹
Málta
F
Hollandia
P
Ausztria
N
Portugália
M
Szlovénia
H
Szlovákia
E
Finnország
L