Elementi grafici
Motivi architettonici
Il disegno delle banconote della serie Europa si basa sul tema "Epoche e stili", adottato anche per la prima serie. I biglietti sono stati tuttavia modificati per rinnovarne l'aspetto grafico e integrare caratteristiche di sicurezza nuove e più avanzate; in questo modo risulta anche facile distinguere una serie dall'altra.
Per rinnovare la veste grafica dei biglietti in euro è stato selezionato Reinhold Gerstetter, bozzettista indipendente che opera a Berlino.
Sul fronte delle banconote in euro di entrambe le serie sono raffigurati finestre e portali, simbolo dello spirito di apertura e collaborazione che anima l'Europa. I ponti che compaiono sul retro sono una metafora del dialogo fra i popoli europei, nonché fra l'Europa e il resto del mondo.
Come nella prima serie, sulle banconote della serie Europa sono rappresentati gli stili architettonici di vari periodi della storia europea, ma non sono riprodotti monumenti o ponti realmente esistenti. Gli stili raffigurati sono:
€5: classico
€10: romanico
€20: gotico
€50: rinascimentale
€100: barocco e rococò
€200: architettura del ferro e del vetro del XIX secolo
Carta geografica dell'Europa
Sul retro delle banconote in euro di entrambe le serie compare una rappresentazione geografica dell'Europa. La carta geografica che figura sulla serie Europa è stata modificata con l'aggiunta di Malta e Cipro. In basso, all'interno di piccoli riquadri, sono riportate le Isole Canarie e alcuni territori d'oltremare francesi nei quali si utilizza l'euro. Le isole di dimensioni molto ridotte non sono raffigurate sulle banconote poiché il procedimento di stampa offset in ampia tiratura non ne consente una riproduzione fedele.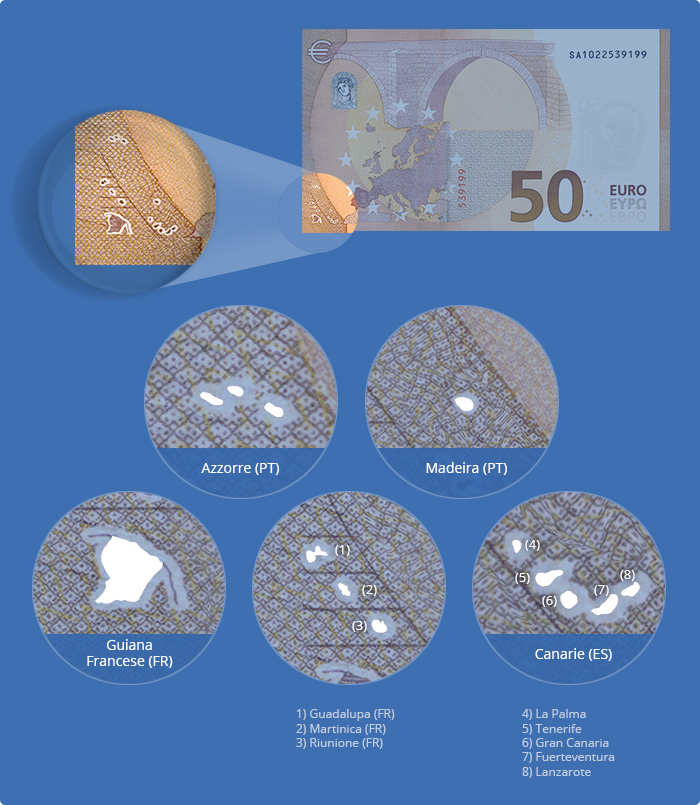 Colori
Ciascun taglio di banconote ha un colore dominante, che lo distingue chiaramente dagli altri. I biglietti della serie Europa riprendono i colori utilizzati per la prima serie, vale a dire grigio, rosso, blu, arancione, verde e giallo-marrone rispettivamente per i tagli da €5, €10, €20, €50, €100 e €200.
Le banconote recano inoltre:
il nome della moneta in caratteri latini (EURO) e greci (EYPΩ) nella prima serie e anche in caratteri cirillici (EBPO) nella serie Europa, in seguito all'adesione della Bulgaria all'UE
l'acronimo della Banca centrale europea in nove varianti linguistiche sui nuovi biglietti da €5, €10 e €20 e in dieci varianti sulle nuove banconote da €50, €100, €200, in seguito all'ingresso della Croazia nell'UE nel 2013; gli acronimi sono disposti in base all'ordine protocollare dell'UE per i paesi e le lingue ufficiali

BCE: francese, italiano, portoghese, rumeno, spagnolo
ECB: ceco, danese, inglese, lettone, lituano, olandese, slovacco, sloveno, svedese
ЕЦБ: bulgaro
EZB: tedesco
EKP: estone, finlandese
EKT: greco
ESB: croato
EKB: ungherese
BĊE: maltese
EBC: polacco

il simbolo © indicante la tutela del diritto d'autore
la bandiera dell'UE
Anche nella fase di progettazione della serie Europa sono state consultate persone con problemi visivi e, per tenere conto delle loro esigenze, sono state inserite caratteristiche specifiche nei bozzetti definitivi.
Firme
Ogni banconota reca la firma di Willem F. Duisenberg, Jean-Claude Trichet, Mario Draghi o Christine Lagarde (rispettivamente primo, secondo, terzo Presidente e quarta Presidente della Banca centrale europea). Indipendentemente dalla firma tutte le banconote hanno corso legale.

Willem F. Duisenberg

Jean-Claude Trichet

Mario Draghi
Christine Lagarde
Numero di serie sulle banconote in euro della serie Europa
Il numero di serie riportato sul retro delle banconote della serie Europa si compone di una sequenza orizzontale stampata in nero e di un numero verticale di un diverso colore.
La sequenza orizzontale è formata da due lettere e dieci cifre: la prima lettera indica l'officina carte valori (cfr. l'elenco seguente); la seconda non ha un significato particolare, serve solo per poter generare più numeri di serie.
Officine carte valori e lettere corrispondenti
| | |
| --- | --- |
| Nationale Bank van België / Banque Nationale de Belgique | Z |
| Bank of Greece | Y |
| Giesecke & Devrient GmbH (Monaco) | X |
| Giesecke & Devrient GmbH (Lipsia) | W |
| IMBISA | V |
| Banque de France | U |
| Banc Ceannais na hÉireann / Central Bank of Ireland | T |
| Banca d'Italia | S |
| Bundesdruckerei GmbH | R |
| Joh. Enschede Security Printing BV | P |
| Oesterreichische Banknoten und Sicherheitsdruck GmbH | N |
| Valora | M |
| Non assegnata | L |
| Non assegnata | K |
| De La Rue Currency (Gateshead) | J |
| De La Rue Currency (Loughton) | H |
| Non assegnata | G |
| Oberthur Fiduciaire AD (Sofia) | F |
| Oberthur Fiduciaire SAS (Chantepie) | E |
| Polska Wytwórnia Papierów Wartościowych | D |
| Non assegnata | C |
| Non assegnata | B |
| Non assegnata | A |
Codici nazionali sulle banconote della prima serie
Il codice nazionale, una lettera identificativa riportata prima del numero di serie, consente di risalire alla banca centrale che ha commissionato la stampa di una banconota, ma non necessariamente al paese in cui questa è stata fabbricata.
Questo specifico biglietto, recante la lettera "S", è stato prodotto per la Banca d'Italia. I codici nazionali sono di seguito elencati.
Codici nazionali
¹ Le banconote in euro immesse in circolazione per la prima volta dalla Banque centrale du Luxembourg hanno la lettera identificativa della banca centrale del paese in cui sono state prodotte per conto del Lussemburgo.

Belgio
Z
Germania
X
Estonia
D
Irlanda
T
Grecia
Y
Spagna
V
Francia
U
Italia
S
Cipro
G
Lettonia
C
Lituania
B
Lussemburgo
¹
Malta
F
Paesi Bassi
P
Austria
N
Portogallo
M
Slovenia
H
Slovacchia
E
Finlandia
L