Penki dalykai, kuriuos reikia žinoti apie ECB
2015 07 10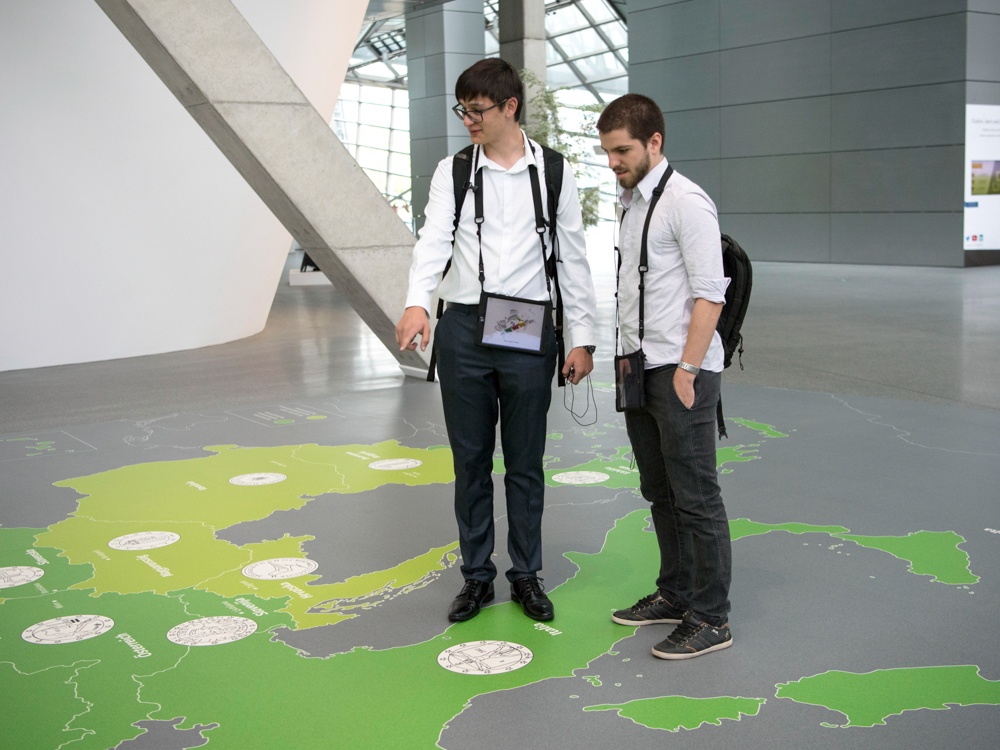 1. Mes esame Europos institucija, dirbanti 340 milijonų gyventojų labui
Europos Centrinis Bankas (ECB) – bendrai 19-os Europos šalių valiutai – eurui – įsteigtas centrinis bankas. Jis įsteigtas 1998 m. ir yra viena iš oficialių Europos Sąjungos institucijų. Jis įsikūręs Frankfurte prie Maino, Vokietijoje.
Pagrindinis ECB uždavinys – palaikyti stabilias kainas šalyse, kurios yra įsivedusios eurą. Šį uždavinį jis vykdo planuodamas pinigų politiką ir įgyvendindamas ją Eurosistemoje, jungiančioje ECB ir 19-os euro zonos šalių nacionalinius centrinius bankus.
ECB sprendimai turi tiesioginės įtakos euro zonos ekonomikai, o tai reiškia, kad jie gali paveikti šiose šalyse gyvenančių 340 milijonų žmonių gyvenimus.
2. Mes siekiame stabilių kainų euro zonoje
Pagrindinis ECB uždavinys – palaikyti kainų stabilumą. Tai reiškia, kad centrinis bankas stengiasi užtikrinti, kad vidutiniu laikotarpiu kainų augimo tempas (infliacija) būtų kiek mažesnis negu 2 proc. Tokį infliacijos lygį centrinis bankas laiko priimtinu. Kainos neauga tiek sparčiai, kad ilgainiui jūsų santaupos išnyktų, bet ir nėra užstrigusios tokiame lygyje, kad jau imtų mažėti (defliacija) ir todėl gyventojai pradėtų atidėti pirkinius. Tokiu atveju ekonomika sustingtų, užimtumas sumažėtų, kainos imtų staigiau kristi – taip įsisuktų užburtas ratas.
Esant stabilioms kainoms gyventojai ir įmonės jaučiasi galintys saugiau planuoti investicijas į ateitį.
Kaip ir kiti centriniai bankai, ECB daro įtaką kainoms standartiniu būdu – nustatydamas trumpalaikes palūkanų normas, už kurias jis skolina lėšas komerciniams bankams. Keisdamas šias palūkanų normas ECB stengiasi daryti poveikį kreditų, kurie per bankus pasiekia įmones ir namų ūkius, t. y. ekonomiką plačiąja prasme, kiekiui ir kainai. Kai ekonomika smunka, o infliacija yra mažesnė negu ECB siekiamas lygis, mažos palūkanų normos (švelni pinigų politika) didina kreditų srautus, nes kreditai pinga, o tai skatina paklausą visoje ekonomikoje, tad laikui bėgant infliacija padidėja iki ECB siekiamo lygio. Kai ekonomika perkaista ir infliacija viršija siekiamą lygį, palūkanų normos didinamos (vykdoma griežta pinigų politika); taip pasiekiamas priešingas rezultatas – skolintis tampa brangiau, todėl ekonomikos ir kainų augimo tempas sulėtėja.
Kai finansų krizės metu kai kurios šalys patyrė itin gilų ekonomikos nuosmukį, o infliacija nukrito iki žemumų, ECB ir kiti įvairių pasaulio šalių centriniai bankai taikė ir ekonomistų "nestandartinėmis" arba "netradicinėmis" vadinamas pinigų politikos priemones. Viena jų – turto pirkimo programa. Kai trumpalaikės palūkanų normos jau ir taip labai mažos arba neigiamos, centrinis bankas gali pamėginti dar labiau sušvelninti pinigų politiką – pirkdamas finansinį turtą, pavyzdžiui, valstybės obligacijas, sumažinti ilgalaikes palūkanų normas. Mažėjant ilgalaikėms palūkanų normoms mažėja ir kreditų kaina namų ūkiams bei įmonėms. Be to, į rinką patenka centrinio banko pinigai, už kuriuos jis pirko obligacijas, o obligacijas pardavusios įstaigos gali už šiuos pinigus pirkti kitą turtą. Taip didėja šio turto kaina, tad atitinkamai gerėja investuotojų, kuriems jis priklauso, finansinė būklė, o tai skatina juos toliau leisti pinigus. Dėl to ekonomika gali vėl pasukti tvaraus augimo keliu, o infliacija priartėti prie ECB siekiamo lygio.
3. Mes padedame kurti saugesnį bankų sektorių
Nuo 2014 m. lapkričio mėn. ECB vykdo naują funkciją – tiesiogiai prižiūri didžiausius euro zonos bankus. Jis kartu su nacionalinėmis priežiūros institucijomis stebi, kaip bankai vykdo veiklą. Visa ši sistema vadinama Bendru priežiūros mechanizmu. ECB gali suteikti bankui veiklos leidimą arba jį panaikinti, taip pat gali anksti nustatyti galimą riziką ir imtis priemonių jai pašalinti.
Vykdydamas bankų priežiūrą ECB siekia užtikrinti, kad galiojančios taisyklės visoje Europoje būtų taikomos vienodai. Kadangi Europos bankai yra stipriai tarpusavyje susiję, tokia vienoda priežiūra didina bankų sektoriaus stabilumą, todėl gyventojai ir įmonės gali labiau juo pasitikėti.
4. Mes esame nepriklausoma ir atskaitinga institucija
ECB uždaviniai ir pareigos nustatyti Sutartyje dėl Europos Sąjungos veikimo. ECB yra viršvalstybinė institucija – dirba visos Europos labui. Kadangi jis yra centrinis bankas, jis yra nepriklausomas nuo politinės ar komercinės įtakos. Tai labai svarbu, nes patirtis rodo, kad jei centrinis bankas vykdo politinius nurodymus, jis gali nebesugebėti vykdyti savo pagrindinio uždavinio – palaikyti kainų stabilumą.
Nepaisant to, ECB yra atskaitingas. Europos Parlamente reguliariai rengiami vieši ECB atstovų, įskaitant ECB pirmininką, klausymai. Be to, ECB buvo pirmasis pradėjęs rengti spaudos konferencijas po kiekvieno posėdžio, kuriame priimami pinigų politikos sprendimai. Šiuo jo pavyzdžiu pasekė ir kiti didieji centriniai bankai.
Minėtus sprendimus balsų dauguma priima svarbiausias ECB sprendimus priimantis organas – Valdančioji taryba, sudaryta iš 6 ECB vykdomosios valdybos narių ir 19 nacionalinių centrinių bankų valdytojų (vienu metu pagal rotacijos principą balso teisę turi 15 centrinių bankų valdytojų).
5. Mes rūpinamės euro zonos pinigais
ECB prižiūri banknotų gamybą visoje euro zonoje. Ant kiekvieno banknoto yra ECB pirmininko parašas, simbolizuojantis mūsų pasididžiavimą savo darbu ir tuo, kas mus jungia. Euras yra viena apčiuopiamiausių Europos integracijos išraiškų. Naudojant eurus paprasčiau vykdyti tarptautinę prekybą ir verslą, daug patogiau keliauti po euro zoną ir susitvarkyti kasdienius reikalus.