Pět věcí, které potřebujete vědět o ECB
10. července 2015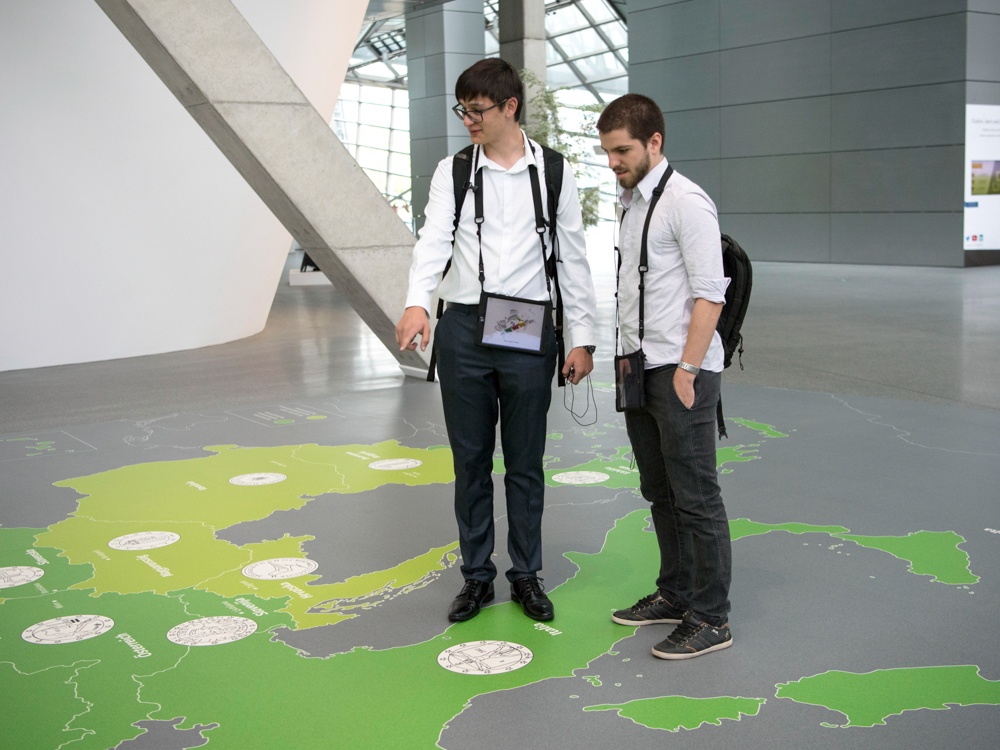 1. Jsme evropská instituce pracující pro 340 milionů občanů
Evropská centrální banka (ECB) je centrální banka pro euro, měnu 19 zemí Evropy. Tato oficiální instituce Evropské unie byla založena v roce 1998 a sídlí v německém Frankfurtu nad Mohanem.
Hlavním cílem ECB je udržovat stabilitu cen v zemích, které používají euro jako svoji měnu. Za tímto účelem navrhuje a provádí měnovou politiku v rámci Eurosystému, který spojuje ECB s národními centrálními bankami 19 zemí eurozóny.
Rozhodnutí ECB mají přímý dopad na hospodářství eurozóny. To znamená, že se mohou dotýkat životů 340 milionů lidí, kteří v ní žijí.
2. Naším cílem jsou stabilní ceny v eurozóně
Prvořadým cílem ECB je cenová stabilita. To znamená, že se centrální banka snaží udržovat tempo růstu cen (inflaci) ve střednědobém horizontu pod 2 %, ale blízko této úrovně. Tato míra inflace se považuje za přijatelnou jako cíl centrální banky. Ceny nerostou tak rychle, aby se vaše úspory postupně znehodnotily. Ceny však ani nestagnují na úrovni, na níž by mohly začít klesat (deflace) a lidé by tak odkládali nákupy. To může způsobit hospodářský pokles a vést ke ztrátě pracovních míst a rychlejšímu poklesu cen se spirálovým efektem.
Stabilní ceny jsou pro obyvatele a podniky důležité – dodávají pocit jistoty při plánování investic v budoucnu.
Stejně jako ostatní centrální banky ovlivňuje ECB standardně ceny stanovením krátkodobé úrokové sazby, za niž půjčuje peníze komerčním bankám. Změnami této úrokové sazby se ECB snaží ovlivňovat objem a cenu úvěrů, které plynou přes banky k podnikům a domácnostem, tj. do širší ekonomiky. Pokud je ekonomika v poklesu a inflace je nižší než cíl ECB, nízká úroková sazba (tzv. uvolněná měnová politika) podporuje tok úvěrů tím, že je zlevní. Tak stimuluje poptávku v celé ekonomice a postupem času vrátí inflaci zpět k cíli ECB. Pokud se ekonomika přehřívá a inflace tento cíl přesahuje, vysoká úroková sazba (tzv. přísná měnová politika) má opačný vliv: půjčování peněz zdražuje, aby se ekonomika i tempo, kterým ceny rostou, mohla zpomalit.
Během finanční krize, která se vyznačovala vážným ekonomickým poklesem a velmi slabou inflací, použila ECB i další centrální banky ve světě také to, co ekonomové nazývají "mimořádná" nebo "nekonvenční" opatření měnové politiky. Příkladem je program nákupu aktiv. Když jsou krátkodobé úrokové sazby již velmi nízké nebo záporné, může se centrální banka pokusit dále uvolnit měnovou politiku snížením dlouhodobějších úrokových sazeb prostřednictvím nákupů aktiv, jako jsou státní dluhopisy. Pokles dlouhodobějších úrokových sazeb vytváří tlak na snížení nákladů na úvěry pro domácnosti a podniky. Peníze centrální banky se také vytvářejí na nákup dluhopisů – tyto peníze používají instituce, které tyto dluhopisy prodávají za účelem nákupu jiných aktiv. Cena těchto aktiv tímto vzroste a investorům, kteří je vlastní, zvýší hodnotu majetku a posílí jejich motivaci utrácet. To může opět ekonomiku vrátit zpět k trendu udržitelného růstu a úrokové sazbě, která odpovídá cíli ECB.
3. Přispíváme k bezpečnějšímu bankovnímu sektoru
Od listopadu 2014 má ECB ještě jeden další úkol – přímý dohled nad největšími bankami v eurozóně. Společně s vnitrostátními orgány dohledu v jednotném mechanismu dohledu posuzuje ECB banky, jak provádějí svou činnost. Může udělovat a odnímat bankovní povolení i zavčas identifikovat a řešit případné problémy.
Bankovní dohled ECB usiluje o to, aby pravidla byla uplatňována stejně v celé Evropě. Vzhledem k tomu, že banky v Evropě jsou silně propojeny, zajišťuje tento harmonizovaný dohled bankovnímu sektoru vyšší stabilitu a tím i důvěryhodnost pro občany a podniky.
4. Jsme nezávislá a odpovědná instituce
Úkoly a povinnosti ECB jsou stanoveny ve Smlouvě o fungování Evropské unie. Jako nadnárodní instituce jedná ECB v zájmu Evropy jako celku; jako centrální banka je nezávislá na jakýchkoli politických a obchodních vlivech. To je významný faktor, neboť historie ukazuje, že centrální banka, která jedná na základě politické objednávky, může ztratit ze zřetele svůj cíl udržovat cenovou stabilitu.
ECB je za svou činnost odpovědná. Mezi zástupci ECB včetně jejího prezidenta a členy Evropského parlamentu probíhají pravidelná veřejná slyšení. Dále ECB jako první z předních centrálních bank zavedla praxi pořádat pravidelnou tiskovou konferenci bezprostředně po měnových rozhodnutích.
Tato rozhodnutí přijímá většinovým hlasováním Rada guvernérů, hlavní rozhodovací orgán ECB, v němž zasedá všech šest členů Výkonné rady ECB společně s 19 guvernéry národních centrálních bank (z nichž 15 má vždy hlasovací právo přidělované na rotačním principu).
5. Vyrábíme peníze pro eurozónu
Bankovky se vyrábí v celé eurozóně – pod dohledem ECB. Každá je opatřena podpisem prezidenta ECB, což symbolizuje hrdost na naši práci a spojení nás všech. Euro je jedním z nejhmatatelnějších znaků evropské integrace. Usnadňuje obchod a podnikání bez ohledu na hranice států a značně zjednodušuje cestování i běžný život v eurozóně.