Pet stvari koje treba znati o ESB-u
10. srpnja 2015.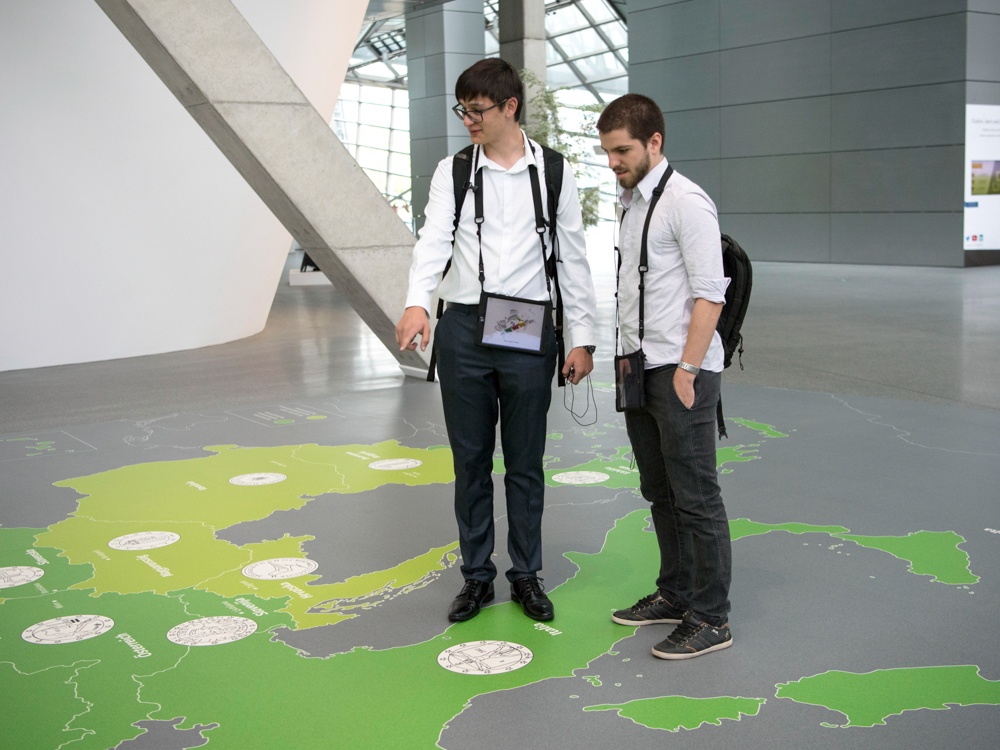 1. Mi smo europska institucija koja radi za 340 milijuna građana.
Europska središnja banka (ESB) je središnja banka za euro, valutu 19 europskih zemalja. ESB, koji je osnovan 1998., službena je institucija Europske unije i smješten je u Frankfurtu na Majni, u Njemačkoj.
Glavni je cilj ESB-a održavanje stabilnosti cijena u zemljama čija je valuta euro, a to postiže oblikovanjem i provedbom monetarne politike unutar Eurosustava, skupine koja se sastoji od ESB-a i nacionalnih središnjih banaka 19 zemalja europodručja.
Odluke ESB-a izravno utječu na gospodarstvo europodručja, što znači da one mogu utjecati na živote 340 milijuna ljudi koji u njemu žive.
2. Težimo za stabilnim cijenama u europodručju.
Glavni je cilj ESB-a stabilnost cijena. To znači da središnja banka nastoji održati stope rasta cijena, odnosno inflacije, ispod, ali blizu 2 % u srednjoročnom razdoblju. Središnja banka tu razinu inflacije smatra prihvatljivim ciljem. Cijene ne rastu tolikom brzinom da bi vaša ušteđevina s vremenom nestala i ne zadržavaju se na razini na kojoj bi mogao započeti pad cijena, odnosno deflacija, zbog čega bi ljudi mogli odgađati kupnje. Deflacija može uzrokovati začarani krug gospodarskog poremećaja, otpuštanja radnika i sve većeg pada cijena.
Stabilne cijene važne su kako bi se ljudi i poduzeća osjećali sigurni pri planiranju budućih ulaganja.
ESB i ostale središnje banke na stabilnost cijena u pravilu utječu određivanjem kratkoročnih kamatnih stopa prema kojima posuđuju novac poslovnim bankama. Promjenom kamatne stope ESB pokušava utjecati na obujam i cijenu kredita koji putem banaka dospijevaju do poduzeća i kućanstava, odnosno do gospodarstva u cjelini. Kada je gospodarstvo u padu, a inflacija niža od razine koja je cilj ESB-a, niska kamatna stopa (»ekspanzivna monetarna politika«) potiče priljev kredita čineći ih jeftinijim, što onda potiče potražnju diljem cjelokupnog gospodarstva te s vremenom vraća inflaciju na ciljnu razinu. Kada se gospodarstvo pregrijava, a inflacija je viša od razine koja je cilj ESB-a, visoka kamatna stopa (»restriktivna monetarna politika«) ima suprotan učinak: zaduživanje postaje skuplje, gospodarski rast slabi i usporava se rast cijena.
Tijekom financijske krize, koju su obilježili veliki padovi gospodarske aktivnosti i veoma niska inflacija, ESB i druge središnje banke diljem svijeta vodili su monetarnu politiku koju ekonomisti nazivaju »nestandardnom« ili »nekonvencionalnom«. Primjer takve politike je program kupnje vrijednosnih papira. Kada su kratkoročne kamatne stope jako niske ili negativne, središnja banka može pokušati dodatno ublažiti monetarnu politiku smanjujući dugoročne kamatne stope kupnjom vrijednosnih papira poput državnih obveznica. Pad dugoročnih kamatnih stopa stvara pritisak na smanjenje cijene kredita za kućanstva i društva. Osim toga, stvara se novac središnje banke za kupnju obveznica i institucije koje prodaju obveznice tim novcem kupuju drugu imovinu. Zbog toga rastu cijene te imovine, što povećava bogatstvo ulagača koji je posjeduju i potiče ih na potrošnju. Sve to može vratiti gospodarstvo na putanju održivog rasta i stopu inflacije na razine u skladu s ciljem ESB-a.
3. Pridonosimo sigurnosti bankarskog sektora.
U studenom 2014. ESB je preuzeo dodatnu zadaću izravnog nadzora najvećih banaka u europodručju. Zajedno s nacionalnim nadzornim tijelima u Jedinstvenom nadzornom mehanizmu, ESB provjerava kako banke provode svoje aktivnosti. ESB može izdavati i oduzimati odobrenja za pružanje bankovnih usluga te pravodobno utvrditi i otkloniti moguće rizike.
Nadzorom banaka ESB nastoji osigurati jednaku primjenu pravila u cijeloj Europi. S obzirom na to da su banke u Europi snažno međusobno povezane, usklađeni nadzor čini bankarski sektor stabilnijim i stoga pouzdanijim za građane i poduzeća.
4. Neovisna smo i odgovorna institucija.
Zadaće i dužnosti ESB-a određene su Ugovorom o funkcioniranju Europske unije. Kao nadnacionalna institucija ESB djeluje u interesu Europe kao cjeline, a kao središnja banka ne ovisi ni o kakvom političkom ili komercijalnom utjecaju. To je važno jer je povijest pokazala da središnja banka koja slijedi političke naredbe može zanemariti cilj održavanja stabilnosti cijena.
ESB istodobno ispunjava zahtjeve povezane s demokratskom odgovornošću. Naime, postoje redovita javna saslušanja na kojima sudjeluju predstavnici i predsjednik ESB-a te članovi Europskog parlamenta. Usto, ESB je prvi među većim središnjim bankama uveo praksu održavanja redovitih konferencija za novinare odmah nakon donošenja odluka o monetarnoj politici.
Te se odluke donose većinom glasova u Upravnom vijeću, glavnom tijelu ESB‑a nadležnom za odlučivanje, koje se sastoji od šest članova Izvršnog odbora ESB-a i 19 guvernera nacionalnih središnjih banaka (od kojih njih 15 ima pravo glasa na osnovi sustava rotacije).
5. Proizvodimo novac za europodručje.
ESB nadzire proizvodnju novčanica u cijelom europodručju. Na svakoj se novčanici nalazi potpis predsjednika ESB-a kao znak našeg ponosa na svoj rad i na jedinstvenu valutu koja nas sve povezuje. Euro je jedan od najopipljivijih znakova europske integracije. On olakšava prekograničnu trgovinu i poslovanje te u velikoj mjeri pojednostavnjuje putovanja i svakodnevni život u europodručju.