Wat is de rol van wisselkoersen?
28 juni 2016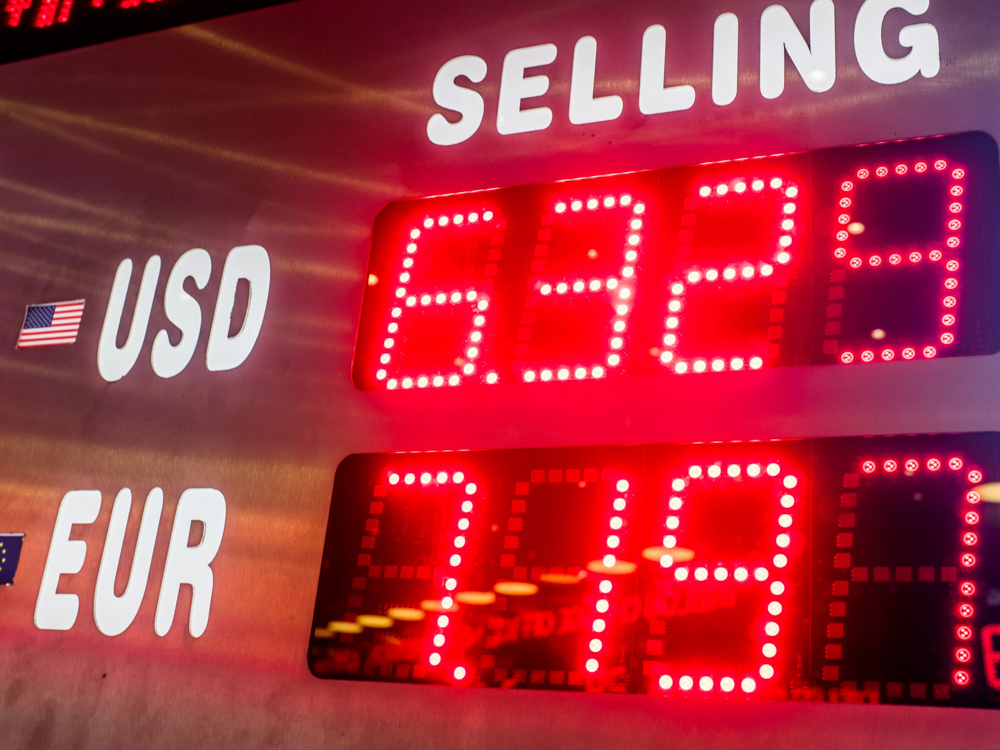 Wat zijn wisselkoersen?
Een wisselkoers is de koers waartegen een valuta kan worden ingewisseld tegen een andere valuta. Zo zou €1 bijvoorbeeld kunnen worden ingewisseld voor $1,13. Deze koers wisselt voortdurend op de mondiale valutamarkten, waar allerlei valuta's worden verhandeld. De euro is een van de meest verhandelde valuta's, samen met de Amerikaanse dollar, de Japanse yen en het Britse pond.
Verstrekt de ECB wisselkoersen?
De ECB publiceert iedere dag, rond 16:00 uur Midden-Europese tijd, de referentiewisselkoersen van de euro ten opzichte van 31 valuta's. Deze referentiekoersen zijn uitsluitend voor informatiedoeleinden bedoeld. De koersen worden vaak gebruikt door bedrijven en het grote publiek voor bijvoorbeeld financiële jaaroverzichten, belastingaangiften, statistische rapporten en economische analyses. De koersen van de 31 valuta's ten opzichte van de euro zijn gemiddelden van de aankoop- en verkoopkoersen en weerspiegelen niet noodzakelijkerwijs de koersen waartegen de werkelijke markttransacties zijn verricht. Wanneer u een valuta inwisselt, wordt de daarbij gebruikte koers afgeleid van de realtime-marktkoersen.
De ECB publiceert tevens een nominale effectieve wisselkoers van de euro op basis van de gewogen gemiddelden van de bilaterale wisselkoersen van de euro ten opzichte van de valuta's van 19 handelspartners van het eurogebied. Deze koers geeft aan of het gemiddeld goedkoper of duurder wordt om een buitenlandse valuta in te wisselen voor euro.
Hoe zijn wisselkoersen van invloed op het monetair beleid?
De wisselkoers is geen beleidsdoel van de ECB. Dit betekent dat de ECB niet probeert de wisselkoers door middel van haar monetairbeleidstransacties te beïnvloeden. De G20-groep van belangrijke economieën heeft toegezegd af te zien van devaluaties uit concurrentieoverwegingen en wisselkoersen niet te gebruiken voor concurrentiedoeleinden, en daarbij iedere vorm van protectionisme tegen te gaan.
Wisselkoersen hebben wel implicaties voor de prijsstabiliteit en de groei. Zo zijn wisselkoersen bijvoorbeeld van invloed op de prijzen in de internationale handel. Wanneer voor €1 meer Amerikaanse dollars kunnen worden verkregen (met andere woorden, wanneer de euro in waarde vermeerdert), worden Amerikaanse producten goedkoper voor mensen in het eurogebied. Als gevolg daarvan dalen de invoerprijzen. Dit is direct van invloed op de inflatie in het eurogebied, via de prijzen van geïmporteerde consumptiegoederen, en ook indirect via de prijzen van geïmporteerde grondstoffen en halffabrikaten die worden gebruikt voor de productie.
De ECB dient dergelijke ontwikkelingen nauwlettend in de gaten te houden bij het vaststellen van het monetair beleid om te voldoen aan haar mandaat, namelijk de inflatie op de middellange termijn te handhaven op een niveau onder maar dicht bij 2%.