Aká je úloha výmenných kurzov?
28. júna 2016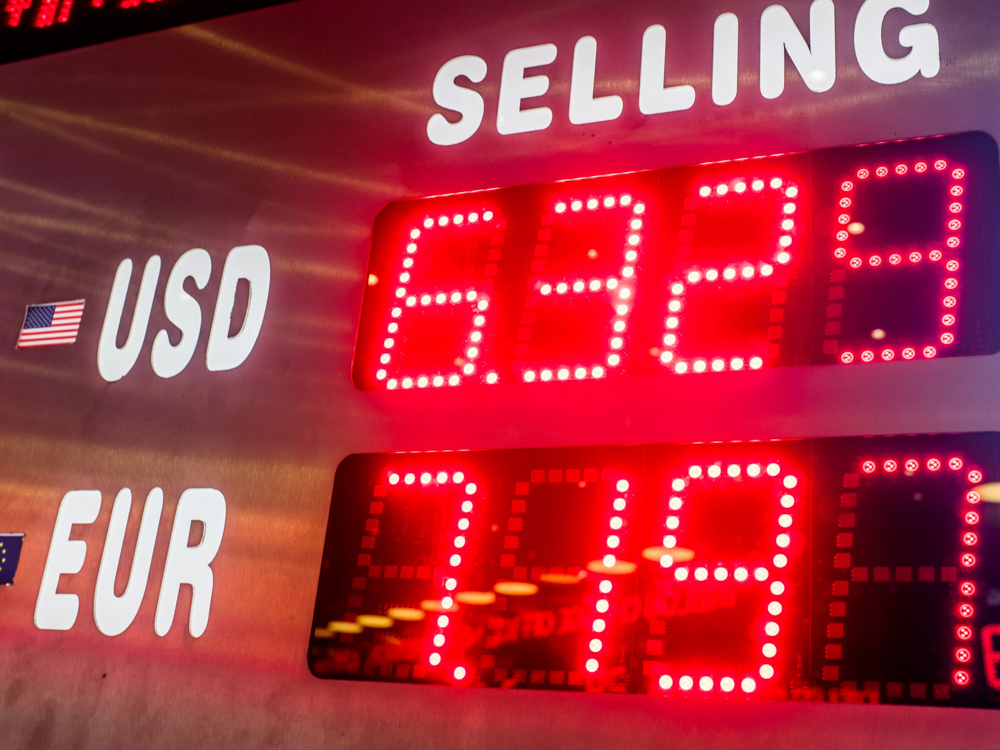 Čo sú to výmenné kurzy?
Výmenný kurz je kurz, pri ktorom sa dá jedna mena vymeniť za inú menu. Jedno euro sa dá napríklad vymeniť za 1,13 dolára. Na svetových devízových trhoch, na ktorých sa obchoduje s rôznymi menami, sa tento kurz neustále mení. Euro je spolu s americkým dolárom, japonským jenom a britskou librou jednou s najviac obchodovaných mien.
Zverejňuje ECB výmenné kurzy?
Každý deň približne o 16.00 hod SEČ ECB zverejňuje referenčné výmenné kurzy eura voči 31 menám. Tieto kurzy sú len informatívnej povahy. Často ich používajú firmy i verejnosť napríklad pri zostavovaní ročných účtovných závierok, daňových priznaní, štatistických správ a hospodárskych analýz. Kurzy 31 mien voči euru sú priemerom nákupných a predajných kurzov a nemusia vždy zodpovedať skutočným kurzom jednotlivých trhových transakcií. Pri výmene mien sa váš kurz odvodzuje od trhových kurzov v reálnom čase.
ECB tiež zverejňuje nominálny efektívny výmenný kurz eura na základe vážených priemerov bilaterálnych výmenných kurzov eura voči menám 19 obchodných partnerov eurozóny. Tento kurz informuje o tom, či v priemere dochádza k zdražovaniu alebo zlacňovaniu výmeny cudzej meny za euro.
Ako výmenné kurzy ovplyvňujú menovú politiku?
Výmenný kurz nie je cieľom menovej politiky ECB. To znamená, že sa ho ECB svojimi menovopolitickými operáciami nesnaží ovplyvňovať. Skupina G20, ktorá združuje hlavné svetové ekonomiky, sa zaviazala upustiť od konkurenčnej devalvácie a ovplyvňovania výmenných kurzov z konkurenčných dôvodov, a vyhnúť sa všetkým formám protekcionizmu.
Je pravda, že výmenné kurzy majú vplyv na cenovú stabilitu a hospodársky rast. Ovplyvňujú napríklad ceny v medzinárodnom obchode. Keď sa dá za jedno euro získať viac amerických dolárov, tzn. keď sa euro zhodnocuje, americké výrobky sú pre obyvateľov eurozóny lacnejšie. Dochádza tak k poklesu dovozných cien. To má v eurozóne vplyv na ceny dovážaných spotrebiteľských tovarov, a teda priamy vplyv na infláciu. Dotknuté sú zároveň aj ceny dovážaných surovín a polotovarov, ktoré zasa infláciu ovplyvňujú nepriamo.
Pri nastavovaní menovej politiky v rámci plnenia svojho mandátu, ktorým je udržiavanie inflácie na úrovni nižšej, ale blízkej 2 % v strednodobom horizonte, musí ECB kurzový vývoj pozorne sledovať.