Kakšna je vloga deviznih tečajev?
28. junij 2016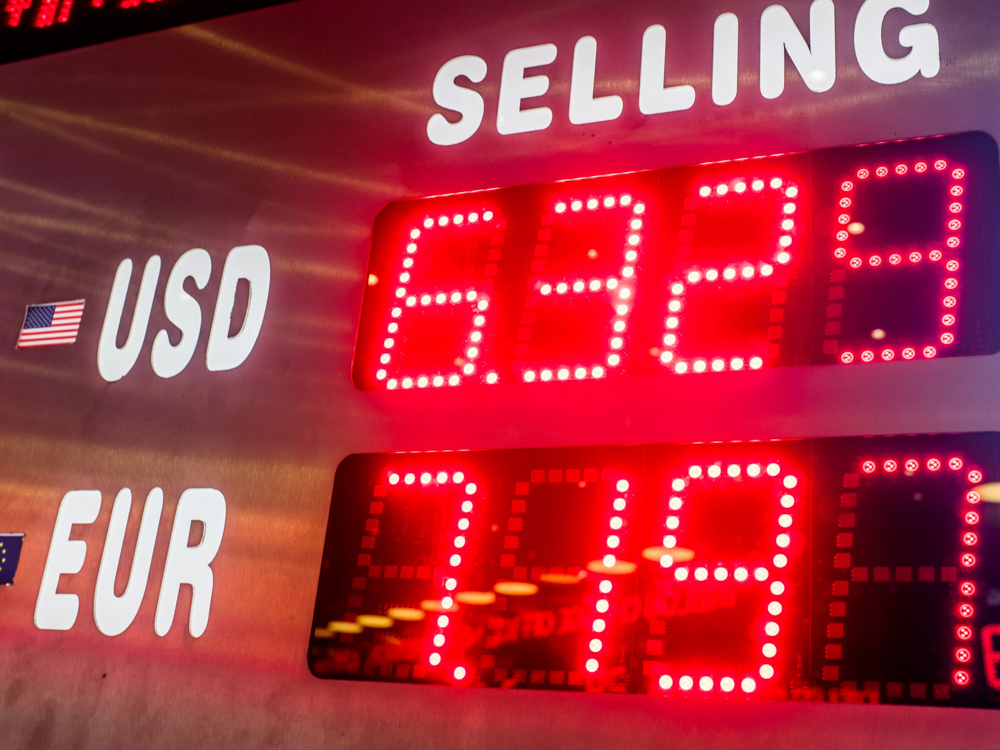 Kaj so devizni tečaji?
Devizni tečaj je razmerje, po katerem je mogoče eno valuto zamenjati za drugo. Na primer 1 € je mogoče zamenjati za 1,13 dolarja. Ta tečaj se na svetovnih deviznih trgih, kjer se trguje z raznoraznimi valutami, ves čas spreminja. Euro je skupaj z ameriškim dolarjem, japonskim jenom in britanskim funtom ena od valut, s katerimi se največ trguje.
Ali ECB objavlja devizne tečaje?
ECB vsak dan ob približno 16.00 po srednjeevropskem času objavi referenčne tečaje eura za 31 valut. Namen referenčnih tečajev je izključno informativen. Te tečaje pogostokrat uporabljajo podjetja in širša javnost v letnih računovodskih izkazih, davčnih napovedih, statističnih poročilih in ekonomskih analizah. Tečaji 31 valut do eura so povprečje nakupnih in prodajnih tečajev ter niso nujno enaki tečajem, po katerih so bile opravljene dejanske tržne transakcije. Kadar menjate valuto, je uporabljeni tečaj izpeljan iz tržnih deviznih tečajev v realnem času.
ECB objavlja tudi nominalni efektivni tečaj eura na podlagi tehtanega povprečja dvostranskih tečajev eura do valut 19 trgovinskih partneric euroobmočja. Ta tečaj kaže, ali je menjava tuje valute za euro v povprečju postala dražja ali cenejša.
Kako devizni tečaji vplivajo na denarno politiko?
Devizni tečaj ni eden od ciljev denarne politike ECB. To pomeni, da ECB z operacijami denarne politike ne skuša vplivati na tečaj. Skupina G20, v kateri so glavna svetovna gospodarstva, se je zavezala temu, da se bo vzdržala poskusov konkurenčne devalvacije oziroma vplivanja na tečaje iz konkurenčnih razlogov, pri čemer zavrača tudi vse oblike protekcionizma.
Devizni tečaji imajo vsekakor posledice za cenovno stabilnost in gospodarsko rast. Tečaji na primer vplivajo na cene v mednarodni trgovinski menjavi. Ko je mogoče za 1 € dobiti več ameriških dolarjev oziroma, z drugimi besedami, ko euro apreciira, postanejo ameriški izdelki za ljudi v euroobmočju cenejši. Zaradi tega uvozne cene padejo. To ima neposreden vpliv na inflacijo v euroobmočju, in sicer prek cen uvoženega blaga za potrošnjo, vendar tudi posredno prek cen uvoženih surovin in proizvodov za vmesno porabo, ki se uporabljajo v proizvodnji.
Ko ECB določa denarno politiko, da bi izpolnila svoj mandat – tj. ohranjanje inflacije v srednjeročnem obdobju pod 2%, vendar blizu te meje – mora takšna gibanja pozorno spremljati.