Co je to ražebné?
7. dubna 2017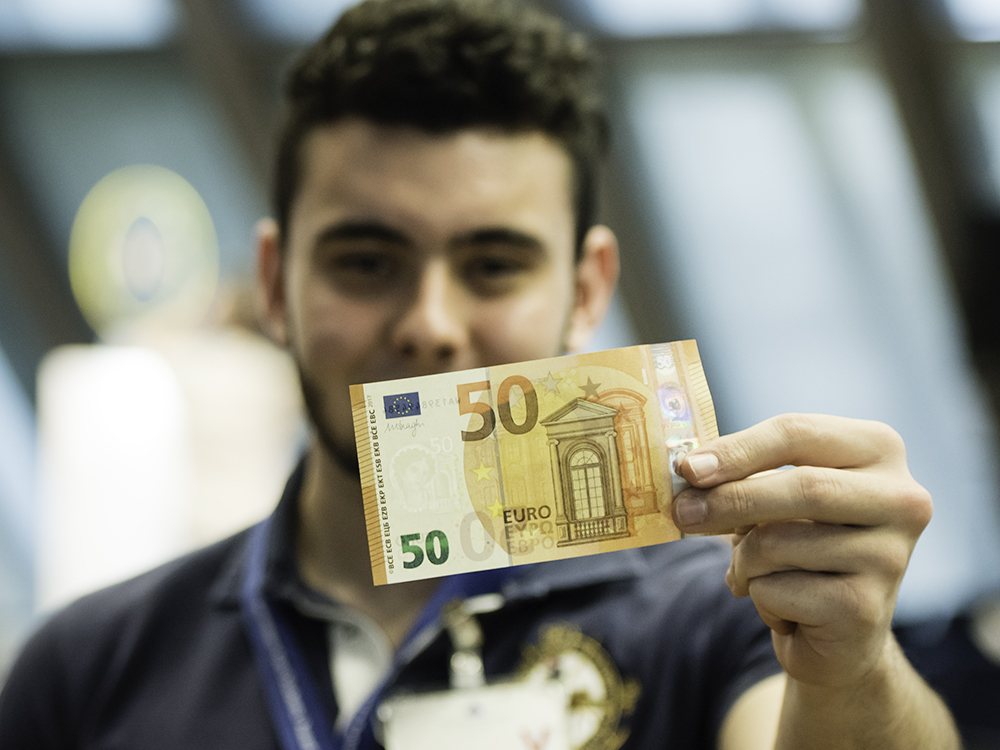 Toto ne zcela běžné slovo se týká něčeho zcela obyčejného: bankovek ve vaší peněžence. Napadlo vás někdy, kde se berou? Eurobankovky vyvíjí ECB, vyrábí tiskárna a pak uchovává v trezoru centrální banka vaší země. K vám putují prostřednictvím vaší banky, která hradí centrální bance jejich nominální hodnotu. Na to si obvykle potřebuje půjčit od centrální banky peníze nebo zaplatí ve formě části svých aktiv. Centrální banka získává z peněz, které půjčuje, úrok či z aktiv, jež nabývá, výnos a tomu se říká ražebné nebo také měnový příjem.
V měnové unii peníze cestují
Jelikož se eurobankovky volně pohybují přes hranice, počet bankovek v oběhu zaznamenávaný každou centrální bankou se v jednom okamžiku může značně lišit. Jedna banka může vykazovat nulu, nebo dokonce záporné číslo. Například vezmou-li si němečtí turisté, kteří touží po jižanském dobrodružství, eurobankovky emitované Deutsche Bundesbank do Španělska, skončí tyto bankovky v Banco de España. Jelikož se vydávání bankovek zcela řídí poptávkou, znamená to, že Banco de España by nyní stačilo uvést do oběhu méně bankovek, protože využívá ty, jež spolu s turisty překročily Pyreneje. Z tohoto důvodu si centrální banky v eurozóně částku získanou emisí bankovek vzájemně kompenzují.
Jaká je úloha ECB?
Ačkoliv ECB bankovky fyzicky neemituje, bylo dohodnuto, že 8 % všech bankovek, které jsou v eurozóně v oběhu – vyjádřeno jejich hodnotou – se považuje za bankovky emitované Evropskou centrální bankou. Národní centrální banky uvádějí bankovky do oběhu jménem ECB a ECB plyne z oněch 8 % měnový příjem prostřednictvím pohledávek vůči národním centrálním bankám.
Měnový příjem od roku 2008 klesá, tak jak klesají úrokové sazby v eurozóně. Převládající podíl na ziscích ECB tvoří v současnosti jiné zdroje příjmu, například výnosy z programu nákupu aktiv. Zde si přečtěte, co se se zisky ECB děje.