Co to jest renta mennicza?
7 kwietnia 2017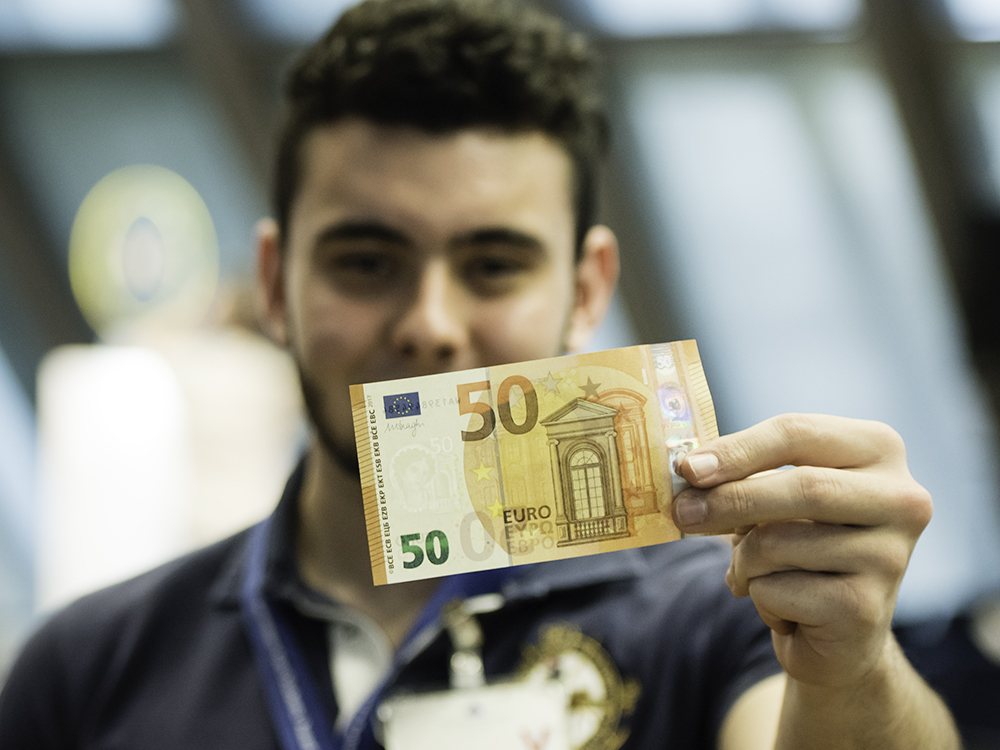 Ten mało znany termin dotyczy czegoś bardzo zwyczajnego: banknotów w naszych portfelach. Czy zastanawialiście się kiedyś, jaką drogą one tam trafiły? Banknoty euro są projektowane przez Europejski Bank Centralny, produkowane w drukarniach, a następnie przechowywane w skarbcach banków centralnych ze strefy euro. Do mieszkańców tej strefy docierają za pośrednictwem banków komercyjnych. Aby otrzymać banknoty od banku centralnego, bank komercyjny musi zapłacić mu ich wartość nominalną. W tym celu zwykle pożycza od niego pieniądze lub przekazuje mu część swoich aktywów. Kwota, jaką zarabia na tym bank centralny – odsetki od udzielonej pożyczki lub zwrot z otrzymanych aktywów – to właśnie renta mennicza, inaczej seniorat.
Obieg gotówki w unii walutowej
Ponieważ banknoty euro swobodnie krążą po całej strefie euro, liczba banknotów zarejestrowanych w danym momencie w poszczególnych bankach centralnych jest bardzo różna. Może się nawet zdarzyć, że w jakimś banku będzie ona zerowa lub ujemna. Na przykład kiedy niemieccy turyści jadą na wakacje do Hiszpanii, przywożą ze sobą banknoty wyemitowane przez Deutsche Bundesbank, które ostatecznie trafią do Banco de España. Jako że wielkość emisji banknotów zależy wyłącznie od popytu, liczba banknotów euro, jakie musi wprowadzić do obiegu Banco de España, zostaje pomniejszona o liczbę banknotów wwiezionych przez turystów zagranicznych. Z tego względu banki centralne ze strefy euro dzielą się między sobą dochodami z tytułu emisji banknotów.
Jaka jest rola EBC?
Choć EBC sam nie prowadzi emisji, uzgodniono, że 8% wszystkich banknotów (pod względem wartości) znajdujących się w obiegu w strefie euro będzie się traktować jako wyemitowane przez EBC. Banknoty te są w jego imieniu wprowadzane do obiegu przez krajowe banki centralne, a Europejskiemu Bankowi Centralnemu należy się od nich 8-procentowa renta mennicza.
Od 2008 roku dochody z tytułu renty menniczej maleją z powodu spadku stóp procentowych w strefie euro. Przeważająca część zysku EBC pochodzi obecnie z innych źródeł, na przykład z programu skupu aktywów. O tym, co dzieje się z zyskiem EBC, można dowiedzieć się tutaj.
Pochodzenie słowa "seniorat"
Termin ten pochodzi jeszcze z epoki feudalnej – od "seniora", czyli władcy, któremu przysługiwało prawo bicia monet. Dziś w strefie euro monety emitowane są przez władze krajowe, a banknoty – przez banki centralne.