Wat is "seigniorage"?
7 april 2017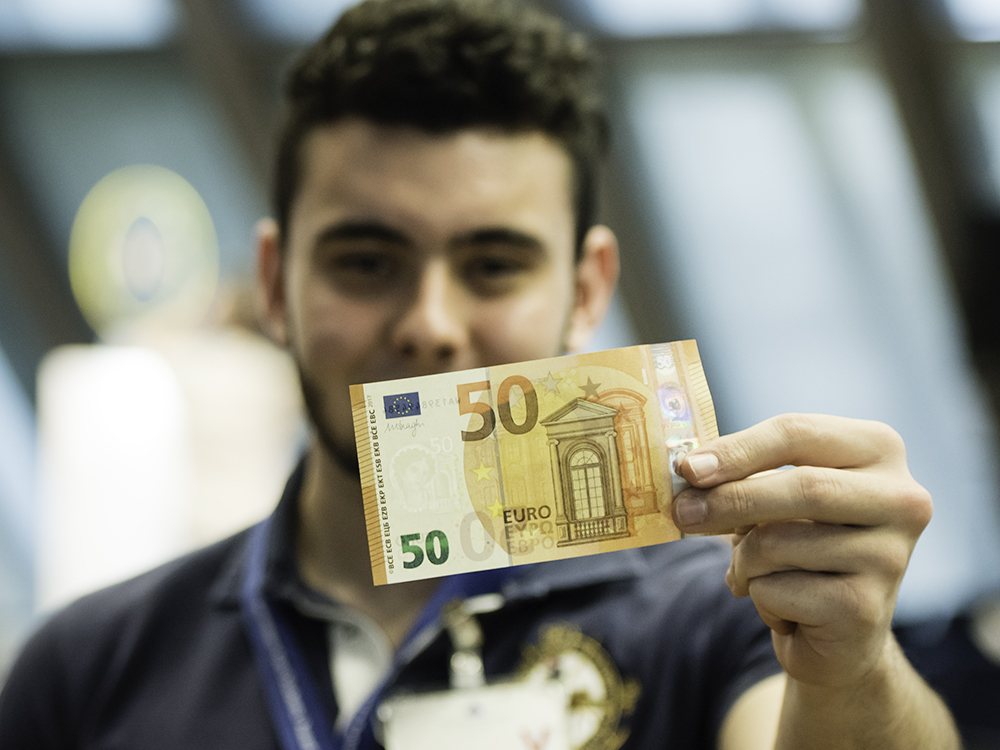 Dit exotische woord heeft betrekking op iets heel eenvoudigs: de bankbiljetten in uw portemonnee. Heeft u zich ooit afgevraagd waar die vandaan komen? De eurobankbiljetten worden ontwikkeld door de ECB, geproduceerd in drukkerijen en dan opgeslagen in de kluis van de centrale bank van uw land. Zij vinden hun weg naar u via uw bank, die de nominale waarde van de biljetten aan de centrale bank betaalt. Uw bank moet daarvoor gewoonlijk geld lenen van de centrale bank of zij betaalt door een aantal van haar activa over te dragen. De centrale bank verdient rente op het geld dat zij uitleent of krijgt een rendement op de activa die zij ontvangt: dit wordt "seigniorage-inkomsten" genoemd.
In een muntunie reist geld rond
Aangezien de eurobankbiljetten vrijelijk grenzen overgaan kan op elk moment het aantal bankbiljetten in omloop dat bij elke nationale centrale bank is geregistreerd, ontzettend variëren. Voor een centrale bank kan het aantal zelfs nul of negatief zijn. Als, bijvoorbeeld, Duitse toeristen voor een reis in het zuiden van Europa door de Deutsche Bundesbank uitgegeven eurobankbiljetten met zich meenemen naar Spanje, komen deze biljetten uiteindelijk terecht bij de Banco de España. Omdat de uitgifte van bankbiljetten volledig is gebaseerd op de vraag naar die biljetten, betekent dit dat de Banco de España nu minder biljetten in omloop hoeft te brengen aangezien zij profiteert van de biljetten die de Pyreneeën overkomen. Om deze reden verdelen de centrale banken in het eurogebied het bedrag dat wordt verdiend aan de uitgifte van bankbiljetten onder elkaar.
Wat is de rol van de ECB daarbij?
Hoewel de ECB geen bankbiljetten in fysieke zin uitgeeft, is er overeengekomen dat van alle bankbiljetten in omloop in het eurogebied 8% – qua waarde – wordt beschouwd als zijnde uitgegeven door de Europese Centrale Bank. De nationale centrale banken brengen de biljetten in omloop namens de ECB, en de ECB verdient seigniorage-inkomsten op die 8% door middel van de vordering die zij heeft op de nationale centrale banken.
De seigniorage-inkomsten zijn sinds 2008 gedaald, in gelijke tred met de daling van de rente in het eurogebied. De winst van de ECB komt nu voor het overgrote deel uit andere bronnen van inkomsten, zoals de inkomsten die worden verdiend op het programma voor de aankoop van activa. Kom hier te weten wat er gedaan wordt met de winst van de ECB.
Oorsprong van het woord "seigniorage"
In het verre verleden was het de "seigneur", de "heer", die het recht had munten te slaan: vandaar de naam (en vandaar het woord "muntloon", dat ook wel wordt gebruikt). Heden ten dage slaan de nationale overheden in het eurogebied de munten en geven de centrale banken de bankbiljetten uit.