Ni na voljo v slovenščini.
#TIPSapp – building up to the rollout of instant payments in Europe
MIP OnLine - 2018
February 2018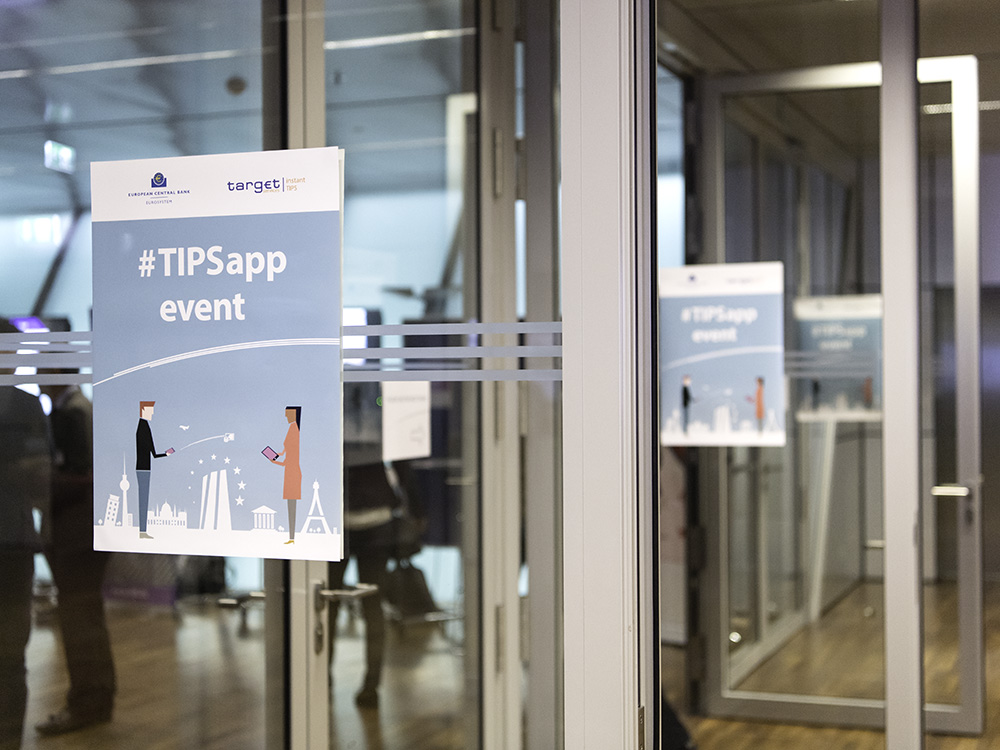 On 6 February the conference hall of the European Central Bank turned into a vivid marketplace. 16 of the companies that had responded to the #TIPSapp challenge to develop an original mobile app for initiating and processing instant payments had been invited to present their solutions to an audience of 250 attendees. Providers of network services, market infrastructures as well as payment services had the opportunity to interact with each other and engage in discussions on the future of payments. The event also featured keynote speeches and lively panel discussions, where market representatives shared their experiences with instant payments and discussed how the industry can come together to make instant payments the new norm in Europe.
The challenge beyond #TIPSapp
Instant payments are making their way into the European payments landscape. Being able to transfer money easily within and across borders in Europe in a matter of seconds would be a dream come true for both individuals and businesses – and is not too far away from becoming a reality.
Launched in November 2017, the SEPA Instant Credit Transfer (SCT Inst) scheme provides a common set of rules and standard procedures for instant credit transfers in euro. This enables payment service providers to offer their clients instant payments across the 34 SEPA countries.
But that is just the beginning of the story of pan-European instant payments. To make this story a success, we need an underlying market infrastructure that is safe and efficient, and innovative payment initiation services that are convenient and attractive.
In this market infrastructure layer, the ECB is developing a new TARGET Instant Payment Settlement (TIPS) service. It provides a technical solution for processing payments in real time and in central bank money. The instant settlement offered by TIPS will eliminate credit risk for all participants involved, while broad participation criteria will guarantee a high level of reachability.
The challenge ahead of the Europe-wide mass adoption of instant payments is ensuring that all payment service providers come on board and offer appealing solutions for their end users. This is why we launched the #TIPSapp challenge.
The mobile app solutions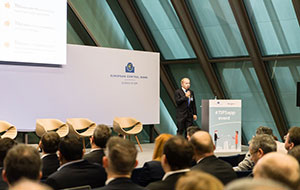 From among all the respondents to the challenge, 16 companies presented their mobile apps in a follow-up #TIPSapp event at the ECB premises in Frankfurt am Main.
| Companies | Mobile app solutions |
| --- | --- |
| 0smosis | 0smosis surveyed Belgian consumers to find out what they struggle with when executing payments. Based on the feedback, they developed a mobile app solution for instant payments compliant with the TIPS user requirements. |
| ACI Worldwide | ACI Worldwide has rolled out its UP Immediate Payments solution to the Australian, British and Singaporean markets. At the #TIPSapp event the company demonstrated how it can integrate with TIPS and other pan-European settlement services. |
| iDEAL | iDEAL is the largest online payment tool in the Netherlands. The solution is used for both person-to-business (P2B) and person-to-person (P2P) payments. Next year it will be based on instant payments transactions. |
| equensWorldline | equensWorldline presented a mobile app based on near-field communication (NFC) and QR code, as well as a tablet app for automated cash management. |
| GCP Software | GCP Software demonstrated its e-banking solution, which can handle instant payments 24/7/365 without the need for any changes to the current infrastructure. |
| Giesecke+Devrient Mobile Security | Giesecke+Devrient Mobile Security showcased an app that offers instant payment functionality with the same user experience on all channels as well as digital receipts. |
| GexPay | GexPay has created a mobile payment solution that supports instant payments P2P, P2B and also B2B (between businesses). Their solution is used by Slovakian catering services. |
| GS1 Germany | GS1 Germany supports companies from various sectors in the adoption of the SCT Inst scheme and advocates open solutions that are aligned with all stakeholders. |
| Ingenico | Ingenico showcased some use cases for instant payments focused on reducing friction and fraud for P2B and P2P payments. |
| Paymentgroup international | Paymentgroup international showed its iFIPS app, which allows consumers to conduct contactless payments in real time. It supports solutions using QR codes, Bluetooth and NFC to initiate payments. |
| ppi | ppi has developed an instant payment app solution for online banking called PEASY (from "pay easy"). As a white label product, it can be adapted to the corporate design of any financial institution. |
| Quali-Sign | Quali-Sign presented two payment-related solutions. The first is an app that can initiate SCT Inst payments by scanning a QR code on an invoice. The second is a dedicated app for confirming payments that have previously been transmitted to the bank without approval. |
| Secure Payments Technologies | The solution launched by Secure Payments Technologies – Blue Code® InstApp – is a European payment solution for individuals, banks and merchants. It enables participation by both established and emerging financial institutions. |
| SIA | SIA has developed a European service that supports P2P and P2B mobile payments called Jiffy. Based on the SCT Inst scheme, it allows money transfer via smartphones by selecting the beneficiary from the list of personal contacts. E-commerce and in-store payments are also supported via a "request to pay" functionality. |
| Van den Berg | Van den Berg teamed up with Netcetera to create an original app solution which communicates with the point of sale (POS) via NFC and then initiates an instant payment with the payment data transmitted by the POS. |
| Vocalink | Vocalink demonstrated its Pay by Bank app which is already live in the United Kingdom and supports multiple use cases to initiate real time P2B payments. |
The way forward
Intuitive interfaces, innovative features and enhanced security appeared to be the most valued qualities that end users expect in a mobile app solution. This gives payment service providers a lot of room for innovation and creativity. To be on top of their game, they need to rely on a safe and efficient back-end solution that also provides wide coverage across Europe. Which brings us back to TIPS.
The new service is scheduled for launch in November 2018. As part of the TARGET Services family, TIPS is closely linked to the real-time grosss settlement (RTGS) system TARGET2. Any financial institution that is eligible to open an account with TARGET2 will be able to open an account with TIPS and become a participant. At the same time, other entities will be able to enter into a contractual agreement with participants and settle instant payments on their accounts (a type of participation called reachable party) or issue instructions on their behalf (instructing party). By utilising the vast established network of addressable BICs in TARGET2 (about 55,000 in 2017), TIPS has the potential to help ensure full pan-European reach and so play a pivotal role in the rollout of instant payments across Europe.