Youth initiatives
Young people have a central role in shaping tomorrow's Europe. That's why we organise a range of initiatives around Europe intended to help you learn more about economics, central banking and the ECB's responsibilities, and to give you the chance to share with us your views and ideas on the topics that interest and affect you.
Winners of the Generation €uro Students' Award ask President Draghi their questions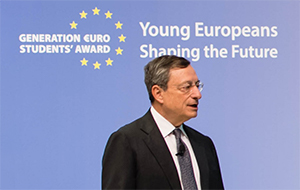 Winners of the Generation €uro Students' Award (G€SA), representing successful teams, selected from over 5000 applicants and 10 euro area countries, met ECB President Mario Draghi and asked him their questions on Wednesday, 8 May.
Model European Council at the ECB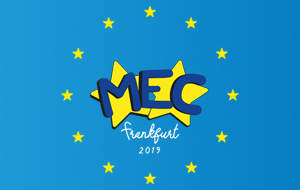 On 28 and 29 March 2019, around 200 students from all over Europe participated in a Model European Council meeting at the ECB. They took on different roles, from interpreters to heads of state, and debated important European affairs, such as the future of the eurozone.
---
#EUROat20 ECB-QuizClash competition
Back in February and March 1.6 million players entered the #EUROat20 ECB-QuizClash competition on the QuizClash app, testing their knowledge of the euro and the European Central Bank. Well done to those who got all questions right: you are true euro experts! 30 winners were selected in our prize draw – you can see who they are here.
---
Euro Video Challenge
What's it like to visit the ECB for the first time? In 2017 we asked young Europeans to create a short, engaging video about economics in our Euro Video Challenge. A year later we invited the finalists to the ECB to let them experience economics first-hand.
Find out more about the Euro Video Challenge
---
Sendung mit der Maus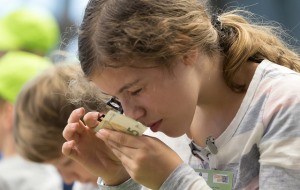 On 3 October 2018 around 150 fans of Germany's well-known children's show "Die Sendung mit der Maus" had a great time discovering the ECB as part of a country-wide "open doors" event. Children and their families took part in fun activities and learned about the ECB, the euro and the EU.
Photos of the eventFind out more (in German)
---
Young economists' competition at ECB Forum
Are you a PhD student in economics or finance? Do you want to present your research to policymakers and top academics? Apply to our young economists' competition and win a trip to the ECB Forum on Central Banking in Sintra, Portugal – the final winner receives a €10,000 prize.
Find out more about the competitionDiscover more about the ECB Forum on Central Banking
---
Generation €uro Students' Award
Interested in economics? Want to learn more about the ECB and monetary policy? Then sign up for the Generation €uro Students' Award, a competition open to teams of students from secondary schools in the euro area.
---
Connect with us!
Keep up to date with our youth initiatives! If you would like to receive information about future ECB educational and youth initiatives, please sign up to our mailing list.