ECB Youth Dialogue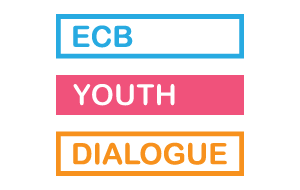 We know that the decisions we take can have an impact on your day-to-day life. That's why we want to make sure that you not only hear from us or about us, but also have the chance to talk directly to us and with us.
The ECB Youth Dialogue gives you the chance to do exactly that. We hold events around Europe – and online – that put you in direct contact with ECB policymakers so you can ask any questions you have and share your views with us.
ECB Youth Dialogue: #AskDraghi
The third Youth Dialogue took place in partnership with Debating Europe – an online platform where young people can discuss current issues with Europe's leaders.
From 17 to 23 January 2018, we asked you to send questions for President Draghi, via Twitter and Facebook, on any of the following topics:
Europe's economic recovery and youth unemployment
cryptocurrencies and blockchain
possibility of a new global economic crisis
Watch the answers President Draghi gave to some of the questions received and have a look at the debate on our social media channels!
Europe's economic recovery and youth unemployment
The European economy has been continuously expanding for several years now and employment is higher than ever, but we have to continue improving and make sure everyone benefits.
When will Europe fully recover from its recession?
Ismail, Italy
Imagine artificial intelligence and robots cause massive (youth) unemployment. How will the ECB react?
Jan, Belgium
Blockchain and cryptocurrencies
Blockchain is an innovative technology that could improve efficiency. We are assessing whether it could be used in our own services in the future. Concerning bitcoin and whether you should trust it, President Draghi advises caution, as it is not backed by any central bank or government, adding that it is not the ECB's job to regulate it.
How can we harness blockchain technology to support the economy?
Victoria, France
If you were a young university student like me, would you buy some bitcoin and keep it for safety?
Italo, Italy
Global economic crisis
The last crisis was severe, but the worst of it is behind us. European countries entered the crisis with major weaknesses and were not able to react adequately. Today, significant progress has been made in many areas, making us better equipped for the future.
Do you think the EU and ECB will be able to reform enough to be able to cope with yet another big economic crisis, before the next crisis happens?
Christiaan, Netherlands
Find out more
Do you want to know more about the topics of this ECB Youth Dialogue? Take a look at the following pages!
Possibility of a new global economic crisis
Cryptocurrencies and blockchain
Europe's economic recovery and youth unemployment
Past events
September 2017, Dublin, Ireland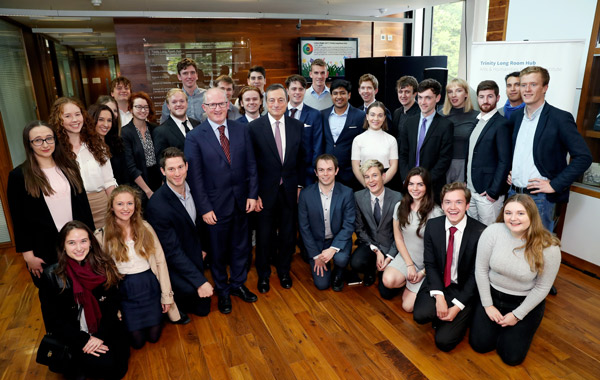 President Mario Draghi met with young Europeans on Friday, 22 September 2017, at Trinity College Dublin.
The event was organised in partnership with the Central Bank of Ireland and Trinity College Dublin.
Will blockchain have a role in the future? Is the potential for house price bubbles a growing concern for the Governing Council? To what extent is forward guidance and clear communication seen as a key component of modern central banks?
Watch the exchange of questions and answers on these and other topics between President Draghi and economics students from Trinity College Dublin.
Youth, innovation and productivity in Europe, June 2017, Lisbon, Portugal
President Mario Draghi hosted the ECB's first Youth Dialogue in Lisbon organised in partnership with the Banco de Portugal and ISEG – Lisbon School of Economics and Management.
Explore the discussion about the meaning of innovation and productivity for young people.