Ferrando, Annalisa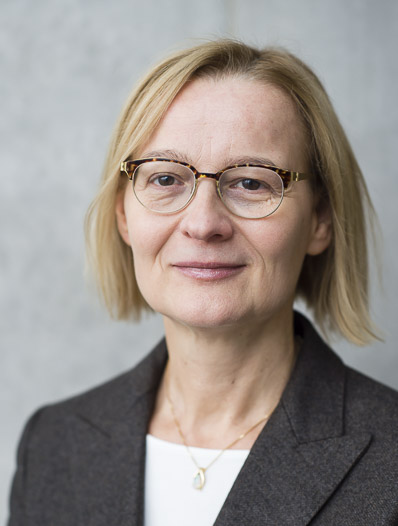 Education
Professional experience
Teaching experience
Awards
ECB Working Paper Series
2017
2015
2014
2013
2012
2011
2009
2008
2006
ECB Occasional Paper Series
Journal publications
2019
2018
Investment of financially distressed firms: the role of trade credit
EIB Working Paper Series 2018/4
Young SMEs: Driving innovation in Europe?
EIB Working Paper series, 2018/7
2017
2016
2015
Financial obstacles and financial conditions of firms: do perceptions match the actual conditions
The Economic and Social Review, vol. 46, No1, pp.87-118
Firms' financial statements and competitiveness: an analysis for European non-financial corporations using micro-based data
BIS IFC Bulletin, forthcoming
SMEs access to credit: are government measures helpful for constrained firms?
Chapter 6 in "Public Private Partnerships for infrastructure and enterprise funding. Principles, Practices and Perspectives". Edited by S. Caselli, G. Corbetta and V. Vecchi, Palgrave Publisher,
2014
Multiple Market Imperfections, Firm profitability and investment
European Journal of Law and Economics
Does Employment Protection Legislation Affect Firm Investment? The European Case
Economic Modelling
2013
Do firms use the Credit Channel of Trade to finance growth?
Journal of Banking and Finance 37 (2013), pp. 3035-3046
Measuring the opinion of firms on the supply and demand of external financing in the euro area
BIS IFC Bulletin n. 36, February
2012
Access to finance in the euro area: what are SMEs telling us about the crisis?
Small Businesses in the Aftermath of the Crisis, eds G. Calcagnini and I. Favaretto, eds, Springer Verlag
2011
Financing obstacles and growth: an analysis for euro area companies
The European Journal of Finance
2010
Sovereign bond spreads in Central and Eastern Europe
Sovereign Debt: From Safety to Default , Robert Kolb editor, John Wiley & Sons
Determinants of government bond spreads in new EU countries
Journal of Eastern European Economics (EEE), vol. 48, n.5,Sep-Oct, pp. 5-37
Financing constraints and Firms' cash policies in the euro area
The European Journal of Finance, Vol. 16, No. 2, February 2010, 153–171
2008
Measuring European Financial Integration
Handbook of European Financial markets and Institutions, edited by X. Freixas, P. Hartmann and C. Mayer, Oxford University Press
2007
Is the growth of euro area small and medium-sized enterprises constrained by financing barriers?
n 6, Industrial Policy and Economic Reform papers, DG Enterprise and Industry
2005
Concepts and measures of financial integration
Elements of the euro area: integrating financial markets, M. Grande, J. Berg and F. P. Mongelli (eds), Ashgate, Aldershot
Bond and Equity market integration
Elements of the euro area: integrating financial markets, M. Grande, J. Berg and F. P. Mongelli (eds), Ashgate, Aldershot
2004
Measuring the integration of euro area capital markets
Oxford Review of Economic Policy, vol. 20, no 4, pp. 509-530
2000
The Italian banking structure in the nineties: testing the multimarket contact hypothesis
Economic Notes, July, pp. 215-241
1999
Business shock e dimensione d'impresa
La questione dimensionale in Italia, F. Traù (ed.), Il Mulino, Bologna
Gross Fixed Capital Formation in Europe: 1970-1998
DG Enterprise working paper n. 4
1998
Errori di misurazione del costo del capitale e redditività delle imprese: un'analisi panel di imprese italiane
Atti del Convegno SIS97 La statistica delle imprese, vol. 2, Tirrenia Stampatori, Torino
1997
Le determinanti dei tassi di interesse sui prestiti nei mercati locali
Quaderni di Statistica e Matematica applicata alle Scienze Economico-Sociali, vol. XVIII, n.1-4, pp. 121-138
Pyramidal Groups and external finance: an empirical investigation
Nota di Lavoro 61.97, Fondazione ENI Enrico Mattei
1996
The adoption of advanced technologies in the Italian industrial sectors: a map from the census data
Rivista Internazionale di Scienze Economiche e Commerciali, vol.XLIV, 1, March
1995
The cost of durable assets in structure-performance models
Innocenzo Gasparini Institute (IGIER) Working paper n.86
1994
L'industria italiana all'inizio degli anni novanta: un'analisi su dati di bilancio
Quaderni di economia e finanza, anno III, n.1, pp. 107-139
Capitalisation and structure-performance models
CSC Ricerche n.109
1992
Patent policy and vertical product differentiation
Ricerche Economiche, n.3-4, Luglio-Dicembre , pp.221-242