Cartoon on price stability for schools
Teaching economics to young teenagers? Then this kit about price stability might help. It consists of an 8-minute cartoon, a pupil's leaflet, which explains price stability in simple terms, and a more detailed teacher's booklet. The kit has been produced by the ECB together with the national central banks of the euro area.
Reading material
Create your own DVD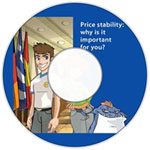 Download the ISO image and burn it on a blank DVD with your DVD burner.
File: dvd_pricestability.iso
MD5: 43c5a135dd4364c647dd4169b560b2e3