#TIPSapp event and marketplace
MIP OnLine - 2018
January 2018
The introduction of instant payments in the euro area requires action across the payments chain: at settlement level, clearing level, scheme level and, last but not least, at end-user solution level.
The TARGET Instant Payment Settlement (TIPS) service, which will be launched in November 2018, and the services provided by the automated clearing houses will lay the groundwork for pan-European instant payments. The SEPA Instant Credit Transfer scheme (SCT Inst), which went live in November 2017, enables payment service providers to offer products and services that add value for customers and will also generate greater competition between providers.
That being said, it is the customers – i.e. consumers, businesses and public administrations – that will ultimately determine the success or failure of instant payments. Therefore, it is essential that they are given sufficient information. As the timing of the roll out of instant payments based on SCT Inst varies from country to country, communication strategies and communication schedules vary accordingly. Hence, at least in some European countries, public awareness of instant payments is still quite low.
To help change this, in October 2017 the ECB launched the #TIPSapp Challenge, asking payment service providers to develop original mobile apps that could be used to initiate and process large numbers of instant payments. On 6 February 2018, the ECB will host a "marketplace" where the participants in the #TIPSapp Challenge will present their solutions and/or prototypes. Participants will have a stand where they can exhibit their solutions and network with invitees from banks operating in the EU, national central banks, financial market infrastructure providers, industry associations and press from all across Europe.
In parallel to the marketplace, there will be a series of presentations and panel discussions on instant payments from different angles: that of the users, of payment service providers and of the underlying infrastructure.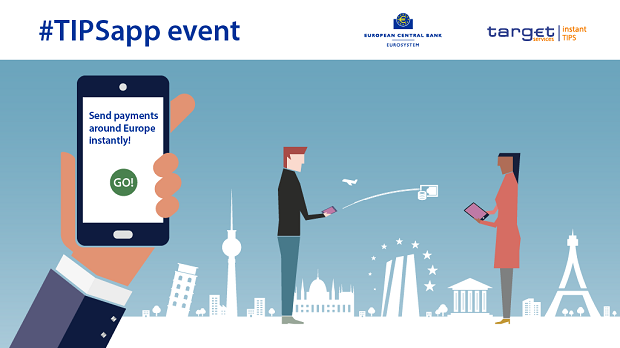 The objective of the #TIPSapp Challenge and the event on 6 February 2018 is to promote the spread of information on instant payments at European level and foster the buy-in of both payment service providers and end users. This is essential if instant payments are to be used widely. Payment service providers must offer a worthwhile end-user experience, otherwise take-up of their service will be slow and uneven. But there is also a need for behavioural and cultural changes on the end-user side, not only for person-to person payments but also for consumer-to-merchant and business-to business transactions.
Programme and registration details for the event