Foreign exchange contact group (FXCG)
Topics
The FXCG serves as a forum for discussing industry developments and structural trends of particular importance for the foreign exchange market. The FXCG exchange views on trends and developments in FX markets and shares ideas and experiences on the structure and the functioning of the FX markets. When necessary, issues pertaining to other related markets may be discussed as well. When appropriate, the FXCG might identify conditions leading to better market functioning.
Composition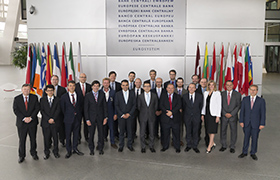 The ECB is the central bank for Europe's single currency, the euro. The ECB's main task is to maintain the euro's purchasing power and thus price stability in the euro area. The euro area comprises the 18 European Union countries that have introduced the euro since 1999.
The FXCG is chaired by the Deputy Director General of the ECB Directorate General for Market Operations with the Head of the Bond Markets & International Operation Division acting as ECB Member of the group. The FXCG is composed of around 20 Members with leading functions in financial institutions with prominent role in the area of foreign exchange. The Members are chosen with regard to the bank that they represent, to their responsibilities within the bank and to their ongoing role in the market. The composition of the group is reviewed on an annual basis. For institutions interested in becoming member, please contact the secretary of the group (guy_charles.marhic@ecb.europa.eu). In addition to the members, representatives from the euro area National Central Banks participate in the group.
Meetings
The FXCG usually meets with a quarterly frequency.
2015
2014
2013
2012
2011
2010
2009
2008
2007
2006