The €uro
Europa series of euro banknotes
The Europa series of euro banknotes is being introduced in the euro area. The new €50 was unveiled on 5 July 2016 at the ECB in Frankfurt am Main and will enter into circulation on 4 April 2017.
Cash professionals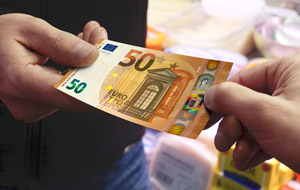 If you work for a commercial bank, post office or another organisation which checks, sorts and issues cash, you might find our training material useful. Information on authenticity and fitness checking, and the recirculation of euro banknotes is also available.
Playful introduction to euro cash
Explore the "Euro School", which features educational materials on euro banknotes and coins.