TARGET2 calendar
T2, one of the TARGET Services, has now replaced TARGET2 as the Eurosystem's real-time gross settlement (RTGS) system. This change will be soon reflected on our website.
TARGET2 business day
Operating hours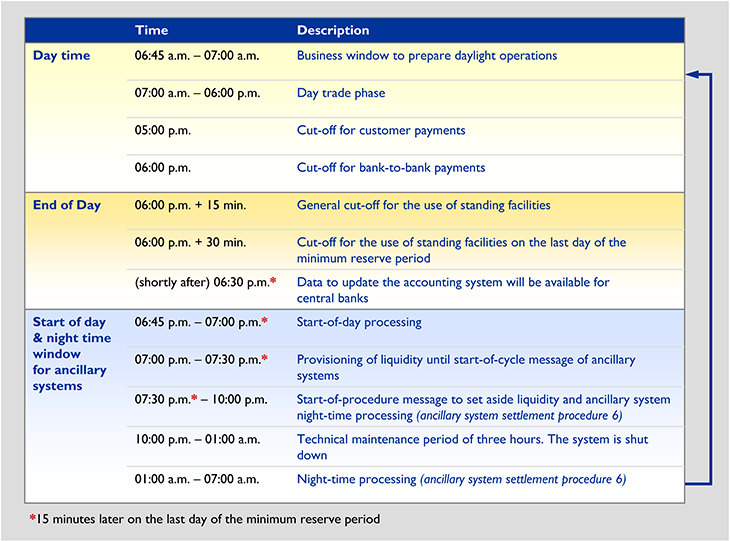 Source: ECB.
TARGET2 is open every day, with the exception of: Saturdays; Sundays; New Year's Day; Good Friday and Easter Monday; 1 May (Labour Day); Christmas Day; and 26 December.
For further details concerning TARGET2 business days, please see also related press release.
Daily operating hours
In order to meet the needs of the financial market in general and its customers in particular, the system has long daily operating hours, opening at 7 a.m. CET and closing at 6 p.m. CET.
To allow participants to better manage their end-of-day liquidity, customer payments are subject to a cut-off time of 5 p.m. CET. TARGET2 starts the new business day on the evening of the previous day at 7 p.m., a "night-time window" being available from 7.30 p.m. to 7 a.m. CET, with a three-hour technical maintenance period between 10 p.m. and 1 a.m. CET.
The night-time window facilitates the night-time settlement of various ancillary systems in central bank money with finality (particularly securities settlement).
All pages in this section