Ledamot av ECB:s direktion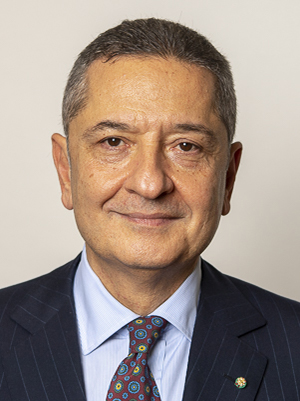 Fabio Panetta
Födelsedatum: 1 augusti 1959
Utbildning
1996

Doktorsexamen i ekonomi och finans, London Business School

1984

Magisterexamen i monetär ekonomi, London School of Economics

1982

Ekonomiexamen med högsta betyg, LUISS-universitetet, Rom
Karriär
Sedan 2020

Ledamot i Europeiska centralbankens direktion

2019

Första vice chef för Banca d'Italia
Chef för den italienska försäkringstillsynsmyndigheten
Ledamot av Europeiska systemrisknämndens styrelse
Italiens suppleant i G7-gruppen och G20-gruppen
Ledamot i styrelsen för International Center for Monetary and Banking Studies i Genève och i det styrande rådet för Einaudi-institutet för ekonomi och finans

2014–2019

Ledamot i OECD:s arbetsgrupp nr 3

2013 och 2015–2018

Ledamot i styrelsen för Banken för internationell betalningsutjämning

2014–2019

Ledamot i SSM:s tillsynsnämnd vid Europeiska centralbanken

Sedan 2013

Ledamot i det gemensamma direktoratet för försäkringstillsynsmyndigheten (Ivass)

2003–2019

Ledamot i kommittén för det globala finansiella systemet vid Banken för internationell betalningsutjämning

2012–2019

Ledamot i styrelsen och vice chef för Italiens centralbank (Banca d'Italia)

2011

Verkställande direktör för Eurosystemet och finansiell stabilitet, Banca d'Italia

2007–2011

Chef för avdelningen för ekonomiska prognoser och penningpolitik, Banca d'Italia

2004–2017

Bisittare och suppleant för Banca d'Italia i ECB-rådet

2000–2007

Penga- och finansavdelningen, Banca d'Italia
Relevant yrkesverksamhet
Ordförande för arbetsgruppen om statsrisk och bankutlåningsvillkor som rapporterar till kommittén för det globala finansiella systemet av Banken för internationell betalningsutjämning, 2010–2011
Ledamot i styrelsen för International Journal of Central Banking, 2005–2011
Ordförande för studiegruppen om volatilitet på den finansiella marknaden som rapporterar till kommittén för det globala finansiella systemet vid Banken för internationell betalningsutjämning, 2005–2006
Ordförande för arbetsgruppen om effektivitet, konkurrens och kreditflöde inom ramen för den undersökning som lyfts fram av finansministrarna och centralbankscheferna inom G10-gruppen, om konsolideringsprocessen för bank- och finanssektorn, 2000–2001
Ledamot i OECD:s högnivågrupp av monetära experter (Paris), 1999–2002
Ledamot i arbetsgruppen om aktiemarknader, som inrättats av centralbankscheferna i G10-länderna, 1998–2000
Särskilda utmärkelser, priser och stipendier
Storkorsriddare av Republiken Italiens förtjänstorden, 2019
Kommendör av Republiken Italiens förtjänstorden, 2019
Årets alumn, LUISS-universitetet, Rom, 2019
Tilldelades "Premio Giornalistico Internazionale Santa Margherita Ligure per l'Economia" som bästa ekonomiförfattare, 2006
Tilldelades ett stipendium från utbildningsministeriet för utlandsstudier inom politisk ekonomi, 1983
Tilldelades stipendiet "Paolo Andreini" av Italiens centralbank för utlandsstudier inom ekonomi, 1985
Akademisk profil
Talare om ekonomi- och finansämnen vid:
American Economic Association, Styrelsen i det amerikanska centralbankssystemet, Federal Reserve Bank of Chicago, Banken för internationell betalningsutjämning, De Nederlandsche Bank, Federal Deposit Insurance Commission, Borsa di Milano, Associazione Bancaria Italiana, det italienska ekonomi- och finansministeriet, Consob, Europeiska universitetsinstitutet (Florens), London Business School, London School of Economics, Università Bocconi, Bank of Canada, Sapienza-universitetet, Tor Vergata-universitetet, Center for International Studies, Istituto per la Ricerca sociale, Centre for Economic Policy Research (CEPR), Monte Titoli S.p.A., Università di Pavia, Bank of England, Associazione per gli Studi di Banca e Borsa, LUISS-universitetet, Università Cattolica del Sacro Cuore (Milano), Università di Ancona, Università di Sassari, Università di Verona, Autorità Garante per la Concorrenza, Associazione Prometeia, Frankfurt Institute for Law and Finance, Banque Centrale du Luxembourg.
Publikationer i:
The American Economic Review; Journal of Money, Credit and Banking; Journal of Finance; European Economy; Journal of Banking and Finance; Economic Notes; Economic Perspectives; European Economic Review; Revue d'économie financière; Giornale degli economisti e annali di economia; Financial Times; Banche e Banchieri; Bancaria, Banca Impresa Società; Finanza, Imprese e Mercati; Il Risparmio; Economia, società e istituzioni m.fl., och har även varit författare och medförfattare till flera arbetsrapporter.
Expertgranskare för:
American Economic Review, Quarterly Journal of Economics, Journal of Money, Credit and Banking, Review of Economics and Statistics, Journal of Financial Intermediation, Journal of Banking and Finance, Journal of Development Economics, Journal of the European Economic Association, Open Economies Review, International Review of Economics and Finance, Economic Modelling, Economic Notes, Rivista di Politica Economica, Moneta e Credito och Politica Economica.