Član Izvršilnega odbora ECB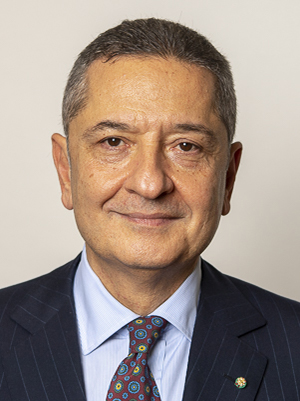 Fabio Panetta
Datum rojstva: 1. avgust 1959
Izobrazba
1996

Doktorat iz ekonomije in financ, London Business School

1984

Magisterij iz monetarne ekonomije, London School of Economics

1982

Diploma iz ekonomije z odliko, Libera Università Internazionale degli Studi Sociali »Guido Carli«, Rim
Zaposlitve
Od leta 2020

Član Izvršilnega odbora, Evropska centralna banka

2019

Višji namestnik guvernerja, Banca d'Italia
Predsednik, Istituto per la vigilanza sulle assicurazioni
Član splošnega odbora, Evropski odbor za sistemska tveganja
Nadomestni član iz Italije, skupini G7 in G20
Član sveta direktorjev, International Center for Monetary and Banking Studies v Ženevi, in član upravnega odbora, Einaudi Institute for Economics and Finance

2014–2019

Član delovne skupine št. 3, OECD

2013 in 2015–2018

Član sveta direktorjev, Banka za mednarodne poravnave

2014–2019

Član Nadzornega odbora, Evropska centralna banka

Od leta 2013

Član skupnega direktorata, Istituto per la vigilanza sulle assicurazioni

2003–2019

Član Odbora za globalni finančni sistem, Banka za mednarodne poravnave

2012–2019

Član sveta in namestnik guvernerja, Banca d'Italia

2011

Generalni direktor za Eurosistem in finančno stabilnost, Banca d'Italia

2007–2011

Vodja oddelka za ekonomske analize in denarno politiko, Banca d'Italia

2004–2017

Spremljevalec in nadomestni član iz centralne banke Banca d'Italia v Svetu Evropske centralne banke

2000–2007

Sektor za denarna in finančna gibanja, Banca d'Italia
Izbrane poklicne dejavnosti
Predsednik delovne skupine za državno tveganje in pogoje financiranja za banke, ki poroča Odboru za globalni finančni sistem, Banka za mednarodne poravnave, 2010–2011
Član sveta direktorjev, International Journal of Central Banking, 2005–2011
Predsednik študijske skupine za volatilnost na finančnih trgih, ki poroča Odboru za globalni finančni sistem, Banka za mednarodne poravnave, 2005–2006
Predsednik delovne skupine za učinkovitost, konkurenco in kreditne tokove v okviru ankete o procesu konsolidacije v bančnem in finančnem sektorju, za katero so dali pobudo finančni ministri in guvernerji centralnih bank skupine G10, 2000–2001
Član strokovne skupine na visoki ravni za denarno politiko, OECD (Pariz), 1999–2002
Član delovne skupine za trge lastniških instrumentov, ki so jo ustanovili guvernerji centralnih bank iz držav skupine G10, 1998–2000
Izbrana odlikovanja, nagrade in štipendije
Vitez velikega križa, red za zasluge Republike Italije, 2019
Visoki častnik, red za zasluge Republike Italije, 2019
Nagrada za diplomanta leta, Libera Università Internazionale degli Studi Sociali »Guido Carli«, Rim, 2019
Nagrada za najboljšega pisca o ekonomiji Premio Giornalistico Internazionale Santa Margherita Ligure per l'Economia, 2006
Štipendija ministrstva za izobraževanje za študij politične ekonomije v tujini, 1983
Štipendija »Paolo Andreini«, ki jo Banca d'Italia podeljuje za študij ekonomije v tujini, 1985
Akademski profil
Govornik o temah s področja ekonomije in financ v:
American Economic Association, Board of Governors of the Federal Reserve System, Federal Reserve Bank of Chicago, Bank for International Settlements, De Nederlandsche Bank, Federal Deposit Insurance Commission, Borsa di Milano, Associazione Bancaria Italiana, Ministero dell'Economia e delle Finanze, Consob, the European University Institute (Firence), London Business School, London School of Economics, Università Bocconi, Bank of Canada, Sapienza – Università di Roma, Università degli Studi di Roma Tor Vergata, Center for International Studies, Istituto per la Ricerca sociale, Centre for Economic Policy Research, Monte Titoli S.p.A., Università di Pavia, Bank of England, Associazione per gli Studi di Banca e Borsa, Libera Università Internazionale degli Studi Sociali »Guido Carli«, Università Cattolica del Sacro Cuore (Milano), Università di Ancona, Università di Sassari, Università di Verona, Autorità Garante per la Concorrenza, Associazione Prometeia, Institute for Law and Finance v Frankfurtu, Banque centrale du Luxembourg.
Strokovni prispevki objavljeni v:
The American Economic Review; Journal of Money, Credit and Banking; Journal of Finance; European Economy; Journal of Banking and Finance; Economic Notes; Economic Perspectives; European Economic Review; Revue d'économie financière; Giornale degli economisti e annali di economia; Financial Times; Banche e Banchieri; Bancaria, Banca Impresa Società; Finanza, Imprese e Mercati; Il Risparmio; Economia, società e istituzioni in še drugje. Prav tako je tudi avtor in soavtor več delovnih zvezkov.
Recenzent pri strokovnih revijah:
American Economic Review, Quarterly Journal of Economics, Journal of Money, Credit and Banking, Review of Economics and Statistics, Journal of Financial Intermediation, Journal of Banking and Finance, Journal of Development Economics, Journal of the European Economic Association, Open Economies Review, International Review of Economics and Finance, Economic Modelling, Economic Notes, Rivista di Politica Economica, Moneta e Credito in Politica Economica.