Člen Výkonnej rady ECB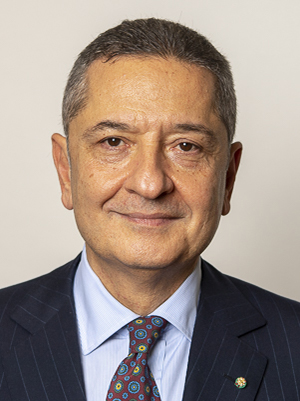 Fabio Panetta
Dátum narodenia: 1. august 1959
Vzdelanie
1996

titul PhD v odbore ekonómie a financií, London Business School

1984

magisterský titul v odbore menovej ekonomiky, London School of Economics

1982

titul s vyznamenaním v odbore ekonómie, LUISS University, Rím
Pracovné skúsenosti
od roku 2020

člen Výkonnej rady Európskej centrálnej banky

2019

prvý viceguvernér Banca d'Italia
predseda talianskeho orgánu pre dohľad nad poisťovníctvom
člen generálnej rady Európskeho výboru pre systémové riziká
náhradník za Taliansko v skupinách G7 a G20
člen správnej rady Medzinárodného centra pre menové a bankové štúdie v Ženeve a riadiacej rady Einaudiho inštitútu pre hospodárstvo a financie

2014 – 2019

člen pracovnej skupiny OECD č. 3

2013 a 2015 – 2018

člen predstavenstva Banky pre medzinárodné zúčtovanie

2014 – 2019

člen Rady pre dohľad SSM Európskej centrálnej banky

od roku 2013

člen spoločného riaditeľstva talianskeho orgánu dohľadu nad poisťovníctvom (Ivass)

2003 – 2019

člen Výboru pre globálny finančný systém v Banke pre medzinárodné zúčtovanie

2012 – 2019

člen bankovej rady a viceguvernér Banca d'Italia

2011

generálny riaditeľ, Eurosystém a finančná stabilita, Banca d'Italia

2007 – 2011

vedúci oddelenia hospodárskych prognóz a menovej politiky, Banca d'Italia

2004 – 2017

sprevádzajúca osoba a náhradník za Banca d'Italia v Rade guvernérov Európskej centrálnej banky

2000 – 2007

menový a finančný odbor, Banca d'Italia
Vybrané odborné činnosti
predseda pracovnej skupiny pre riziko spojené so štátnym dlhom a podmienky bankového financovania, podliehajúcej Výboru pre globálny finančný systém v Banke pre medzinárodné zúčtovanie, 2010 – 2011
člen predstavenstva periodika International Journal of Central Banking, 2005 – 2011
predseda študijnej skupiny pre volatilitu finančného trhu, podliehajúcej Výboru pre globálny finančný systém v Banke pre medzinárodné zúčtovanie, 2005 – 2006
predseda pracovnej skupiny pre efektívnosť, hospodársku súťaž a úverové toky v súvislosti s prieskumom procesu konsolidácie bankového a finančného sektora podporovaným ministrami financií a guvernérmi centrálnych bánk krajín G10, 2000 – 2001
člen skupiny menových expertov OECD na vysokej úrovni (Paríž), 1999 – 2002
člen pracovnej skupiny pre akciové trhy zriadenej guvernérmi centrálnych bánk krajín G10, 1998 – 2000
Vybrané vyznamenania, ocenenia a granty
rytier Veľkého kríža Radu za zásluhy Talianskej republiky, 2019
vysoký dôstojník Radu za zásluhy Talianskej republiky, 2019
absolvent roka, LUISS University, Rím, 2019
ocenenie Premio Giornalistico Internazionale Santa Margherita Ligure per l'Economia pre najlepšieho autora v oblasti ekonómie, 2006
štipendium od ministerstva školstva na štúdium v zahraničí v odbore politickej ekonómie, 1983
štipendium Paolo Andreini od Banca d'Italia na štúdium v zahraničí v odbore ekonómie, 1985
Akademický profil
Rečnícke príspevky na témy z oblasti ekonomiky a financií:
American Economic Association, Rada guvernérov Federálneho rezervného systému, Federal Reserve Bank of Chicago, Banka pre medzinárodné zúčtovanie, De Nederlandsche Bank, Federal Deposit Insurance Commission, Borsa di Milano, Associazione Bancaria Italiana, talianske ministerstvo hospodárstva a financií, Consob, Európsky univerzitný inštitút (Florencia), London Business School, London School of Economics, Università Bocconi, Bank of Canada, Sapienza University, Tor Vergata University, Center for International Studies, Istituto per la Ricerca sociale, Centre for Economic Policy Research, Monte Titoli S.p.A., Università di Pavia, Bank of England, Associazione per gli Studi di Banca e Borsa, LUISS University, Università Cattolica del Sacro Cuore (Milano), Università di Ancona, Università di Sassari, Università di Verona, Autorità Garante per la Concorrenza, Associazione Prometeia, Frankfurt Institute for Law and Finance, Banque centrale du Luxembourg
Publikoval v:
The American Economic Review; Journal of Money, Credit and Banking; Journal of Finance; European Economy; Journal of Banking and Finance; Economic Notes; Economic Perspectives; European Economic Review; Revue d'économie financière; Giornale degli economisti e annali di economia; Financial Times; Banche e Banchieri; Bancaria, Banca Impresa Società; Finanza, Imprese e Mercati; Il Risparmio; Economia, società e istituzioni atď. Okrem toho je autorom a spoluautorom mnohých pracovných štúdií.
Recenzent pre:
American Economic Review, Quarterly Journal of Economics, Journal of Money, Credit and Banking, Review of Economics and Statistics, Journal of Financial Intermediation, Journal of Banking and Finance, Journal of Development Economics, Journal of the European Economic Association, Open Economies Review, International Review of Economics and Finance, Economic Modelling, Economic Notes, Rivista di Politica Economica, Moneta e Credito a Politica Economica.