Membru al Comitetului executiv al BCE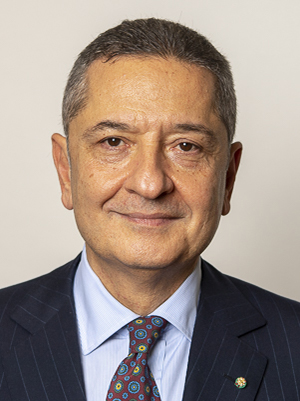 Fabio Panetta
Data nașterii: 1 august 1959
Studii
1996

Doctorat în economie și finanțe, London Business School

1984

Masterat în economie monetară, London School of Economics

1982

Licență în economie cu distincție, Universitatea LUISS, Roma
Experiență profesională
Din 2020

Membru al Comitetului executiv, Banca Centrală Europeană

2019

Prim-viceguvernator al Banca d'Italia
Președintele Autorității de supraveghere în domeniul asigurărilor din Italia
Membru al Consiliului general al Comitetului european pentru risc sistemic
Membru supleant pentru Italia în G7 și G20
Membru al Consiliului de administrație al Centrului internațional de studii monetare și bancare din Geneva și membru al Consiliului director al Institutului Einaudi pentru economie şi finanţe

2014-2019

Membru al Grupului de lucru nr. 3 al OCDE

2013 și 2015-2018

Membru în Consiliul de administrație al Băncii Reglementelor Internaționale

2014-2019

Membru în Consiliul de supraveghere al Băncii Centrale Europene

Din 2013

Membru al Direcției comune a Autorității de supraveghere în domeniul asigurărilor (Istituto per la Vigilanza sulle Assicurazioni – Ivass)

2003-2019

Membru în Comitetul pentru sistemul financiar mondial al Băncii Reglementelor Internaționale

2012-2019

Membru în Consiliul de administrație și viceguvernator al Banca d'Italia

2011

Director general pentru Eurosistem și stabilitate financiară, Banca d'Italia

2007-2011

Șeful Serviciului perspective economice și politică monetară, Banca d'Italia

2004-2017

Însoțitor și membru supleant pentru Banca d'Italia în cadrul Consiliului guvernatorilor Băncii Centrale Europene

2000-2007

Serviciul monetar și financiar, Banca d'Italia
Principalele activități profesionale
Președintele Grupului de lucru pentru riscul suveran și condițiile de finanțare a băncilor, subordonat Comitetului pentru sistemul financiar mondial al Băncii Reglementelor Internaționale, 2010-2011
Membru în Consiliul de administrație al International Journal of Central Banking, 2005-2011
Președintele Grupului de studiu privind volatilitatea pieței financiare, subordonat Comitetului pentru sistemul financiar mondial al Băncii Reglementelor Internaționale, 2005-2006
Președintele Grupului de lucru privind eficiența, concurența și fluxurile de credit în contextul studiului referitor la procesul de consolidare pentru sectorul bancar și financiar, promovat de miniștrii de finanțe și guvernatorii băncilor centrale din țările G10, 2000-2001
Membru în Grupul la nivel înalt al experților în domeniul monetar din cadrul OCDE (Paris), 1999-2002
Membru în Grupul de lucru privind piețele acțiunilor, înființat de guvernatorii băncilor centrale din țările G10, 1998-2000
Principalele distincții, premii și granturi
Marea cruce în grad de Cavaler a Ordinului de Merit al Republicii Italiene, 2019
Înalt funcționar al Ordinului de Merit al Republicii Italiene, 2019
Absolventul anului, Universitatea LUISS, Roma, 2019
"Premio Giornalistico Internazionale Santa Margherita Ligure per l'Economia", premiu acordat pentru cel mai bun scriitor în domeniul economic, 2006
Bursă din partea Ministerului Educației pentru studii în străinătate în domeniul economiei politice, 1983
Bursa "Paolo Andreini", acordată de Banca d'Italia pentru studii în străinătate în domeniul economic, 1985
Profil academic
A susținut discursuri pe teme economice și financiare la:
American Economic Association, Consiliul guvernatorilor Sistemului Rezervelor Federale, Banca Rezervelor Federale din Chicago, Banca Reglementelor Internaționale, De Nederlandsche Bank, Federal Deposit Insurance Commission, Borsa di Milano, Associazione Bancaria Italiana, Ministerul Economiei și Finanțelor din Italia, Consob, European University Institute (Florența), London Business School, London School of Economics, Università Bocconi, Bank of Canada, Universitatea Sapienza, Universitatea Tor Vergata, Center for International Studies, Istituto per la Ricerca sociale, Centre for Economic Policy Research, Monte Titoli S.p.A., Università di Pavia, Bank of England, Associazione per gli Studi di Banca e Borsa, Universitatea LUISS, Università Cattolica del Sacro Cuore (Milano), Università di Ancona, Università di Sassari, Università di Verona, Autorità Garante per la Concorrenza, Associazione Prometeia, Institute for Law and Finance din Frankfurt, Banque centrale du Luxembourg.
A publicat în:
The American Economic Review; Journal of Money, Credit and Banking; Journal of Finance; European Economy; Journal of Banking and Finance; Economic Notes; Economic Perspectives; European Economic Review; Revue d'économie financière; Giornale degli economisti e annali di economia; Financial Times; Banche e Banchieri; Bancaria, Banca Impresa Società; Finanza, Imprese e Mercati; Il Risparmio; Economia, società e istituzioni și altele și a semnat în calitate de autor și coautor numeroase studii.
A întocmit recenzii pentru:
American Economic Review, Quarterly Journal of Economics, Journal of Money, Credit and Banking, Review of Economics and Statistics, Journal of Financial Intermediation, Journal of Banking and Finance, Journal of Development Economics, Journal of the European Economic Association, Open Economies Review, International Review of Economics and Finance, Economic Modelling, Economic Notes, Rivista di Politica Economica, Moneta e Credito și Politica Economica.