Membro da Comissão Executiva do BCE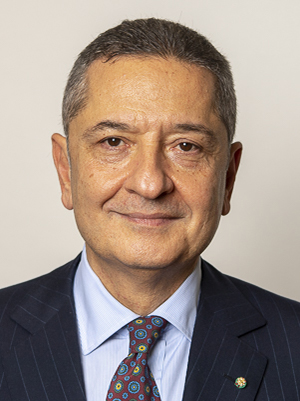 Fabio Panetta
Data de nascimento: 1 de agosto de 1959
Formação académica
1996

Doutoramento em Economia e Finanças, London Business School

1984

Mestrado em Economia Monetária, London School of Economics

1982

Licenciatura com distinção em Economia, Università LUISS, Roma
Percurso profissional
Desde 2020

Membro da Comissão Executiva do BCE

2019

Primeiro vice-governador do Banca d'Italia
Presidente da autoridade italiana de supervisão dos seguros (Istituto per la vigilanza sulle assicurazioni – IVASS)
Membro do Conselho Geral do Comité Europeu do Risco Sistémico
Membro suplente de Itália no G7 e no G20
Membro do conselho de administração do Centro Internacional de Estudos Monetários e Bancários de Genebra e do conselho de administração do Instituto Einaudi de Economia e Finanças

2014 – 2019

Membro do Grupo de Trabalho n.º 3 da Organização de Cooperação e Desenvolvimento Económicos (OCDE)

2013 e 2015 – 2018

Membro do conselho de administração do Banco de Pagamentos Internacionais (Bank for International Settlements – BIS) 

2014 – 2019

Membro do Conselho de Supervisão do Mecanismo Único de Supervisão (MUS) do BCE

Desde 2013

Membro da direção conjunta da IVASS

2003 – 2019

Membro do Comité sobre o Sistema Financeiro Global do BIS

2012 – 2019

Membro do conselho de administração e vice‑governador do Banca d'Italia

2011

Diretor executivo do Banca d'Italia para o Eurosistema e a Estabilidade Financeira

2007 – 2011

Chefe do Departamento de Perspetivas Económicas e Política Monetária do Banca d'Italia

2004 – 2017

Acompanhante e suplente do governador do Banca d'Italia no Conselho do BCE

2000 – 2007

Divisão Monetária e Financeira do Banca d'Italia
Principais atividades profissionais
Presidente do Grupo de Trabalho sobre Risco Soberano e Condições de Financiamento Bancário no âmbito do Comité sobre o Sistema Financeiro Global do BIS, 2010 – 2011
Membro do conselho de administração do International Journal of Central Banking, 2005 – 2011
Presidente do Grupo de Estudo sobre Volatilidade do Mercado Financeiro, no âmbito do Comité sobre o Sistema Financeiro Global do BIS, 2005 – 2006
Presidente do Grupo de Trabalho sobre Eficiência, Concorrência e Fluxos de Crédito no contexto do inquérito, promovido pelos ministros das Finanças e pelos governadores dos bancos centrais do G10, sobre o processo de consolidação do setor bancário e financeiro, 2000 – 2001
Membro do Grupo de Alto Nível de Peritos Monetários da OCDE (Paris), 1999 – 2002
Membro do Grupo de Trabalho sobre os Mercados de Capitais, instituído pelos governadores dos bancos centrais dos países do G10, 1998 – 2000
Principais distinções, prémios e bolsas
Cavaleiro da Grã-Cruz da Ordem do Mérito da República Italiana, 2019
Grande Oficial da Ordem do Mérito da República Italiana, 2019
Antigo Aluno do Ano, Università LUISS de Roma, 2019
Premio Giornalistico Internazionale Santa Margherita Ligure per l'Economia para melhor ensaísta sobre temas de Economia, 2006
Bolsa do Ministério da Educação italiano destinada à realização de estudos de Economia Política no estrangeiro, 1983
Bolsa Paolo Andreini, atribuída pelo Banca d'Italia, para a realização de estudos de Economia no estrangeiro, 1985
Perfil académico
Conferencista sobre temas de Economia e Finanças nas seguintes instituições:
American Economic Association, Conselho de Governadores do Sistema da Reserva Federal, Federal Reserve Bank of Chicago, BIS, De Nederlandsche Bank, Federal Deposit Insurance Commission, Borsa di Milano, Associazione Bancaria Italiana, Ministério da Economia e Finanças de Itália, Consob, Instituto Universitário Europeu de Florença, London Business School, London School of Economics, Università Bocconi, Bank of Canada, Università La Sapienza, Università Tor Vergata, Center for International Studies, Istituto per la Ricerca sociale, Centre for Economic Policy Research, Monte Titoli S.p.A., Università di Pavia, Bank of England, Associazione per gli Studi di Banca e Borsa, Università LUISS, Università Cattolica del Sacro Cuore (Milano), Università di Ancona, Università di Sassari, Università di Verona, Autorità Garante per la Concorrenza, Associazione Prometeia, Frankfurt Institute for Law and Finance e Banque centrale du Luxembourg.
Publicações em:
The American Economic Review; Journal of Money, Credit and Banking; Journal of Finance; European Economy; Journal of Banking and Finance; Economic Notes; Economic Perspectives; European Economic Review; Revue d'économie financière; Giornale degli economisti e annali di economia; Financial Times; Banche e Banchieri; Bancaria, Banca Impresa Società; Finanza, Imprese e Mercati; Il Risparmio; Economia, società e istituzioni e outras, bem como autoria e co-autoria de inúmeros documentos de trabalho.
Responsável pela seleção de artigos para as seguintes publicações:
American Economic Review, Quarterly Journal of Economics, Journal of Money, Credit and Banking, Review of Economics and Statistics, Journal of Financial Intermediation, Journal of Banking and Finance, Journal of Development Economics, Journal of the European Economic Association, Open Economies Review, International Review of Economics and Finance, Economic Modelling, Economic Notes, Rivista di Politica Economica, Moneta e Credito e Politica Economica.