Członek Zarządu EBC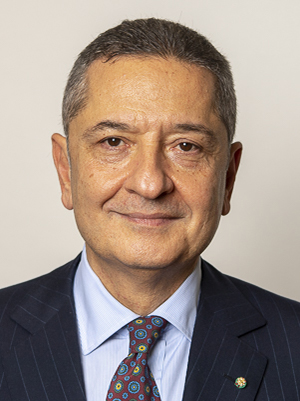 Fabio Panetta
Data urodzenia: 1 sierpnia 1959
Wykształcenie
1996

Doktorat z ekonomii i finansów, London Business School

1984

Magisterium z ekonomii monetarnej, London School of Economics

1982

Dyplom z wyróżnieniem w dziedzinie ekonomii, Libera Università Internazionale degli Studi Sociali Guido Carli (LUISS), Rzym
Kariera zawodowa
od 2020

Członek Zarządu Europejskiego Banku Centralnego

2019

Pierwszy wiceprezes banku centralnego Włoch (Banca d'Italia)
Prezes włoskiego urzędu nadzoru ubezpieczeń (IVAAS)
Członek Rady Generalnej Europejskiej Rady ds. Ryzyka Systemowego
Zastępca członka reprezentującego Włochy w grupach G‑7 i G‑20
Członek zarządu International Centre for Monetary and Banking Studies w Genewie oraz rady zarządzającej Einaudi Institute for Economics and Finance

2014–2019

Członek 3. grupy roboczej OECD

2013 i 2015–2018

Członek Rady Zarządzającej Banku Rozrachunków Międzynarodowych (BIS)

2014–2019

Członek Rady ds. Nadzoru SSM w Europejskim Banku Centralnym

od 2013

Członek rady zarządzającej IVASS

2003–2019

Członek Komitetu ds. Globalnego Systemu Finansowego BIS

2012–2019

Członek zarządu i zastępca prezesa Banca d'Italia

2011

Dyrektor zarządzający ds. Eurosystemu i stabilności finansowej, Banca d'Italia

2007–2011

Szef departamentu prognoz gospodarczych i polityki pieniężnej, Banca d'Italia

2004–2017

Osoba towarzysząca prezesowi i zastępca prezesa Banca d'Italia w Radzie Prezesów Europejskiego Banku Centralnego

2000–2007

Wydział ds. monetarnych i finansowych, Banca d'Italia
Wybrane funkcje zawodowe
Przewodniczący grupy roboczej ds. ryzyka niewypłacalności państwa oraz pozyskiwania finansowania przez banki, podlegającej Komitetowi ds. Globalnego Systemu Finansowego BIS, 2010–2011
Członek zarządu International Journal of Central Banking, 2005–2011
Przewodniczący grupy badawczej ds. zmienności rynków finansowych, podlegającej Komitetowi ds. Globalnego Systemu Finansowego BIS, 2005–2006
Przewodniczący grupy roboczej ds. efektywności, konkurencyjności i przepływów kredytowych, pod egidą ministrów finansów i prezesów banków centralnych grupy G‑10, na potrzeby badania dotyczącego procesu konsolidacji w sektorze bankowym i finansowym, 2000–2001
Członek grupy ekspertów wysokiego szczebla ds. monetarnych w OECD (Paryż), 1999–2002
Członek grupy roboczej ds. rynków akcji, powołanej przez prezesów banków centralnych grupy G-10, 1998–2000
Wybrane odznaczenia, nagrody i stypendia
Kawaler Krzyża Wielkiego Orderu Zasługi Republiki Włoskiej, 2019
Wielki Oficer Orderu Zasługi Republiki Włoskiej, 2019
Absolwent roku, Uniwersytet LUISS, Rzym, 2019
Nagroda "Premio Giornalistico Internazionale Santa Margherita Ligure per l'Economia" dla najlepszego autora w dziedzinie ekonomii, 2006
Stypendium ministerstwa edukacji na studia zagraniczne w dziedzinie ekonomii politycznej, 1983
Stypendium "Paolo Andreini" przyznawane przez Banca d'Italia na studia zagraniczne w dziedzinie ekonomii, 1985
Działalność naukowa
Przemówienia na tematy ekonomiczne i finansowe:
Amerykańskie Towarzystwo Ekonomiczne (AEA), Rada Gubernatorów Systemu Rezerwy Federalnej, Bank Rezerwy Federalnej w Chicaco, Bank Rozrachunków Międzynarodowych, De Nederlandsche Bank, Federal Deposit Insurance Commission, Borsa di Milano, Associazione Bancaria Italiana, włoskie Ministerstwo Gospodarki i Finansów, Consob, Europejski Instytut Uniwersytecki (Florencja), London Business School, London School of Economics, Università Bocconi, Bank of Canada, Università La Sapienza, Università Tor Vergata, Center for International Studies, Istituto per la ricerca sociale, Center for Economic Policy Research (CEPR), Monte Titoli S.p.A., Università di Pavia, Bank of England, Associazione per gli Studi di Banca e Borsa, Università LUISS, Università Cattolica del Sacro Cuore (Mediolan), Università di Ancona, Università di Sassari, Università di Verona, Autorità Garante per la Concorrenza, Associazione Prometeia, Institute for Law and Finance (Frankfurt), Banque centrale du Luxembourg.
Publikacje:
American Economic Review; Journal of Money, Credit and Banking; Journal of Finance; European Economy; Journal of Banking and Finance; Economic Notes; Economic Perspectives; European Economic Review; Revue d'économie financière; Giornale degli economisti e annali di economia; Financial Times; Banche e Banchieri; Bancaria, Banca Impresa Società; Finanza, Imprese e Mercati; Il Risparmio; Economia, società e istituzioni i in.; także autor lub współautor licznych dokumentów roboczych.
Recenzje:
American Economic Review; Quarterly Journal of Economics; Journal of Money, Credit and Banking; Review of Economics and Statistics; Journal of Financial Intermediation; Journal of Banking and Finance; Journal of Development Economics; Journal of the European Economic Association; Open Economies Review; International Review of Economics and Finance; Economic Modelling; Economic Notes; Rivista di Politica Economica; Moneta e Credito; Politica Economica.