Membru tal-Bord Eżekuttiv tal-BĊE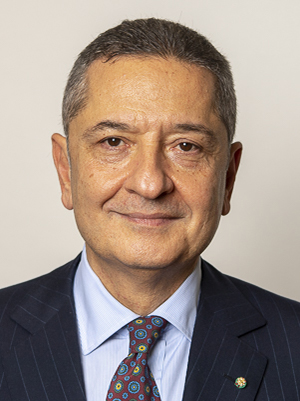 Fabio Panetta
Data tat-twelid: 1 ta' Awwissu 1959
Edukazzjoni
1996

PhD, Ekonomija u l-Finanzi, London Business School

1984

M.Sc., Ekonomija Monetarja, London School of Economics

1982

Lawrja bl-unuri fl-Ekonomija, Università ta' LUISS, Ruma
Karriera
Mill-2020

Membru tal-Bord Eżekuttiv, Bank Ċentrali Ewropew

2019

Deputat Gvernatur Anzjan tal-Banca d'Italia
President tal-Awtorità Superviżorja Taljana tal-Assikurazzjoni
Membru tal-Bord Ġenerali tal-Bord Ewropew dwar ir-Riskju Sistemiku
Membru Sostitut għall-Italja tal-G7 u l-G20
Membru tal-Bord tad-Diretturi taċ-Ċentru Internazzjonali għall-Istudji Monetarji u Bankarji f'Ġinevra u tal-Kunsill Governattiv tal-Istitut Einaudi għall-Ekonomija u l-Finanzi

2014-2019

Membru tal-Grupp ta' Ħidma 3 tal-OECD

2013 u 2015-2018

Membru tal-Bord tad-Diretturi tal-Bank għall-Pagamenti Internazzjonali

2014-2019

Membru tal-Bord Superviżorju tal- MSU fil-Bank Ċentrali Ewropew

Mill-2013

Membru tad-Direttorat Konġunt tal-Awtorità tas-Superviżjoni tal-Assigurazzjoni (Ivass)

2003-2019

Membru tal-Kumitat dwar is-Sistema Finanzjarja Globali tal-Bank għall-Ħlasijiet Internazzjonali

2012-2019

Membru tal-Bord Governattiv u Deputat Gvernatur tal-Banca d'Italia

2011

Direttur maniġerjali għall-Eurosistema u l-Istabbiltà Finanzjarja, Banca d'Italia

2007-2011

Kap tad-Dipartiment tal-Prospetti Ekonomiċi u tal-Politika Monetarja, Banca d'Italia

2004-2017

Persuna li takkumpanja u membru sostitut għall-Banca d'Italia fuq il-Kunsill Governattiv tal-Bank Ċentrali Ewropew

2000-2007

Diviżjoni Monetarja u Finanzjarja, Banca d'Italia
Uħud mill-attivitajiet professjonali
President tal-Grupp ta' Ħidma dwar ir-Riskju Sovran u l-Kundizzjonijiet ta' Finanzjament Bankarju, li jirrapporta lill-Kumitat dwar is-Sistema Finanzjarja Globali tal-Bank għall-Ħlasijiet Internazzjonali, 2010-2011
Membru tal-Bord tal-International Journal of Central Banking, 2005-2011
President tal-Grupp ta' Studju dwar il-Volatilità tas-Suq Finanzjarju, li jirrapporta lill-Kumitat dwar is-Sistema Finanzjarja Globali tal-Bank għall-Ħlasijiet Internazzjonali, 2005-2006
President tal-Grupp ta' Ħidma dwar l-Effiċjenza, il-Kompetizzjoni u l-Flussi ta' Kreditu fil-kuntest tal-istħarriġ, promoss mill-Ministri tal-Finanzi tal-G10 u l-gvernaturi tal-banek ċentrali, dwar il-proċess ta' konsolidazzjoni għas-settur bankarju u tal-finanzi, 2000-2001
Membru tal-Grupp ta' Livell Għoli ta' Esperti Monetarji tal-OECD (Pariġi), 1999-2002
Membru tal-Grupp ta' Ħidma dwar is-Swieq tal-Ekwità, stabbilit mill-gvernaturi tal-banek ċentrali tal-pajjiżi tal-G10, 1998-2000
Uħud mill-unuri, premjijiet u għotjiet
Kavallier Salib Kbir tal-Ordni tal-Mertu tar-Repubblika tal-Italja, 2019
Uffiċjal Għoli tal-Ordni tal-Mertu tar-Repubblika tal-Italja, 2019
Alumnus tas-sena, Università ta' LUISS, Ruma, 2019
Premio Giornalistico Internazionale Santa Margherita Ligure per l'Economia bħala l-aħjar kittieb fuq l-ekonomija, 2006
Borża ta' studji Ministeru għall-Ekonomija għal studju barra mill-pajjiż fl-Ekonomija Politika, 1983
Ippremjat bil-borża għall-istudji "Paolo Andreini" mill-Banca d'Italia għal studju barra mill-pajjiż fl-ekonomija, 1985
Profil akkademiku
Kelliemi dwar suġġetti tal-ekonomija u l-finanzji fi:
l-Assoċjazzjoni Ekonomika Amerikana, il-Bord tal-Gvernaturi tal-Federal Reserve System, il-Federal Reserve Bank of Chicago, il-Bank għall-Ħlasijiet Internazzjonali, id-De Nederlandsche Bank, il-Federal Deposit Insurance Commission, il-Borsa di Milano, l-Associazione Bancaria Italiana, il-Ministeru Taljan għall-Ekonomija u l-Finanzi, il-Consob, l-Istitut Universitarju Ewropew (Firenze), il-London Business School, il-London School of Economics, l-Università Bocconi, il-Bank of Canada, l-Università Sapienza, l-Università Tor Vergata, iċ-Ċentru għall-Istudji Internazzjonali, l-Istituto per la Ricerca sociale, iċ-Ċentru għar-Riċerka tal-Politika Ekonomika, il-Monte Titoli S.p.A., Università di Pavia, il-Bank of England, l-Associazione per gli Studi di Banca e Borsa, l-Università LUISS, l-Università Cattolica del Sacro Cuore (Milano), l-Università di Ancona, l-Università di Sassari, l-Università di Verona, l-Autorità Garante per la Concorrenza, l-Associazione Prometeia, il-Frankfurt Institute for Law and Finance, il-Banque centrale du Luxembourg.
Ippubblikat fi:
The American Economic Review; Journal of Money, Credit and Banking; Journal of Finance; European Economy; Journal of Banking and Finance; Economic Notes; Economic Perspectives; European Economic Review; Revue d'économie financière; Giornale degli economisti e annali di economia; Financial Times; Banche e Banchieri; Bancaria, Banca Impresa Società; Finanza, Imprese e Mercati; Il Risparmio; Economia, società e istituzioni u oħrajn, kif ukoll kittieb u koawtur ta' ħafna dokumenti ta' ħidma.
Arbitru għal:
American Economic Review, Quarterly Journal of Economics, Journal of Money, Credit and Banking, Review of Economics and Statistics, Journal of Financial Intermediation, Journal of Banking and Finance, Journal of Development Economics, Journal of the European Economic Association, Open Economies Review, International Review of Economics and Finance, Economic Modelling, Economic Notes, Rivista di Politica Economica, Moneta e Credito u Politica Economica.