ECB Valdes loceklis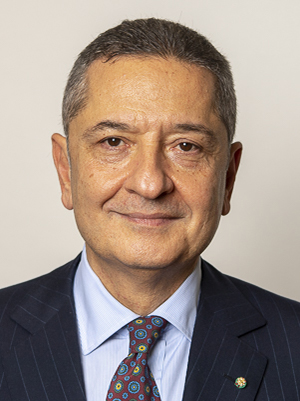 Fabio Paneta (Fabio Panetta)
Dzimšanas datums: 1959. gada 1. augusts
Izglītība
1996

Doktora grāds ekonomikā un finansēs, Londonas Biznesa skola

1984

Monetārās ekonomikas zinātņu maģistra grāds, Londonas Ekonomikas augstskola

1982

Bakalaura grāds ar izcilību ekonomikā, LUISS universitāte, Roma
Profesionālā karjera
Kopš 2020. gada

Eiropas Centrālās bankas Valdes loceklis

2019

Banca d'Italia prezidenta pirmais vietnieks
Itālijas apdrošināšanas uzraudzības iestādes prezidents
Eiropas Sistēmisko risku kolēģijas Valdes loceklis
G7 un G20 Itālijas locekļa aizstājējs
Starptautiskā Monetāro un banku studiju centra Ženēvā Direktoru padomes loceklis un Einaudi Ekonomikas un finanšu institūtā Padomes loceklis

2014–2019

OECD 3. darba grupas loceklis

2013; 2015–2018

Starptautiskās norēķinu bankas Direktoru padomes loceklis

2014–2019

Eiropas Centrālās bankas VUM Uzraudzības valdes loceklis

Kopš 2013. gada

Apdrošināšanas uzraudzības iestādes (Ivass) Vispārējā direktorāta loceklis

2003–2019

Starptautiskās norēķinu bankas Globālo finanšu sistēmu komitejas loceklis

2012–2019

Banca d'Italia Valdes loceklis un prezidenta vietnieks

2011

Banca d'Italia Eurosistēmas un finanšu stabilitātes izpilddirektors

2007–2011

Banca d'Italia Ekonomiskās perspektīvas un monetārās politikas nodaļas vadītājs

2004–2017

Eiropas Centrālās bankas Padomes locekļa no Banca d'Italia puses aizstājējs un pavadošā persona

2000–2007

Banca d'Italia Monetārā un finanšu nodaļa
Svarīgākās profesionālās aktivitātes
Valsts riska un banku finansēšanas nosacījumu darba grupas priekšsēdētājs, kas ziņo Starptautiskās norēķinu bankas Globālo finanšu sistēmu komitejai (2010–2011)
International Journal of Central Banking Direktoru padomes loceklis (2005–2011)
Finanšu tirgus svārstīguma pētījumu grupas priekšsēdētājs, kas ziņo Starptautiskās norēķinu bankas Globālo finanšu sistēmu komitejai (2005–2006)
Efektivitātes, konkurences un kredītu plūsmu darba grupas priekšsēdētājs saistībā ar G10 valstu finanšu ministru un centrālo banku prezidentu ierosināto apsekojumu par banku un finanšu sektora konsolidācijas procesu (2000–2001)
OECD Augsta līmeņa ekspertu grupas loceklis (Parīze; 1999–2002)
G10 valstu centrālo banku prezidentu izveidotās Kapitāla tirgu darba grupas loceklis (1998–2000)
Svarīgākie goda nosaukumi un apbalvojumi
Itālijas Republikas Atzinības ordeņa Lielā Krusta Bruņinieka nosaukums (2019)
Itālijas Republikas Atzinības ordeņa Augstā virsnieka nosaukums (2019)
Gada absolvents, LUISS universitāte, Roma (2019)
Labākā autora par ekonomikas tēmām apbalvojums Premio Giornalistico Internazionale Santa Margherita Ligure per l'Economia (2006)
Izglītības ministrijas stipendija politekonomijas studijām ārzemēs (1983)
Bank of Italy piešķirta Paolo Andreini stipendija ekonomikas studijām ārzemēs (1985)
Akadēmiskais profils
Uzstāšanās par ekonomikas un finanšu tēmām:
Amerikas Ekonomikas asociācijā, Federālo rezervju sistēmas Valdē, Čikāgas Federālo rezervju bankā, Starptautisko norēķinu bankā, De Nederlandsche Bank, Federālajā noguldījumu apdrošināšanas komisijā, Borsa di Milano, Associazione Bancaria Italiana, Itālijas Ekonomikas un finanšu ministrijā, Consob, Eiropas Universitātes institūtā (Florencē), Londonas Biznesa skolā, Londonas Ekonomikas augstskolā, Università Bocconi, Kanādas Bankā, Sapienza Universitātē, Tor Vergata Universitātē, Starptautisko studiju centrā, Istituto per la Ricerca sociale, Ekonomiskās politikas pētniecības institūtā, Monte Titoli S.p.A., Università di Pavia, Bank of England, Associazione per gli Studi di Banca e Borsa, LUISS Universitātē, Università Cattolica del Sacro Cuore (Milano)​, Università di Ancona, Università di Sassari, Università di Verona, Autorità Garante per la Concorrenza, Associazione Prometeia, Frankfurtes Tieslietu un finanšu institūtā, Banque centrale du Luxembourg.
Publikācijas šādos izdevumos:
The American Economic Review; Journal of Money, Credit and Banking; Journal of Finance; European Economy; Journal of Banking and Finance; Economic Notes; Economic Perspectives; European Economic Review; Revue d'économie financière; Giornale degli economisti e annali di economia; Financial Times; Banche e Banchieri; Bancaria, Banca Impresa Società; Finanza, Imprese e Mercati; Il Risparmio; Economia, società e istituzioni un citos, kā arī bijis daudzu pētījumu autors un līdzautors.
Referents šādos izdevumos:
American Economic Review, Quarterly Journal of Economics, Journal of Money, Credit and Banking, Review of Economics and Statistics, Journal of Financial Intermediation, Journal of Banking and Finance, Journal of Development Economics, Journal of Development Economics, Journal of the European Economic Association, Open Economies Review, International Review of Economics and Finance, Economic Modelling, Economic Notes, Rivista di Politica Economica, Moneta e Credito un Politica Economica.