Membro del Comitato esecutivo della Banca centrale europea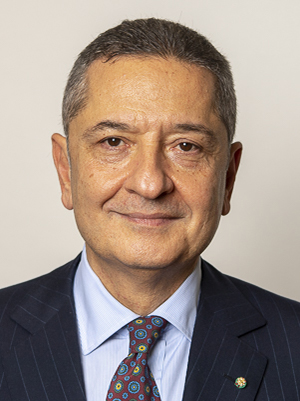 Fabio Panetta
Data di nascita: 1o agosto 1959
Formazione
1996

PhD in Economics and Finance, London Business School

1984

M.Sc. in Monetary Economics, London School of Economics

1982

Laurea in economia conseguita con lode, Università LUISS, Roma
Carriera professionale
Dal 2020

Membro del Comitato esecutivo, Banca centrale europea

2019

Direttore Generale della Banca d'Italia
Presidente dell'Istituto per la Vigilanza sulle Assicurazioni
Membro del Consiglio generale del Comitato europeo per il rischio sistemico
Membro supplente del G7 e del G20 per l'Italia
Membro del consiglio di amministrazione dell'International Center for Monetary and Banking Studies (Ginevra) e del Consiglio direttivo dell'Istituto Einaudi per l'economia e la finanza

2014-2019

Membro del Gruppo di lavoro n. 3 dell'Organizzazione per la cooperazione e lo sviluppo economico (OCSE)

2013 e 2015-2018

Membro del Consiglio di amministrazione della Banca dei regolamenti internazionali

2014-2019

Membro del Consiglio di vigilanza del Meccanismo di vigilanza unico presso la Banca centrale europea

Dal 2013

Membro del Direttorio integrato dell'Istituto per la Vigilanza sulle Assicurazioni (IVASS)

2003-2019

Membro del Comitato sul sistema finanziario globale della Banca dei regolamenti internazionali

2012-2019

Membro del Direttorio e Vice Direttore Generale della Banca d'Italia

2011

Direttore Centrale per l'Eurosistema e la stabilità finanziaria, Banca d'Italia

2007-2011

Capo del Servizio Studi di congiuntura e politica monetaria, Banca d'Italia

2004-2017

Accompanying person e membro supplente per la Banca d'Italia presso il Consiglio direttivo della Banca centrale europea

2000-2007

Direzione Monetaria e finanziaria, Banca d'Italia
Principali attività professionali
Presidente del gruppo di lavoro sul rischio sovrano e sulle condizioni di provvista delle banche, facente capo al Comitato sul sistema finanziario globale della Banca dei regolamenti internazionali, 2010-2011
Membro del consiglio di amministrazione dell'International Journal of Central Banking, 2005-2011
Presidente del gruppo di studio sulla volatilità nei mercati finanziari, facente capo al Comitato sul sistema finanziario globale della Banca dei regolamenti internazionali, 2005-2006
Presidente del gruppo di lavoro sull'efficienza, sulla competitività e sui flussi di credito nell'ambito dell'indagine sul processo di consolidamento nel settore bancario e finanziario, promossa dai ministri finanziari e dai governatori delle banche centrali del G10, 2000-2001
Membro del gruppo ad alto livello di esperti di economia monetaria dell'OCSE (Parigi), 1999-2002
Membro del gruppo di lavoro sui mercati del capitale di rischio, istituito dai governatori delle banche centrali del G10, 1998-2000
Principali onorificenze, riconoscimenti e borse di studio
Cavaliere di Gran Croce dell'Ordine al merito della Repubblica italiana, 2019
Grande Ufficiale dell'Ordine al merito della Repubblica italiana, 2019
Alumnus LUISS 2019, Università LUISS, Roma
Premio giornalistico internazionale Santa Margherita Ligure per l'economia quale miglior saggista di economia, 2006
Borsa del Ministero dell'istruzione per studi di economia politica all'estero, 1983
Borsa "Paolo Andreini" della Banca d'Italia per studi di economia all'estero, 1985
Profilo accademico
Relatore su temi economici e finanziari presso:
American Economic Association, Board of Governors del Federal Reserve System, Federal Reserve Bank of Chicago, Banca dei regolamenti internazionali, De Nederlandsche Bank, Federal Deposit Insurance Commission, Borsa di Milano, Associazione bancaria italiana, Ministero dell'economia e delle finanze, Consob, Istituto universitario europeo (Firenze), London Business School, London School of Economics, Università Bocconi, Bank of Canada, Università La Sapienza, Università Tor Vergata, Center for International Studies, Istituto per la ricerca sociale, Centre for Economic Policy Research, Monte Titoli S.p.A., Università di Pavia, Bank of England, Associazione per lo Sviluppo degli Studi di Banca e Borsa, Università LUISS, Università Cattolica del Sacro Cuore (Milano), Università di Ancona, Università di Sassari, Università di Verona, Autorità Garante della Concorrenza e del Mercato, Associazione Prometeia, Institute for Law and Finance (Francoforte), Banque centrale du Luxembourg.
Contributi pubblicati in:
American Economic Review; Journal of Money, Credit and Banking; Journal of Finance; European Economy; Journal of Banking and Finance; Economic Notes; Economic Perspectives; European Economic Review; Revue d'économie financière; Giornale degli economisti e annali di economia; Financial Times; Banche e Banchieri; Bancaria; Banca Impresa Società; Finanza, Imprese e Mercati; Il Risparmio; Economia, società e istituzioni; altre riviste scientifiche. È autore e coautore di numerose ricerche.
Referee per:
American Economic Review; Quarterly Journal of Economics; Journal of Money, Credit and Banking; Review of Economics and Statistics; Journal of Financial Intermediation; Journal of Banking and Finance; Journal of Development Economics; Journal of the European Economic Association; Open Economies Review; International Review of Economics and Finance; Economic Modelling; Economic Notes; Rivista di Politica Economica; Moneta e Credito; Politica Economica.