Euroopan keskuspankin johtokunnan jäsen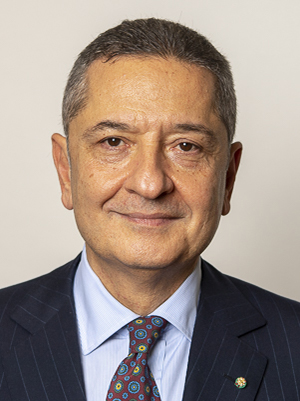 Fabio Panetta
Koulutus
1996

Taloustieteen ja rahoituksen tohtori (PhD), London Business School

1984

Rahataloustieteen maisteri, London School of Economics

1982

Taloustieteen tutkinto kiitettävin arvosanoin, LUISS-yliopisto, Rooma
Ammatillinen toiminta
Vuodesta 2020

Euroopan keskuspankin johtokunnan jäsen

2019

Italian keskuspankin ensimmäinen varapääjohtaja
Italian vakuutusvalvontaviranomaisen (IVASS) pääjohtaja
Euroopan järjestelmäriskikomitean hallintoneuvoston jäsen
Italiaa edustava varajäsen G7-maiden ryhmässä ja G20-maiden ryhmässä
Hallituksen jäsen International Center for Monetary and Banking Studies (ICMB) -keskuksessa (Geneve) ja Einaudi Institute for Economics and Finance (EIEF) -instituutissa

2014–2019

OECD:n työryhmän nro 3 jäsen

2013 ja 2015–2018

Kansainvälisen järjestelypankin johtokunnan jäsen

2014–2019

Yhteisen valvontamekanismin valvontaelimen jäsen Euroopan keskuspankissa

Vuodesta 2013

Italian vakuutusvalvontaviranomaisen (IVASS) johtokunnan jäsen

2003–2019

Maailmanlaajuisen rahoitusjärjestelmän komitean jäsen, Kansainvälinen järjestelypankki

2012–2019

Italian keskuspankin johtokunnan jäsen ja varapääjohtaja

2011

Eurojärjestelmästä ja rahoitusvakaudesta vastaava johtaja, Italian keskuspankki

2007–2011

Talousnäkymä- ja rahapolitiikkaosaston johtaja, Italian keskuspankki

2004–2017

Italian keskuspankin pääjohtajan ohella Euroopan keskuspankin neuvoston kokouksiin osallistuva varajäsen

2000–2007

Raha- ja rahoitusmarkkinaosaston johtotehtävät, Italian keskuspankki
Muu ammattikokemus
Valtioriskiä ja pankkien rahoitusoloja tarkastelevan työryhmän puheenjohtaja, maailmanlaajuisen rahoitusjärjestelmän komitea, Kansainvälinen järjestelypankki, 2010–2011
International Journal of Central Banking -tutkimusjulkaisun toimitusneuvoston jäsen, 2005–2011
Rahoitusmarkkinoiden volatiliteettia tarkastelevan tutkimusryhmän puheenjohtaja, maailmanlaajuisen rahoitusjärjestelmän komitea, Kansainvälinen järjestelypankki, 2005–2006
Tehokkuutta, kilpailua ja luotonantoa tarkastelevan työryhmän puheenjohtaja G10-maiden valtiovarainministerien ja keskuspankkien pääjohtajien pyynnöstä pankki- ja rahoitusalan keskittymisestä käynnistetyssä kyselytutkimuksessa, 2000–2001
Rahataloutta käsittelevän korkean tason asiantuntijaryhmän jäsen, OECD (Pariisi), 1999–2002
G10-maiden keskuspankkien pääjohtajien perustaman osakemarkkinatyöryhmän jäsen, 1998–2000
Arvonimet ja palkinnot
Italian tasavallan ansioritarikunnan suurristi, 2019
Italian tasavallan Grande Ufficiale ‑kunniamerkki, 2019
Vuoden alumni, LUISS-yliopisto, Rooma, 2019
"Premio Giornalistico Internazionale Santa Margherita Ligure per l'Economia" ‑palkinto parhaana taloustieteen alan kirjoittajana, 2006
Italian opetusministeriön myöntämä apuraha kansantaloustieteen opintojen suorittamiseksi ulkomailla, 1983
Italian keskuspankin myöntämä "Paolo Andreini" -apuraha taloustieteen opintojen suorittamiseksi ulkomailla, 1985
Akateeminen toiminta
Taloustieteeseen ja rahoitusalaan liittyviä puheita seuraavissa organisaatioissa:
American Economic Association, Yhdysvaltain keskuspankin johtokunta, Yhdysvaltain keskuspankin Chicagon aluekeskuspankki, Kansainvälinen järjestelypankki, Alankomaiden keskuspankki, Federal Deposit Insurance Commission, Milanon pörssi, Associazione Bancaria Italiana, Italian valtiovarainministeriö, arvopaperipörssikomitea Consob, European University Institute (Firenze), London Business School, London School of Economics, Università Bocconi, Kanadan keskuspankki, Sapienza-yliopisto, Tor Vergata ‑yliopisto, Center for International Studies, Istituto per la Ricerca sociale, Centre for Economic Policy Research (CEPR), Monte Titoli S.p.A., Università di Pavia, Englannin pankki, Associazione per gli Studi di Banca e Borsa, LUISS-yliopisto, Università Cattolica del Sacro Cuore (Milano), Università di Ancona, Università di Sassari, Università di Verona, Autorità Garante per la Concorrenza, Associazione Prometeia, Frankfurt Institute for Law and Finance ja Luxemburgin keskuspankki.
Kirjoituksia seuraavissa julkaisuissa:
The American Economic Review; Journal of Money, Credit and Banking; Journal of Finance; European Economy; Journal of Banking and Finance; Economic Notes; Economic Perspectives; European Economic Review; Revue d'économie financière; Giornale degli economisti e annali di economia; Financial Times; Banche e Banchieri; Bancaria, Banca Impresa Società; Finanza, Imprese e Mercati; Il Risparmio; Economia, società e istituzioni jne; lisäksi osallistunut useiden muiden julkaisujen kirjoittamiseen.
Arvioija seuraavissa julkaisuissa:
American Economic Review, Quarterly Journal of Economics, Journal of Money, Credit and Banking, Review of Economics and Statistics, Journal of Financial Intermediation, Journal of Banking and Finance, Journal of Development Economics, Journal of the European Economic Association, Open Economies Review, International Review of Economics and Finance, Economic Modelling, Economic Notes, Rivista di Politica Economica, Moneta e Credito ja Politica Economica.