Euroopa Keskpanga juhatuse liige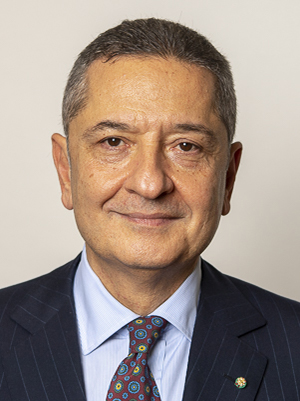 Fabio Panetta
Haridus
1996

Doktorikraad majanduse ja rahanduse erialal, London Business School

1984

Magistrikraad (M.Sc.) rahandusökonoomikas, London School of Economics

1982

Diplom kiitusega majandusteaduste erialal, LUISSi ülikool, Rooma
Ametikäik
2020 –

Euroopa Keskpanga juhatuse liige

2019

Itaalia keskpanga (Banca d'Italia) esimene asepresident
Itaalia kindlustusjärelevalve ameti (Ivass) president
Euroopa Süsteemsete Riskide Nõukogu haldusnõukogu liige
G7 ja G20 rühma Itaalia asendusliige
Rahvusvahelise Rahandus- ja Pangandusuuringute Keskuse (ICMB) juhatuse liige Genfis ning Einaudi Majandus- ja Rahandusinstituudi (EIEF) nõukogu liige

2014–2019

OECD 3. töörühma liige

2013 ja 2015–2018

Rahvusvaheliste Arvelduste Panga direktorite nõukogu liige

2014–2019

Euroopa Keskpanga ühtse järelevalvemehhanismi järelevalvenõukogu liige

2013 –

Itaalia kindlustusjärelevalveasutuse (Ivass) juhtkonna liige

2003–2019

Rahvusvaheliste Arvelduste Panga ülemaailmse finantssüsteemi komitee liige

2012–2019

Itaalia keskpanga juhatuse liige ja asepresident

2011

Itaalia keskpanga eurosüsteemi ja finantsstabiilsuse eest vastutava osakonna tegevdirektor

2007–2011

Itaalia keskpanga majandusväljavaadete ja rahapoliitika osakonna juht

2004–2017

Itaalia keskpanga presidenti saatev isik ja asendusliige Euroopa Keskpanga nõukogus

2000–2007

Itaalia keskpanga rahandus- ja finantsosakond
Valitud ametialane tegevus
Riigiriski ja pankade rahastamistingimuste töörühma esimees, kes annab aru Rahvusvaheliste Arvelduste Panga ülemaailmse finantssüsteemi komiteele (2010–2011)
Direktorite nõukogu liige, International Journal of Central Banking
Finantsturu volatiilsuse uurimisrühma esimees, kes annab aru Rahvusvaheliste Arvelduste Panga ülemaailmse finantssüsteemi komiteele (2005–2006)
Tõhususe, konkurentsi ja krediidivoogude töörühma esimees seoses G10 rahandusministrite ja keskpankade presidentide toetatud uuringuga pangandus- ja finantssektori konsolideerimisprotsessi kohta (2000–2001)
OECD kõrgetasemelise rahandusekspertide töörühma liige (Pariis, 1999–2002)
G10 riikide keskpankade presidentide asutatud aktsiaturgude töörühma liige (1998–2000)
Valitud autasud, auhinnad ja stipendiumid
Cavaliere di Gran Croce Ordine al Merito della Repubblica Italiana, 2019
Grande Ufficiale Ordine al Merito della Repubblica Italiana, 2019
Rooma LUISSi ülikooli aasta vilistlase tiitel, 2019
Premio Giornalistico Internazionale Santa Margherita Ligure per l'Economia, 2006
Haridusministeeriumi stipendium poliitökonoomia õpinguteks välismaal, 1983
Itaalia keskpanga Paolo Andreini nimeline stipendium majandusõpinguteks välismaal, 1985
Akadeemiline tegevus
Majandus- ja rahandusteemalised ettekanded järgmistes organisatsioonides:
American Economic Association, Board of Governors of the Federal Reserve System, Federal Reserve Bank of Chicago, Rahvusvaheliste Arvelduste Pank, Madalmaade keskpank, Federal Deposit Insurance Commission, Borsa di Milano, Associazione Bancaria Italiana, Itaalia majandus- ja rahandusministeerium, Consob, Euroopa Ülikool-Instituut (Firenze), London Business School, London School of Economics, Università Bocconi, Kanada keskpank, Sapienza ülikool, Tor Vergata ülikool, Center for International Studies, Istituto per la Ricerca sociale, Centre for Economic Policy Research, Monte Titoli S.p.A., Università di Pavia, Inglise keskpank, Associazione per gli Studi di Banca e Borsa, LUISSi ülikool, Università Cattolica del Sacro Cuore (Milano), Università di Ancona, Università di Sassari, Università di Verona, Autorità Garante per la Concorrenza, Associazione Prometeia, Frankfurt Institute for Law and Finance, Luksemburgi keskpank.
Avaldatud tööd järgmistes väljaannetes:
The American Economic Review; Journal of Money, Credit and Banking; Journal of Finance; European Economy; Journal of Banking and Finance; Economic Notes; Economic Perspectives; European Economic Review; Revue d'économie financière; Giornale degli economisti e annali di economia; Financial Times; Banche e Banchieri; Bancaria; Banca Impresa Società; Finanza, Imprese e Mercati; Il Risparmio; Economia, società e istituzioni jne; mitmete teadusartiklite autor ja kaasautor.
Järgmiste väljaannete retsensent:
American Economic Review, Quarterly Journal of Economics, Journal of Money, Credit and Banking, Review of Economics and Statistics, Journal of Financial Intermediation, Journal of Banking and Finance, Journal of the European Economic Association, Open Economies Review, Journal of Development Economics, International Review of Economics and Finance, Economic Modelling, Economic Notes, Rivista di Politica Economica, Moneta e Credito, Politica Economica.