Miembro del Comité Ejecutivo del BCE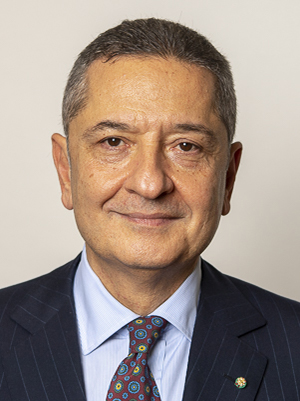 Fabio Panetta
Fecha de nacimiento: 1 de agosto de 1959
Formación académica
1996

Doctorado en Economía y Finanzas, London Business School

1984

Máster en Economía Monetaria, London School of Economics

1982

Licenciatura en Economía, Università LUISS, Roma
Carrera profesional
Desde 2020

Miembro del Comité Ejecutivo del Banco Central Europeo

2019

Gobernador adjunto de la Banca d'Italia
Presidente del Istituto per la Vigilanza sulle Assicurazioni (IVASS)
Miembro de la Junta General de la Junta Europea de Riesgo Sistémico
Representante suplente de Italia en el G7 y el G20
Miembro del Consejo de Administración del International Center for Monetary and Banking Studies (Ginebra) y del Consejo de Gobierno del Istituto Einaudi per l'economia e la finanza

2014-2019

Miembro del Grupo de trabajo n.º 3 de la OCDE

2013 y 2015-2018

Miembro del Consejo de Administración del Banco de Pagos Internacionales

2014-2019

Miembro del Consejo de Supervisión del Mecanismo Único de Supervisión del Banco Central Europeo

Desde 2013

Miembro del Consejo del Istituto per la Vigilanza sulle Assicurazioni (IVASS)

2003-2019

Miembro del Comité sobre el Sistema Financiero Global del Banco de Pagos Internacionales

2012-2019

Miembro del Consejo de Dirección y gobernador adjunto de la Banca d'Italia

2011

Director gerente para el Eurosistema y la estabilidad financiera, Banca d'Italia

2007-2011

Jefe del Servicio de Estudios de Coyuntura y Política Monetaria, Banca d'Italia

2004-2017

Acompañante y suplente del gobernador de la Banca d'Italia en el Consejo de Gobierno del Banco Central Europeo

2000-2007

Dirección Monetaria y Financiera, Banca d'Italia
Otras actividades profesionales
Presidente del Grupo de trabajo sobre riesgo soberano y condiciones de financiación bancaria, que informa al Comité sobre el Sistema Financiero Global del Banco de Pagos Internacionales, 2010-2011
Miembro del Consejo de Administración del International Journal of Central Banking, 2005-2011
Presidente del Grupo de estudio sobre la volatilidad del mercado financiero, que informa al Comité sobre el Sistema Financiero Global del Banco de Pagos Internacionales, 2005-2006
Presidente del Grupo de trabajo sobre eficiencia, competencia y flujos de crédito en el contexto de la encuesta, auspiciada por los ministros de Finanzas del G10 y los gobernadores de los bancos centrales, sobre el proceso de consolidación del sector bancario y financiero, 2000-2001
Representante en el Grupo de alto nivel de expertos monetarios de la OCDE (París), 1999-2002
Miembro del Grupo de trabajo sobre mercados, creado por los gobernadores de los bancos centrales de los países del G10, 1998-2000
Distinciones, premios y becas
Caballero de Gran Cruz de la Orden del Mérito de la República Italiana, 2019
Alto Oficial de la Orden del Mérito de la República Italiana, 2019
Alumnus LUISS 2019, Università LUISS, Roma, 2019
Premio Giornalistico Internazionale Santa Margherita Ligure per l'Economia al mejor ensayista sobre temas económicos, 2006
Beca del Ministerio de Educación para cursar estudios de Economía Política en el extranjero, 1983
Beca «Paolo Andreini» de la Banca d'Italia para cursar estudios de Economía en el extranjero, 1985
Perfil académico
Ha impartido seminarios sobre economía y finanzas en:
American Economic Association, Comité de Gobernadores del Sistema de la Reserva Federal, Federal Reserve Bank of Chicago, Banco de Pagos Internacionales, De Nederlandsche Bank, Federal Deposit Insurance Commission, Borsa di Milano, Associazione Bancaria Italiana, Ministerio italiano de Economía y Finanzas, Consob, Istituto universitario europeo (Florencia), London Business School, London School of Economics, Università Bocconi, Bank of Canada, Università La Sapienza, Università Tor Vergata, Center for International Studies, Istituto per la Ricerca Sociale, Centre for Economic Policy Research, Monte Titoli S.p.A., Università di Pavia, Bank of England, Associazione per gli Studi di Banca e Borsa, Università LUISS, Università Cattolica del Sacro Cuore (Milán), Università di Ancona, Università di Sassari, Università di Verona, Autorità Garante per la Concorrenza, Associazione Prometeia, Frankfurt Institute for Law and Finance y Banque centrale du Luxembourg.
Publicaciones en:
The American Economic Review; Journal of Money, Credit and Banking; Journal of Finance; European Economy; Journal of Banking and Finance; Economic Notes; Economic Perspectives; European Economic Review; Revue d'économie financière; Giornale degli economisti e annali di economia; Financial Times; Banche e Banchieri; Bancaria, Banca Impresa Società; Finanza, Imprese e Mercati; Il Risparmio; Economia, società e istituzioni y otras. Es autor y coautor de numerosos trabajos de investigación.
Revisor para:
American Economic Review, Quarterly Journal of Economics, Journal of Money, Credit and Banking, Review of Economics and Statistics, Journal of Financial Intermediation, Journal of Banking and Finance, Journal of Development Economics, Journal of the European Economic Association, Open Economies Review, International Review of Economics and Finance, Economic Modelling, Economic Notes, Rivista di Politica Economica, Moneta e Credito y Politica Economica.