Medlem af ECB's direktion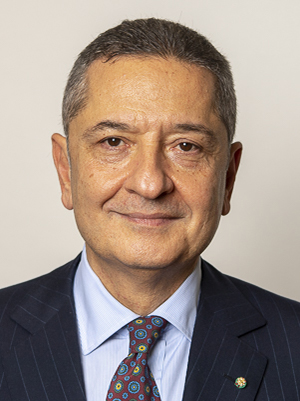 Fabio Panetta
Uddannelse
1996

Ph.d. i økonomi og finans, London Business School

1984

M.Sc. i valutaøkonomi, London School of Economics

1982

Eksamensbevis cum laude i økonomi, Università LUISS, Rom
Karriere
Fra 2020

Medlem af Direktionen, Den Europæiske Centralbank

2019

1. vicecentralbankchef for Banca d'Italia
Formand for den italienske forsikringstilsynsmyndighed (IVASS)
Medlem af Det Almindelige Råd for Det Europæiske Udvalg for Systemiske Risici
Stedfortrædende medlem for Italien i G7 og G20
Medlem af bestyrelsen for International Center for Monetary and Banking Studies i Genève og af styrelsesrådet for Einaudi Institute for Economics and Finance

2014-2019

Medlem af OECD-arbejdsgruppe 3

2013 og 2015-2018

Medlem af bestyrelsen for Den Internationale Betalingsbank

2014-2019

Medlem af Tilsynsrådet for Den Fælles Tilsynsmekanisme ved Den Europæiske Centralbank

Fra 2013

Medlem af det fælles direktorat for den italienske forsikringstilsynsmyndighed (IVASS)

2003-2019

Medlem af Komitéen for det Globale Finansielle System under Den Internationale Betalingsbank

2012-2019

Medlem af bestyrelsen og vicecentralbankchef, Banca d'Italia

2011

Administrerende direktør for Eurosystemet og finansiel stabilitet, Banca d'Italia

2007-2011

Leder af afdelingen for økonomiske udsigter og pengepolitik, Banca d'Italia

2004-2017

Ledsager og stedfortrædende medlem for Banca d'Italia i Den Europæiske Centralbanks styrelsesråd

2000-2007

Den monetære og finansielle afdeling, Banca d'Italia
Udvalgte faglige aktiviteter
Formand for Working Group on Sovereign Risk and Bank Funding Conditions, som rapporterede til Committee on the Global Financial System i Den Internationale Betalingsbank, 2010-2011
Medlem af bestyrelsen for International Journal of Central Banking, 2005-2011
Formand for Study Group on Financial Market Volatility, som rapporterede til Committee on the Global Financial System i Den Internationale Betalingsbank, 2005-2006
Formand for Working Group on Efficiency, Competition and Credit Flows i forbindelse med den undersøgelse af konsolideringsprocessen for bank- og finanssektoren, der blev foretaget på foranledning af finansministrene i G10 og centralbankcheferne, 2000-2001
Medlem af OECD's højtstående gruppe af eksperter i monetære forhold (Paris), 1999-2002
Medlem af Working Party on Equities Markets, nedsat af centralbankcheferne i G10-landene, 1998-2000
Udvalgte udmærkelser, priser og legater
Ridder af Gran Croce al merito della Repubblica italiana, 2019
Ærestitlen Grande Ufficiale al merito della Repubblica italiana, 2019
Årets alumne, Università LUISS, Rom, 2019
Tildelt "Premio Giornalistico Internazionale Santa Margherita Ligure per l'Economia" som den bedste skribent inden for økonomi, 2006
Tildelt et stipendium af undervisningsministeriet med henblik på udenlandske studier i politisk økonomi, 1983
Tildelt "Paolo Andreini"-stipendiet af Banca d'Italia med henblik på udenlandske studier i økonomi, 1985
Akademisk profil
Har afholdt taler om økonomiske og finansielle emner ved følgende institutioner:
American Economic Association, bestyrelsen for Federal Reserve System, Federal Reserve Bank of Chicago, Den Internationale Betalingsbank, De Nederlandsche Bank, Federal Deposit Insurance Commission, Borsa di Milano, Associazione Bancaria Italiana, Italiens økonomi- og finansministerium, Consob, European University Institute (Firenze), London Business School, London School of Economics, Università Bocconi, Bank of Canada, Università La Sapienza, Università Tor Vergata, Center for International Studies, Istituto per la Ricerca sociale, Centre for Economic Policy Research, Monte Titoli S.p.A., Università di Pavia, Bank of England, Associazione per gli Studi di Banca e Borsa, Università LUISS, Università Cattolica del Sacro Cuore (Milano), Università di Ancona, Università di Sassari, Università di Verona, Autorità Garante per la Concorrenza, Associazione Prometeia, Frankfurt Institute for Law and Finance og Banque centrale du Luxembourg.
Har fået offentliggjort artikler i:
The American Economic Review; Journal of Money, Credit and Banking; Journal of Finance; European Economy; Journal of Banking and Finance; Economic Notes; Economic Perspectives; European Economic Review; Revue d'économie financière; Giornale degli economisti e annali di economia; Financial Times; Banche e Banchieri; Bancaria, Banca Impresa Società; Finanza, Imprese e Mercati; Il Risparmio; Economia, società e istituzioni m.fl. og har været forfatter og medforfatter til talrige arbejdsdokumenter.
Har været ekspert for følgende tidsskrifter:
American Economic Review, Quarterly Journal of Economics, Journal of Money, Credit and Banking, Review of Economics and Statistics, Journal of Financial Intermediation, Journal of Banking and Finance, Journal of Development Economics, Journal of the European Economic Association, Open Economies Review, International Review of Economics and Finance, Economic Modelling, Economic Notes, Rivista di Politica Economica, Moneta e Credito og Politica Economica.