Člen Výkonné rady ECB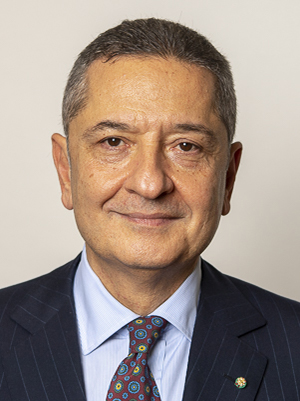 Fabio Panetta
Datum narození: 1. srpna 1959
Vzdělání
1996

titul PhD v oboru ekonomie a finance, London Business School

1984

magisterský titul v oboru měnová ekonomie, London School of Economics

1982

absolutorium s vyznamenáním, univerzita LUISS, Řím
Profesní dráha
od roku 2020

člen Výkonné rady, Evropská centrální banka

2019

viceguvernér Banca d'Italia
prezident italského orgánu dohledu nad pojišťovnami
člen Generální rady Evropské rady pro systémová rizika
alternát za Itálii v G7 a G20
člen představenstva Mezinárodního centra pro měnová a bankovní studia v Ženevě a člen rady guvernérů Einaudiho institutu pro ekonomiku a finance

2014–2019

člen pracovní skupiny OECD č. 3

2013 a 2015–2018

člen představenstva Banky pro mezinárodní platby

2014–2019

člen Rady dohledu SSM Evropské centrální banky

od roku 2013

člen společného předsednictva orgánu dohledu nad pojišťovnami (Ivass)

2003–2019

člen Výboru pro globální finanční systém, Banka pro mezinárodní platby

2012–2019

člen bankovní rady a viceguvernér Banca d'Italia

2011

generální ředitel pro Eurosystém a finanční stabilitu, Banca d'Italia

2007–2011

vedoucí oddělení hospodářského výhledu a měnové politiky, Banca d'Italia

2004-2017

doprovázející osoba a náhradník za Banca d'Italia v Radě guvernérů Evropské centrální banky

2000–2007

měnová a finanční divize, Banca d'Italia
Vybrané odborné činnosti
předseda pracovní skupiny pro rizika selhání zemí a podmínky financování bank, podléhající Výboru pro světový finanční systém Banky pro mezinárodní platby, 2010–2011
člen správní rady International Journal of Central Banking (2005–2011)
předseda studijní skupiny pro volatilitu finančních trhů, podléhající Výboru pro světový finanční systém Banky pro mezinárodní platby, 2005–2006
předseda pracovní skupiny pro efektivitu, hospodářskou soutěž a úvěrové toky v kontextu průzkumu procesu konsolidace pro bankovní a finanční sektor, za podpory ministrů financí G10 a guvernérů centrálních bank, 2000–2001
člen skupiny měnových odborníků OECD na vysoké úrovni (Paříž),1999–2002
člen pracovní skupiny pro kapitálové trhy, zřízené guvernéry centrálních bank zemí G10, 1998–2000
Vybraná vyznamenání, ocenění a granty
velký rytířský kříž Řádu zásluh o Italskou republiku, 2019
vysoký důstojník Řádu zásluh o Italskou republiku, 2019
absolvent roku, univerzita LUISS, Řím, 2019
cena Premio Giornalistico Internazionale Santa Margherita Ligure per l'Economia pro nejlepšího autora ekonomických textů, 2006
stipendium ministerstva školství na zahraniční studium v oboru politická ekonomie, 1983
stipendium Paola Andreiniho od Banca d'Italia na studium ekonomie v zahraničí, 1985
Akademický profil
Projevy na téma ekonomie a finance:
American Economic Association, Rada guvernérů Federal Reserve System, Federal Reserve Bank of Chicago, Banka pro mezinárodní platby, De Nederlandsche Bank, Federální komise pro pojištění vkladů (Federal Deposit Insurance Commission), Borsa di Milano, Associazione Bancaria Italiana, italské ministerstvo hospodářství a financí, Consob, European University Institute (Florencie), London Business School, London School of Economics, Università Bocconi, Bank of Canada, Sapienza University, Tor Vergata University, Center for International Studies, Istituto per la Ricerca sociale, Centre for Economic Policy Research, Monte Titoli S.p.A., Università di Pavia, Bank of England, Associazione per gli Studi di Banca e Borsa, univerzita LUISS, Università Cattolica del Sacro Cuore (Milán), Università di Ancona, Università di Sassari, Università di Verona, Autorità Garante per la Concorrenza, Associazione Prometeia, Frankfurt Institute for Law and Finance, Banque centrale du Luxembourg.
Publikoval v:
The American Economic Review; Journal of Money, Credit and Banking; Journal of Finance; European Economy; Journal of Banking and Finance; Economic Notes; Economic Perspectives; European Economic Review; Revue d'économie financière; Giornale degli economisti e annali di economia; Financial Times; Banche e Banchieri; Bancaria, Banca Impresa Società; Finanza, Imprese e Mercati; Il Risparmio; Economia, società e istituzioni a dalších periodikách a byl autorem a spoluautorem řady odborných publikací.
Recenzent pro:
American Economic Review, Quarterly Journal of Economics, Journal of Money, Credit and Banking, Review of Economics and Statistics, Journal of Financial Intermediation, Journal of Banking and Finance, Journal of Development Economics, Journal of the European Economic Association, Open Economies Review, International Review of Economics and Finance, Economic Modelling, Economic Notes, Rivista di Politica Economica, Moneta e Credito a Politica Economica.