Az euro
Az eurobankjegyek Európé-sorozata
Az Európé-sorozat bankjegyeit fokozatosan, több év alatt vezetik be az euroövezetben. Az új 50 euróst 2016. július 5-én mutatták be Frankfurtban, az EKB-ban, és 2017 tavaszán kerül majd forgalomba.
Készpénzkezelők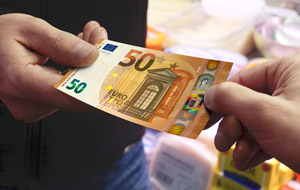 Ha valaki kereskedelmi bankban, postafiókban vagy más olyan szervezetnél dolgozik, amely készpénzt ellenőriz, válogat és kiad, hasznosnak fogja találni ismeretterjesztő anyagainkat. Az eurobankjegyek hitelességéről, forgalomképességük vizsgálatáról és visszaforgatásukról is nyújtunk tájékoztatást.
Játékos bevezető az eurokészpénz használatába
Fedezzük fel az "Euroiskolát", amely az eurobankjegyekről és -érmékről szóló ismeretterjesztő anyagok tárháza.