Monety okolicznościowe o nominale 2 euro
Każdy kraj ma prawo do emisji dwóch monet okolicznościowych w roku. Są to zawsze monety o nominale 2 euro, mające te same cechy i właściwości oraz identyczną stronę wspólną jak zwykłe monety 2 euro. Wyróżniają się natomiast motywem okolicznościowym, umieszczonym na stronie narodowej.
Monety okolicznościowe są prawnym środkiem płatniczym w całej strefie euro, co oznacza, że można się nimi posługiwać – i trzeba je akceptować – na równi ze zwykłymi monetami obiegowymi.
Najczęściej monety okolicznościowe emituje się dla upamiętnienia rocznic historycznych lub doniosłych wydarzeń bieżących. Pierwszą taką monetę wyemitowała Grecja z okazji igrzysk olimpijskich w Atenach w 2004.
Projektowanie i emisja monet leżą w gestii poszczególnych krajów strefy euro. Rola EBC w odniesieniu do monet okolicznościowych – i wszystkich pozostałych – polega na zatwierdzaniu maksymalnej wielkości emisji dla poszczególnych krajów.
Monety wyemitowane wspólnie przez wszystkie kraje strefy euro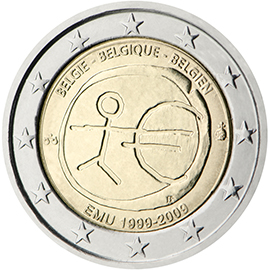 Dotychczas wyemitowano wspólnie trzy monety okolicznościowe:
w marcu 2007 z okazji 50. rocznicy podpisania traktatu rzymskiego,
w styczniu 2009 na pamiątkę dziesięciolecia unii gospodarczej i walutowej,
w styczniu 2012 w związku z dziesiątą rocznicą wprowadzenia banknotów i monet euro.
Co do zasady każdy kraj strefy euro może wyemitować tylko dwie monety okolicznościowe w roku. Wyjątkowo dopuszcza się emisję trzeciej monety, pod warunkiem że jest to emisja wspólna, upamiętniająca wydarzenie o znaczeniu ogólnoeuropejskim.
Strona narodowa takich monet przedstawia wspólny motyw okolicznościowy oraz nazwę kraju-emitenta i nazwę wydarzenia w języku lub językach danego kraju.
Monety okolicznościowe według roku emisji