Additional features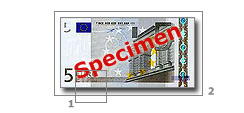 Genuine
Check with a magnifying glass
Microprinting: On some areas of the banknote you can see tiny writing, e.g. inside the "EYPΩ" (EURO in Greek characters) on the front. You will need a magnifying glass to see it. The microprinting is sharp (not blurred).
Genuine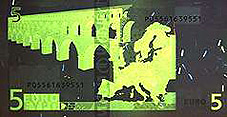 Genuine
Check with an ultraviolet lamp
Under UV light
the paper itself does not glow.
fibres embedded in the paper appear, coloured red, blue and green.
the flag of the European Union looks green and has orange stars.
the signature of the ECB President turns green.
the large stars and small circles on the front glow. The map, bridge and value numeral on the back appear in yellow.
Additional features
The second series of euro banknotes
1. Microprint
Some areas of the banknote feature a series of tiny letters. This microprint can be read with a magnifying glass. The letters are sharp, not blurred.
2. Under standard ultraviolet light:
The paper itself does not glow, i.e. it does not emit light and is dark.
Small fibres embedded in the paper appear. Each fibre shows three different colours.
On the front, the stars in the EU flag, the small circles as well as the large stars glow yellow. Several other areas also glow yellow.
On the back, a quarter of a circle in the centre of the banknote as well as several other areas glow green. The horizontal serial number and a stripe appear in red.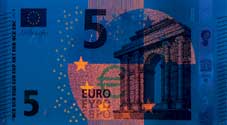 3. Under special ultraviolet light (UV-C)
On the front, the small circles in the centre glow yellow, the large stars and several other areas glow orange. The € symbol also becomes visible.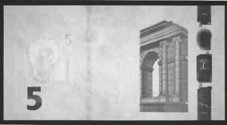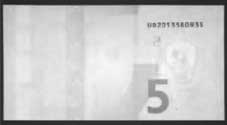 4. Infrared
Under infrared light, on the front of the banknote, only the emerald number, the right side of the main image and the silvery stripe are clearly visible. On the back, only the value numeral and the horizontal serial number are clearly visible.